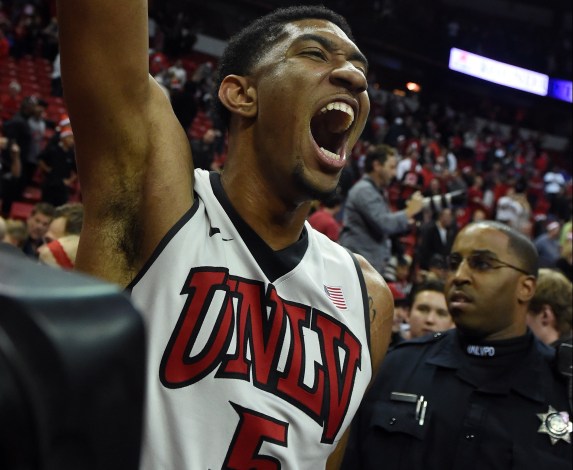 PLAYER OF THE WEEK: Christian Wood, UNLV
UNLV had not played well at all this season entering the week. They were just 7-3 on the year, having blown a huge lead in a 22-point loss to Arizona State and already dropped games against Stanford (by 29) and Utah (by 13). They were ranked 132nd on Kenpom and looked like they were headed for, at best, a middle of the pack finish in the Mountain West and a trip to the NIT.
That all changed two days before Christmas, as the Rebels knocked off No. 3 Arizona in Vegas. They followed that up by pasting Southern Utah, a game they could have easily overlooked. And the star of the week has been the breakout star for UNLV this season, as Christian Wood averaged 23.0 points, 12.0 boards and 2.5 blocks in the two wins. Wood, an athletic 6-foot-11 forward with three point range, has played his way onto NBA Draft boards.
Who knows what will come of the Rebels this season, but they now own one of the best non-conference wins of any team in the country. That's a great starting point for building a tournament-caliber resume in Mountain West play.
THE ALL THEY WERE GOOD, TOO TEAM
Sir'Dominic Pointer, St. John's: How about this stat line in two wins: 17.5 points, 5.5 boards, 5.5 assists, 4.5 steals and 2.5 blocks.
Kevin Pangos, Gonzaga: Pangos finished with 21 points and seven assists with just one turnover as the Zags went into Provo and knocked off BYU.
D'Vauntes Smith-Rivera, Georgetown: Smith-Rivera scored 24 of his 29 points in the second half and overtime as Georgetown overcame a big second half deficit in a win over Indiana at Madison Square Garden.
Frank Kaminsky, Wisconsin: Kaminsky had 14 points in a win at Cal and followed that up with a dominating 25-point, 11-boards, six-block performance in a win over Buffalo where he shut down star forward Justin Moss.
Kris Dunn, Providence: Dunn has put up some impressive stat lines this year, but the 15 points, 13 assists, five boards and three steals he had against Miami was one of his most important, as the Friars have bounced back from their slump earlier this month.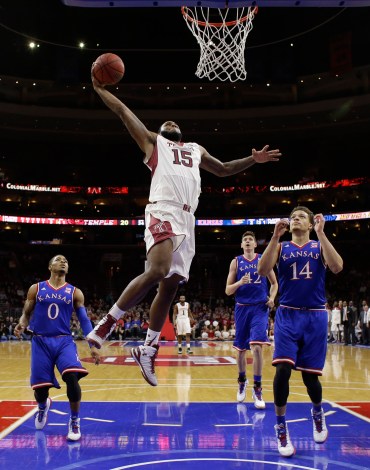 TEAM OF THE WEEK: Temple Owls
The Owls made the nation take notice of them this week as they beat the brakes off of No. 10 Kansas, 77-52, on Monday night. Entering the season, Temple wasn't thought of as more than an afterthought in the American, a team that got mentioned as, at best, a potential sleeper behind the likes of UConn, SMU and Memphis. But this win coincided with the addition of transfer Jesse Morgan and Devin Coleman, meaning that it may be time to start taking Fran Dunphy's club a bit more seriously.
Are they good enough to make a run at an NCAA tournament berth? That's unclear at this point. But if they can put together a few more performances like the one they had against the Jayhawks, there's no reason that they can't make a run at one.
THEY WERE GOOD, TOO
George Washington: GW was impressive out in Hawaii for the Diamond Head Classic, as they won the event by knocking off both Colorado and No. 11 Wichita State. Kevin Larsen looks like he's shaken off some of his early-season struggles.
Kentucky: The Wildcats took a huge step towards a perfect regular season when they went into the Yum! Center and knocked off arch rival Louisville.
Hawaii: Hawaii finished in third place in the Diamond Head Classic, but they did it by beating Nebraska and Colorado, their only loss coming by one point in overtime against Wichita State.
Stanford: The Cardinal got exactly what they needed on Tuesday, a road win against No. 9 Texas. Anthony Brown and Chasson Randle combined for 47 points.
Stony Brook: The Seawolves went into Seattle and knocked off Washington, handing the Huskies their first loss of the season. They also beat Patriot League favorite American.
SET YOUR DVR
Davidson at No. 5 Virginia, Tue. 6:00 p.m.
No. 15 Maryland at Michigan State, Tue. 7:00 p.m.
No. 13 Washington at Cal, Fri. 10:00 p.m.
No. 22 Baylor at No. 19 Oklahoma, Sat. 4:00 p.m.
UNLV at No. 10 Kansas, Sat. TBD