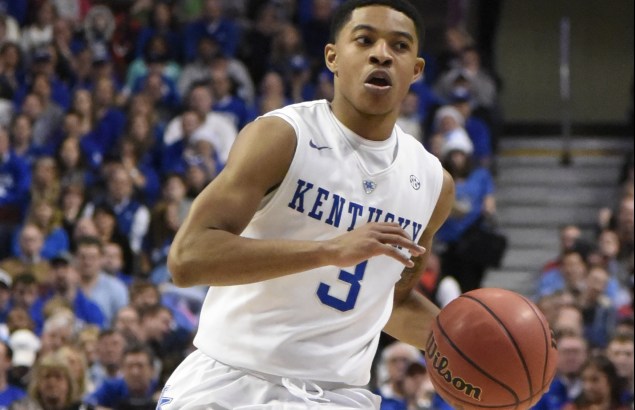 Every Monday from now until every team in the country has a loss on their resume, we will be Tracking The Unbeatens, and predicting when, exactly, that unbeaten streak will end. You can follow along here.
Who lost last week?: Arizona (at UNLV), Louisville (vs. Kentucky), Washington (vs. Stony Brook)
Kentucky (13-0): Kentucky will head into the easier part of their schedule — league play — unbeaten and with a real chance to run the table during the regular season. We went in-depth on that subject here.
Next Game: Jan. 6 vs. Ole Miss
First Loss?: Feb. 7 at Florida
Duke (10-0): The Blue Devils look like the clear-cut No. 2 team in the country and the favorite to win the ACC this season, but at times the Blue Devils play soft. They still have a couple of quality mid-majors on their schedule before ACC play gets going. As good as Jahlil Okafor and Justise Winslow have been this season, Tyus Jones has been as good as them both in games against Wisconsin and UConn.
Next Game: Dec. 29 vs. Toledo
First Loss?: Jan. 17 at Louisville
Virginia (11-0): The 'Hoos have looked overwhelmingly dominant on the defensive end of the floor through the non-conference portion of their schedule, playing the packline to perfection. It will be interesting to see what happens when they start playing teams that can hit threes. Davidson will give them a test on Tuesday.
Next Game: Dec. 30 vs. Davidson
First Loss?: Jan. 10 at Notre Dame
Villanova (12-0): The Wildcats are clearly the class of the Big East this season, but they've had a couple of close calls and slow starts of late. They came from 14 down against Syracuse and trailed at halftime against NJIT at home. The Big East is much tougher and more balanced than we expected. Slow starts aren't going to go well in league play.
Next Game: Dec. 31 vs. Butler
First Loss?: Jan. 19 at Georgetown
Colorado State (12-0): The Rams got a real test against New Mexico State on Saturday night, struggling to hold on to a one-point, overtime win. The Mountain West isn't as good as it has been in recent seasons, and with Dwayne Polee's season in doubt after he collapsed against UC Riverside, Larry Eustachy's team looks like they can win the league.
Next Game: Dec. 31 vs. Boise State
First Loss?: Jan. 3 at New Mexico
TCU (12-0): TCU is definitely much-improved this year. If the Horned Frogs get through their Big 12 opener against the Mountaineers, I'll starting taking them seriously.
Next Game: Dec. 29 vs. Tennessee State
First Loss?: Jan. 3 vs. West Virginia
There is one potential meetings between undefeated teams the rest of the season, although it seems unlikely that we will get more than one.
Duke at Virginia, January 31