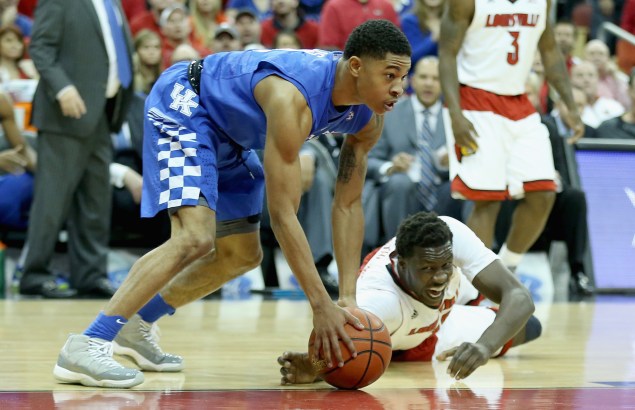 Conference play is right around the corner, so over the course of the next two weeks, College Basketball Talk will be detailing what some of the country's best, most intriguing, and thoroughly enigmatic teams should resolve to do with the New Year right around the corner. What can we say, we're in a giving mood. Thank Jessica Simpson.
MORE: The rest of our New Year's Resolutions | Midseason catchups
KENTUCKY PROMISES TO: Give Tyler Ulis the major minutes at point guard.
It will happen because: Tyler Ulis is the best point guard on the Kentucky roster. We've been talking about this since the preseason, and while Andrew Harrison has remained in a starting role for the Wildcats, it became plainly evident in Saturday's win over Louisville who the real star of this back court is. Ulis was calm and collected, creating shots for his teammates, protecting the ball and hitting open shots. Harrison? He was 1-for-6 from the floor, had six turnovers and sulked his way through the final 20 minutes.
It won't happen because: We all saw just how poor Harrison's body language was Saturday, and that was simply a result of getting outplayed by Ulis. What happens if he loses his starting spot to the 5-foot-10 freshman? There are only two point guards on this Kentucky roster, so John Calipari canot afford to "lose" one of them. If that means sacrificing a couple of minutes and a starting spot to Harrison in games UK is going to win easily anyway, than it may be the best option for his team.
KENTUCKY ALSO SWEARS THEY WON'T: Overlook any opponent, particularly in road games.
It will happen because: The SEC may not be all that strong this season, but even the worst teams in the league are better than the likes of Buffalo and Boston U. There's an air of excitement about league play, and with the possibility of an undefeated season looking better and better, each game will carry with it just that much more importance. And without any marquee league matchups, there are fewer trap games — Kentucky won't be overlooking Columbia because they have UNC, UCLA and Louisville afterwards.
It won't happen because: If Kentucky does roll through the SEC, do they end up getting bored? What happens when they win five straight SEC games by 20 points and then visit a good Georgia team for a game in front of a half-empty arena three days before they host Florida? Every team in the country is good for a snoozer or two, at least, in conference play, and there's an argument to make that Kentucky's strength actually makes them more susceptible. Whether or not that costs them a win is a different story.