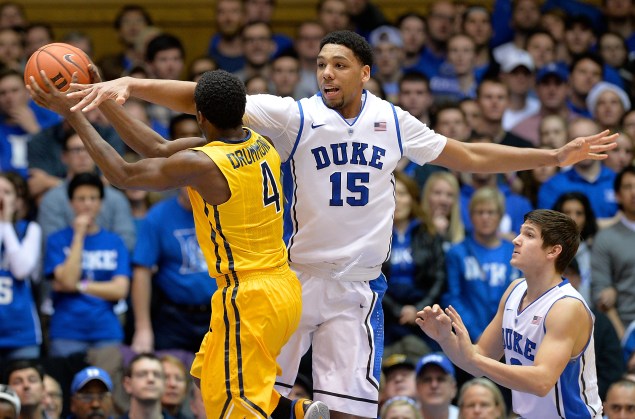 GAME OF THE NIGHT: Fairleigh Dickinson 85, Towson 84, overtime
Marques Townes made the game-winning layup with five seconds left to give Knights an unlikely overtime road win over Towson. Fairleigh Dickinson trailed Towson by 14 at the half and allowed the Tigers to shoot 57 percent from the field (27-for-47) but still won by forcing 25 Towson turnovers. The Knights, meanwhile, only turned the ball over three times as Darian Anderson had 23 points and five rebounds to lead the effort. Townes finished with 18 points, five rebounds and five steals.
IMPORTANT OUTCOMES
1. No. 11 Texas 66, Rice 55
The Longhorns had to get through a very odd Monday afternoon tip-off as freshman big man Myles Turner made his first career start and scored a team-high 16 points for Texas. Turner was 6-for-7 from the field and Texas turned up its defense in the end to hold off a feisty Owl team that had upset on their minds. Rice was held scoreless for 5:46 near the end of the game until scoring with six seconds left as that stand gave Texas enough to win.
2. No. 2 Duke 86, Toledo 69
It wasn't pretty and it wasn't always easy for the Blue Devils after 11 days of rest, but Duke led comfortably for much of the second half and put away Toledo after only a three-point halftime deficit. Jahlil Okafor finished with a career-high 27 points to go along with eight rebounds and once again stepped up his play when Duke looked a big sluggish. Quinn Cook also finished with 20 points for Duke while Tyus Jones added 15 points and eight assists.
3. TCU 60, Tennessee State 40
The Horned Frogs earned another easy victory to remain unbeaten as they moved to 13-0 on the season. Guard Kyan Anderson had 16 points to lead TCU in the win and we still haven't seen this team play anybody tough all season. We'll see if the Horned Frogs are legit on Jan. 3 when they host West Virginia in their first Big 12 game of the season.
STARRED
1. Boston College's Aaron Brown
The senior had a strong outing in an afternoon win over UMass Lowell. Brown went 9-for-12 from the field and 4-for-5 from three-point range to finish with 22 points, four assists and three rebounds.
2. LSU's Jarrell Martin
The sophomore big man had 24 points and nine rebounds as the Tigers picked up an easy win over Southern Miss. Martin was also 10-for-15 from the field and added four assists on the night.
3. Tennessee Tech's Charles Jackson
The Golden Eagles needed all of Jackson's 28 points and 16 rebounds to get past North Florida for a three-point win. Of Jackson's rebound total, seven came on the offensive end and he was 10-for-15 on the season.
STRUGGLED
1. James Madison's offense
Monday night was a chance for James Madison to pick up a nice mid-major home win over Valparaiso, but instead, the Dukes' offense went ice cold as they shot 23 percent from the field (13-for-55) in a 79-52 blowout loss. The Crusaders, meanwhile are 13-2.
2. SMU
The Mustangs pulled out a win on Monday night over Division II Midwestern State, but Larry Brown's team was actually trailing in the second half and turned the ball over 19 times while shooting 38 percent from the field. A really sluggish outing for a SMU team that hasn't looked like a NCAA Tournament team so far this season.
3. CS Northridge
Leading 34-25 at the half on Stephen F. Austin, the Matadors looked like they were in good position to pick up a big home win on Monday. But CS Northridge quickly relinquished its nearly double-digit lead and trailed for most of the second half in a 61-57 loss.
NOTABLES
Treveon Graham had 20 points, nine rebounds and two assists to lead VCU to a win over Cleveland State.
North Carolina Central had four scorers in double figures as they earned an easy win over IUPUI.
Rider posted a road win at Wagner as Jimmie Taylor had 25 points and six rebounds in the win.
Quinnipiac got past Maine with a home win as Ousmane Drame had 20 points and 11 rebounds for the victors.
Old Dominion moved to 11-1 on the season with a win over Mt. St. Mary's. Javonte Douglas led three Monarchs in double figures with 16 points.
Texas Tech outlasted North Texas as Devaugntah Williams led the Red Raiders with 14 points.
Darrell Bowie had 22 points and 10 rebounds in a Northern Illinois win over Hampton.
Pepperdine had 17 points and seven rebounds from Jett Raines in a win over Loyola Marymount.
St. Mary's picked up a WCC win over San Francisco as Brad Waldow had 21 points and 10 rebounds.
Antoine Mason picked up 19 points as Auburn got past Middle Tennessee.
Three guys with 20-plus points for BYU in a WCC win over Portland as Tyler Haws (24 points), Anson Winder (22 points) and Kyle Collinsworth (21 points) all had good nights.
A nice overtime win for Denver at home over Saint Joseph's as Brett Olson had 27 points, five rebounds and three assists.