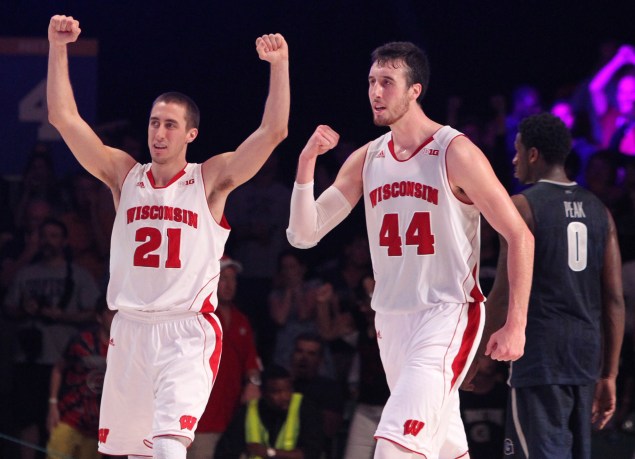 College basketball's non-conference season is coming to a close, and to help you shake off post-holiday haze and the hangover of losing in your fantasy football playoffs, we'll be providing you with some midseason primers to get you caught up on all the nation's most important conferences.
MORE: All of CBT's Conference Catchups
Today, we'll be taking a look at the Big Ten.
MIDSEASON BIG TEN PLAYER OF THE YEAR: Frank Kaminsky, Wisconsin
Frank the Tank keeps rolling in his senior season as the center is eighth in the league in scoring (16.5 points per game) and second in rebounding (7.9 rebounds per game). Even more importantly, though, is Kaminsky's efficiency and improvement on the defensive end. Kaminsky has improved his field goal percentages to 53 percent shooting and 42 percent three-point shooting even though he's taking more shots. The 7-footer also averages more blocks per game this season and has committed fewer fouls per game even though he's seen an increase in his minutes. Kaminsky is the most complete big man in college basketball and a big reason why Wisconsin is once again a major threat to make a Final Four run.
THE ALL-BIG TEN FIRST TEAM
Frank Kaminsky, Wisconsin
Rayvonte Rice, Illinois: Rice is tied for fourth in the league in scoring (17.7 points per game), 12th in rebounding (6.5 per game), sixth in steals (1.9 per game) and sixth in 3-point percentage (47 percent). He's already hit a game-winner against Missouri this season.
D'Angelo Russell, Ohio State: The freshman is tied with Rice in scoring at 17.7 per game, but fourth in the league in assists (5.3 per game) — despite being the secondary ball handler to Shannon Scott — ninth in steals (1.8 per game) and seventh in 3-point percentage (46 percent). Cool, calm and collected for a freshman being asked to carry the primary scorer's role.
D.J. Newbill, Penn State: The Big Ten's leader in points (21.4 per game) and minutes (37.5 per game), Newbill has improved his shooting percentages in his senior season to respectable splits (47% FG, 39% 3PT, 78% FT) while leading the team to a 12-1 start. Also owns a buzzer-beater to win a game this season.
Melo Trimble, Maryland: Another freshman who has stepped in and played a huge role while shooting great percentages. The McDonald's All-American is ninth in scoring (15.8 per game), 15th in assists (3.1 per game) and the best free-throw shooter in the conference at 90 percent. He's also shot 49 percent from the field and 42 percent from 3-point range.
THREE THINGS WE'VE LEARNED
1. Wisconsin is worthy again of Final Four discussion: The Badgers didn't shy away from legitimate competition before jumping into the Big Ten schedule, as they won the loaded Battle 4 Atlantis, played three true road games within its own state and hosted and lost to No. 2 Duke. We know what this team is capable of and it's another run at a Final Four. By only losing Ben Brust, Wisconsin returns so much experience and this team plays so well together. They move the ball around the perimeter as well as any team in the country and can space at all five positions with legitimate perimeter threats. Bo Ryan's team loves exploiting mismatches and inverting the floor.
2. The rest of the Big Ten is a question mark (and doesn't appear very good): Outside of Wisconsin, there isn't a team in the Big Ten that you can legitimately say would make it to the second weekend of the NCAA Tournament if given the choice today. There probably will be a few when the tournament does commence, but none of these teams are a guarantee. Maryland is off to a great start but still young and unproven in the conference. Ohio State, Penn State and Minnesota have played cupcake schedules and beaten nobody good. Illinois and Iowa have no-showed at too many random times. Indiana, Purdue, Michigan, Michigan State and Nebraska already own bad home losses to lower conference teams. The race for second place — and all other spots in the league — appears to be incredibly wide open.
3. The league's guards are superior to the front courts: I was having this discussion with some colleagues the other day and we couldn't think of many legitimate front courts in the Big Ten outside of Madison. Purdue has the tough-to-defend center combination of A.J. Hammons and Isaac Haas, but Hammons is inconsistent. But outside of that, the league doesn't have many good and deep front-court units. It's a league dominated by guards and we've even seen three freshmen emerge as legitimate all-conference candidates in James Blackmon Jr., D'Angelo Russell and Melo Trimble. Great guard play also might be the biggest way any team can compete with Wisconsin this season, but good luck matching the Badgers up front.
THREE STORY LINES TO FOLLOW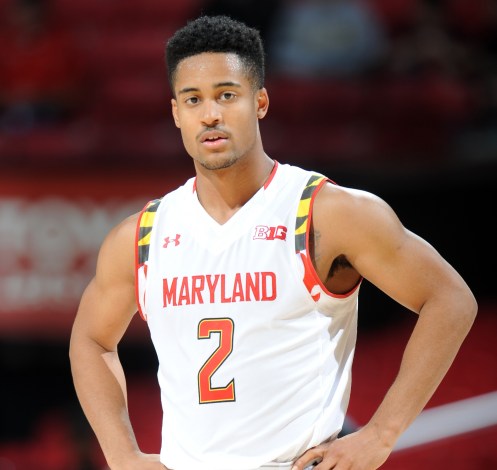 1. Who is the second best team in the Big Ten?: If you had to make a pick today you might say Maryland because of its 12-1 start, even with injuries, but they've never played a Big Ten schedule before, so it's definitely uncertain. Ohio State hasn't beaten a legitimate team all year. Maybe one of the teams with early-season struggles like Michigan or Nebraska will turn things around during conference play? Who knows? It's completely wide open and multiple teams own head-scratching losses.
2. How good is Penn State and Minnesota after easy non-conference schedules?: We've already read about the uncertainty of the Big Ten outside of Wisconsin. We also know that the Pac-12 outside of Arizona, the SEC outside of Kentucky and the entire AAC looks weaker this season. So there are potential tournament bids to be poached with high win totals and decent conference records if things go correctly for a few teams. That's where Penn State and Minnesota become interesting. It's hard to gauge whether either team is a credible Big Ten (or NCAA Tournament) threat, but they each have gaudy records to start the season. The Nittany Lions are 12-1 and D.J. Newbill is having a monster season while the Golden Gophers are quietly 11-2 and playing team-oriented ball. They lead the nation in assists per game (20.2) and have scored 84 or more points in seven straight games — all wins.
3. Will multiple freshmen make the All-Big Ten team?: It's certainly looking possible. We've already talked about D'Angelo Russell and Melo Trimble as early-season all-league selections, but Indiana's James Blackmon Jr. is actually the conference's freshman leader in scoring at 17.9 per game. That's good enough for third in the league and Indiana has a chance to make a run if Blackmon Jr. continues to play well.  These are three special underclass performers that are all stepping up in primary roles for NCAA Tournament contenders.
THREE PREDICTIONS
1. Wisconsin will win the league but won't go unbeaten. And again make the Final Four: The Badgers look like the clear-cut favorite to win the Big Ten, but they'll probably lose at some point during the conference schedule. Wisconsin will have an off-night and some team will get hot at home, especially as pressure might mount for the attention an unbeaten conference season. Closing with two consecutive road games at rival Minnesota and Ohio State might do the trick, if it isn't done by then. As for the Final Four, this Wisconsin team is a matchup nightmare in a tournament setting because it's hard to prepare for the Badgers' ability to stretch the floor. Big Ten opponents who have seen Wisconsin multiple times might have better luck., but the Badgers should be able to get to Indianapolis this March.
2. Maryland will finish second in the Big Ten: There's just something about the way this Maryland team has been playing. They play with confidence and have a lot of players who can score and they've played really well despite losing Dez Wells and Evan Smotrycz to injury at different points this season. When fully healthy, the Terrapins could be pretty deep, with plenty of shooting options. It also doesn't hurt Maryland that much of the Big Ten has weak front courts as well to test their unproven interior.
3. The Big Ten will get seven teams in the NCAA Tournament: This is more of a testament to how weak the other conference landscapes are then the strength of the Big Ten. Still, half of the league's membership making the Big Dance would be a solid year, it just doesn't seem like any other team is a strong Final Four contender outside of Wisconsin. If the Big Ten teams outside the Badgers don't beat up on each other too badly I can see seven teams safely making the field, with the potential of even more depending on how bad the AAC, SEC and PAC-12 continue to look.
HOW THEY FINISH
NCAA: Wisconsin, Maryland, Ohio State, Illinois, Iowa, Michigan State, Indiana
NIT: Penn State, Minnesota, Nebraska, Michigan, Purdue
NO POSTSEASON: Northwestern, Rutgers