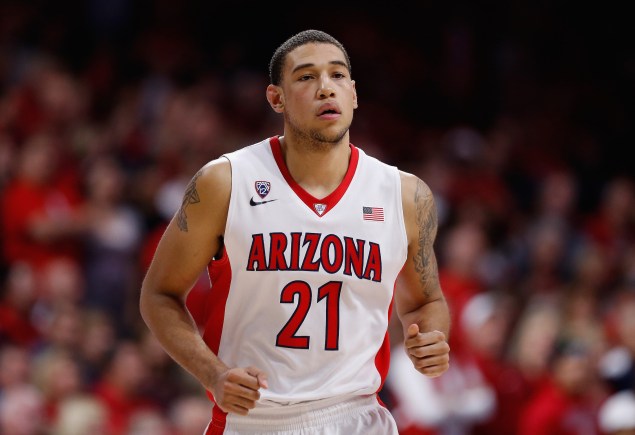 Arizona lost last week.
They lost to UNLV, a team that, at the time, was ranked as the 132nd team in the country by Kenpom.
On paper, that's a hideous loss, one that would be the culmination of some early season struggles that the Wildcats have had.
But if you look deeper, punishing Arizona by dropping them more than a spot or two in the rankings is foolish. First of all, UNLV has spent the first part of the season drastically under-performing. Second of all, the Rebels have a pair of potential pros on the roster in Rashad Vaughn and Christian Wood, something that can rarely be said for sub-100 teams on Kenpom.
But most importantly, the game was played at UNLV just four days after Arizona played at UTEP. Sean Miller challenged his club by taking them out of Tucson for a few games right ahead of Christmas. How many other top ten programs would be willing to do that?
We need more games like that, marquee matchups in on-campus environments with favored teams hitting the road. We'd do well not to punish them too much if they lose.
Anyway, on to the Top 25 …
1. Kentucky (13-0, LW: No. 1): Kentucky currently owns wins over Kansas, Texas, Providence, North Carolina, UCLA and Louisville with an average margin of victory of 20.8 points. That's pretty good, right?
2. Duke (10-0, LW: No. 2): Duke hasn't played in 11 days, since their win over UConn in New Jersey. The Blue Devils will play Wofford and Toledo in the next three days before beginning ACC play.
3. Wisconsin (12-1, LW: No. 4): The Badgers bump up into the top three after Arizona's loss to UNLV last week. The Badgers landed a very impressive win at Cal a week ago, their first road game of the season.
4. Virginia (11-0, LW: No. 5): I may go into it a bit later this week, but Virginia's the third-most efficient defensive team in the country, according to Kenpom, and what they run looks nothing like that Kentucky or Louisville, the No. 1 and 2 defensive teams in the country, run.
5. Arizona (12-1, LW: No. 3): The Wildcats played at UTEP and at UNLV in the week before Christmas and it cost them against the Rebels. UNLV has not been good this season, but the loss will look worse on paper than it actually was; UNLV has plenty of talent and two guys that could end up getting drafted in 2015.
6. Gonzaga (12-1, LW: No. 7): The Zags landed a pretty nice win at BYU to kick off WCC play this week. Kevin Pangos snapped out of his funk and Kyle Wiltjer was the offensive weapon that he's been all season long.
7. Villanova (12-0, LW: No. 9): The Wildcats have dealt with some slow starts in recent weeks. When Big East play kicks off on New Year's Eve, the luxury of surviving an ugly start to a game will go away.
8. Louisville (11-1, LW: No. 8): Losing to Kentucky at home isn't really that much of a concern. There's a reason the Wildcats were favored to win that game. I'm much more concerned with Chris Jones' struggles and his inability — or unwillingness — to do anything about changing the way he plays.
9. Texas (10-2, LW: No. 6): Texas lost to Stanford at home on Tuesday night, which is why they dropped from sixth to ninth this week. At this moment, they're probably not a top ten team, but I'm not going to let them slide too far until they get back to full strength when Isaiah Taylor is healthy.
10. Iowa State (9-1, LW: No. 12): The Cyclones seem to be flying a bit under the radar right now, but that's understandable. They haven't really beaten anyone yet this season.
11. Utah (9-2, LW: No. 13)
12. Kansas (9-2, LW: No. 10)
13. Oklahoma (8-3, LW: No. 15)
14. Notre Dame (12-1, LW: No. 16)
15. Georgetown (8-3, LW: No. 17)
16. Washington (12-1, LW: No. 14)
17. Wichita State (10-2, LW: No. 11)
18. Maryland (12-1, LW: No. 18)
19. North Carolina (9-3, LW: No. 21)
20. Colorado State (13-0, LW: No. 19)
21. Ohio State (9-2, LW: No. 20)
22. St. John's (11-1, LW: No. 22)
23. Northern Iowa (11-1, LW: No. 23)
24. VCU (9-3, LW: No. 25)
25. West Virginia (LW: UR)
Dropped Out: No. 24 Cal