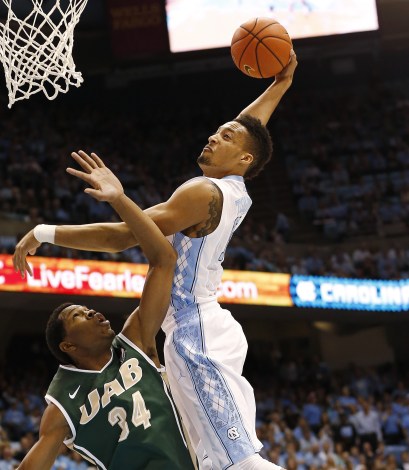 After knocking off North Carolina in Birmingham last season, Jerod Haase's UAB Blazers looked to duplicate said feat Saturday afternoon in Chapel Hill. Unfortunately for UAB things didn't work out that way, with the 20th-ranked Tar Heels controlling the game from start to finish and winning by the final score of 89-58.
The highlight of the day for North Carolina: the above dunk by junior forward J.P. Tokoto on UAB forward William Lee. Tokoto finished the game with just three points to go along with four rebounds and three assists, but it didn't matter much as Marcus Paige led six Tar Heels in double figures with 16 points.
Now 9-3 on the season, Roy Williams' team will host William & Mary December 30 in their final non-conference game before beginning ACC play January 3 at Clemson.