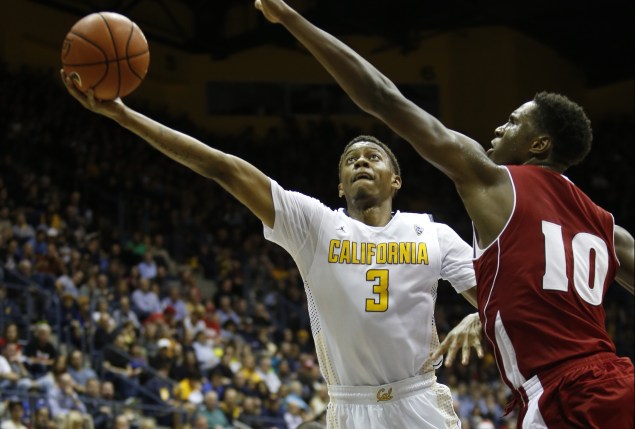 MORE: The rest of our New Year's Resolutions | Midseason catchups
Ty Wallace, Cal: I'm firmly entrenched on the Ty Wallace bandwagon, having said repeatedly that there is no player in the country as underrated as Cal's star point guard. Look at this stat line: 19.3 points, 8.8 boards, 4.2 assists and 46.9 percent shooting from three.
Justin Anderson, Virginia: Anderson's emergence into Virginia's leading scorer has been the biggest surprise of the season for me. Always known as a great athlete and teammate, Anderson is now averaging 15.1 points and shooting 60.0 percent from three. He's not a go-to guy, but he's been Tony Bennett's most valuable weapon thus far.
Willie Cauley-Stein, Kentucky: Cauley-Stein is starting to live up to his potential this season, becoming the nation's most versatile defender while anchoring on college basketball's best defense. A 7-foot-1 center, he can switch ball-screens and has been tasked with stopping an opponent's best wing scorer at times this season.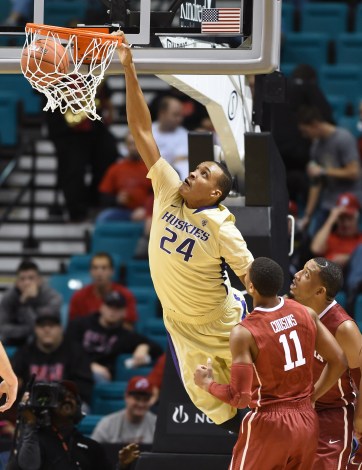 Robert Upshaw, Washington: Washington's emergence as a top three team in the Pac-12 can almost entirely be credited to Upshaw, who has become the nation's premiere shot-blocking presence. He's averaging 4.6 blocks in just 20 minutes and has completely changed the way that Washington is able to defend. I'd argue he's one of the ten most valuable players in the country right now.
Christian Wood, UNLV: Wood is playing like a first round draft pick, averaging 13.9 points, 9.6 boards and 3.0 blocks for the Rebels. He had 24 points and 10 boards in UNLV's win over No. 3 Arizona on Tuesday night.
Terry Rozier, Louisville: Rozier has done much of what was expected of him this season. His scoring is up to 16.5 points from 7.0 as a freshman, and while he's not shooting quite as well from the perimeter this season, his percentages are up overhaul and he's turned into one of the nation's best, and most important, secondary options.
Rakeem Christmas, Syracuse: Someone had to become a scorer for Syracuse this season, and thus far in the year it's been the senior big man that's done it. He's averaging 16.5 points and 8.7 boards, a bright spot in an otherwise frustrating season for the Orange.
Zach Auguste, Notre Dame: Auguste has always had the potential to be a big-time scorer in the paint for the Irish, and he's finally reaching it this year. Auguste's averaging 14.8 points through the first month, although it will be interesting to see what happens when the Irish start to play some tougher competition.
Levi Randolph, Alabama: Randolph has become a go-to guy for Alabama as a senior, as he's now posting some impressive numbers: 16.5 points, 4.9 boards and 3.1 assists for the 8-3 Tide.
Dylan Ennis, Villanova: Who saw this coming from Ennis? He's Villanova's leading scorer, their most dangerous three-point shooter and one of the best defenders on the roster.
Stefan Nastic, Stanford: With so much of Stanford's front line graduating, Nastic's role has been dramatically increased this year, and it's paying off. Nastic is averaging 14.5 points and has become one of the better low-post scorers on the west coast.
Justin Moss, Buffalo: As a sophomore, Moss averaged 3.8 points and 3.2 boards playing behind Javon McCrea. As a junior, those numbers have bumped up to 17.3 points and 10.2 boards. Oh, and he did this.
Malcolm Hill, Illinois: Hill started a handful of games as a freshman, but as a sophomore he's moved into a major role for John Groce. His scoring has bumped up to 12.8 points this year, as the Illini look like they could contend for a spot in the NCAA tournament.
Damian Jones, Vanderbilt: Jones has developed into the star we expected him to be as a sophomore, averaging 16.5 points and 7.1 boards.
Denzel Valentine, Michigan State: The Spartans have been a disappointment through the season's first month, but Valentine has been terrific. These numbers are nothing to joke about: 14.5 points, 5.5 boards, 4.3 assists, 50.0 percent from three.