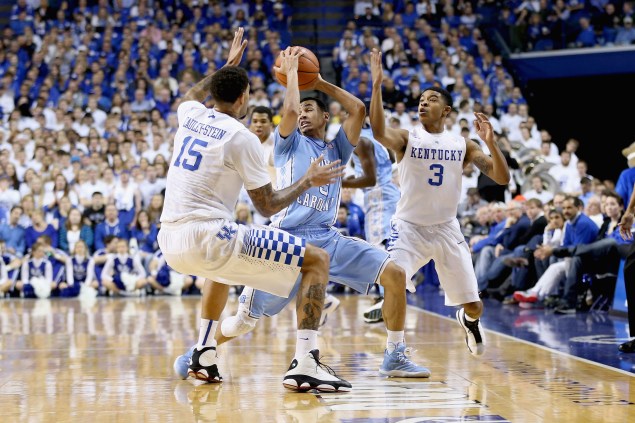 The center of the college basketball universe will be Louisville, Kentucky, on Saturday afternoon, as the No. 1 Wildcats will head west 80 miles on I-64 to visit the Yum! Center and the No. 4 Cardinals in season's most anticipated matchup.
Kentucky has been absolutely dominant this season, handing beatdowns to Kansas, UCLA and Providence while handling Texas and North Carolina with relative ease. They've struggled against teams like Buffalo, Boston U. and Columbia — which likely has more to do with a lack of focus than anything else — but that hasn't quieted the speculation of a 40-0 season in Lexington.
Part of the reason that talk has gotten so loud in recent weeks is that the SEC is, well, not all that good this season. Florida is not the typical Gator team, Arkansas is up and down, LSU and Ole Miss aren't as good as we expected, Missouri is rebuilding, Texas A&M and South Carolina are still a year away. Put all that together, and what you get Saturday is, by far, the biggest threat Kentucky will face until the NCAA tournament.
Can the Cardinals actually pull it off?
The answer is going to come down to offensive execution, as this game will pit the nation's No. 1 and No. 2 defenses, according to Kenpom.
What's interesting there is that while both Louisville and Kentucky have similar philosophies on that end — both defend for 94 feet, and both extend their half court defense — what they run could not possibly be more different.
There is no trickery in what Kentucky is doing. Opponents know exactly what is coming. It's straight man-to-man, with pressure extending out will beyond the three-point line in an effort to take teams out of their offense. They don't want to let you move the ball around the perimeter, instead daring opposing guards and wings to try to penetrate one-on-one, forcing them to the baseline side. When that happens, Kentucky's massive front line is there to help.
The result? The driver is going to have to take a tough, challenged shot over two defenders that are likely much bigger than him, he's going to have to make a pressured pass back out to the perimeter or he's going to turn the ball over.
This is more or less the perfect example of what I mean. Tyler Ulis is all over Bryce Alford from the moment he touches the ball in the back court. When Isaac Hamilton gets a touch, he's forced to the baseline side Devin Booker, where he dribbles straight into Dakari Johnson and forces a shot he has almost no chance of making:
This is where Louisville can run into trouble.
There really is no point guard on the Cardinal roster. Chris Jones is listed as their point guard, and Terry Rozier has a future as a combo-guard down the road, but at this point in their respective careers, both of Louisville's starting back court players are scorers first and foremost.
Rozier is one of the most improved players in the country and a guy that can take over a game in a moment's notice. He was terrific against Indiana at the Jimmy V Classic, and he scored 26 points in the second half of Louisville's win over Western Kentucky after Montrezl Harrell was ejected from the game. Rick Pitino needs him to be able to score, but he also needs him to pick his moments. You cannot force things offensively against Kentucky, it will not work out well for you.
And that's where Jones comes into the equation. I've written about this plenty over the last two weeks, but Jones is a natural chucker that has somehow gotten it into his head that he's the next Russ Smith. He's a high-volume, low-percentage shooter that doesn't always make good decisions with the ball in his hands. That was the way that Russ played early in his career. That also changed by the time Russdiculous turned into an All-American.
If Jones tries to do too much against this Kentucky defense, he'll be in for a long, long afternoon.
Frankly, given how limited Louisville can be on the offensive end of the floor, the biggest key for them in my mind is how often they can turned their defense into offense.
And that brings me to what the Cardinals do on the defensive end of the floor.
It's difficult to define the defense that Rick Pitino runs, but I'll try. He has a couple of different looks that he'll use on the press, but the majority of the time he's running a 2-2-1, full-court press that drops back into something that looks like a 2-3 zone, which is the crux of the defense that Louisville has used since Pitino arrived.
It's that "zone" that throws teams off. Sometimes it's a regular 2-3 zone. Sometimes it's a matchup zone. Sometimes they'll play zone on one half of the floor and man on the other half. Sometimes they switch from zone into man-to-man halfway through the possession, and vice versa. Sometimes they trap, sometimes they don't.
The entire premise of this system is to try and confuse the offense, to get them running a man-to-man offense against a zone or to delay their ability to get into a set until there are just 15 seconds left on the shot clock.
Will Andrew Harrison and Tyler Ulis be able to identify what they need to run offensively? You try it. What defense is Louisville running here? You think it's zone until you see where Wayne Blackshear starts the possession and where he forces a turnover:
If Kentucky's guards can, the Wildcats should be in pretty good shape, although some of the nation's best and most experienced point guards have been flummoxed by the Cardinal defense.
But the more important question might actually be whether Kentucky can beat Louisville's press.
Louisville's 'Black' press, their 2-2-1 zone press, is the one they use the most often. Louisville's two guards, usually Rozier and Jones, will essentially be asked to defend Kentucky's ball-handlers man-to-man, slowing down their offense as they try to make the dribbler uncomfortable, speeding him up and trying to force him into a poor decision. Their 'White' press, a 1-2-1-1 trapping press, is more attack-minded and one that Pitino will use as a change of pace, often on dead ball situations in the back court.
Either way, the goal is to force live-ball turnovers and get easy baskets in transition out of it. Not only will that allow Louisville to avoid having to go against Kentucky's staunch, half court defense, but it will allow the Cardinals to get right back into their press.
Anyway, enough talk of the defenses. Here are a few more notes on the matchup:
KEYS TO VICTORY:
Louisville
Getting good shots: It sounds so simple, but avoiding tough, contested and quick shots against Kentucky's defense is so important, and without a true point guard on the floor, that can be difficult.
Guards have to score: Harrell is going to have a tough night with Kentucky's front line, which makes the play of Louisville's back court all-the-more important. Rozier has to be a big-time scoring threat and Jones and Blackshear have to make shots.
Control the defensive glass: Kentucky's size and depth up front can be overwhelming, and they are grabbing 45.5 percent of their available misses. Harrell, Chinanu Onuaku and the rest of Louisville's bigs will need to box out.
Kentucky
Don't turn the ball over: That's what Louisville needs Kentucky to do. Combine Louisville's pressure with Kentucky playing their first true road game of the season, and the potential is there for Kentucky's guards to become overwhelmed.
Hit perimeter jumpers: It's amazing how much better Kentucky is when their threes are going down. They're going to get some open looks on Saturday. Make them, and Louisville will have a difficult time winning this game.
Show up ready to play: I don't think it's possible for a Kentucky team to not be ready for this game, but you never know. If they come out like they did against Buffalo or Columbia and let Louisville jump out to an early double-digit lead, it will be tough to come from behind in that environment against Louisville's defense.