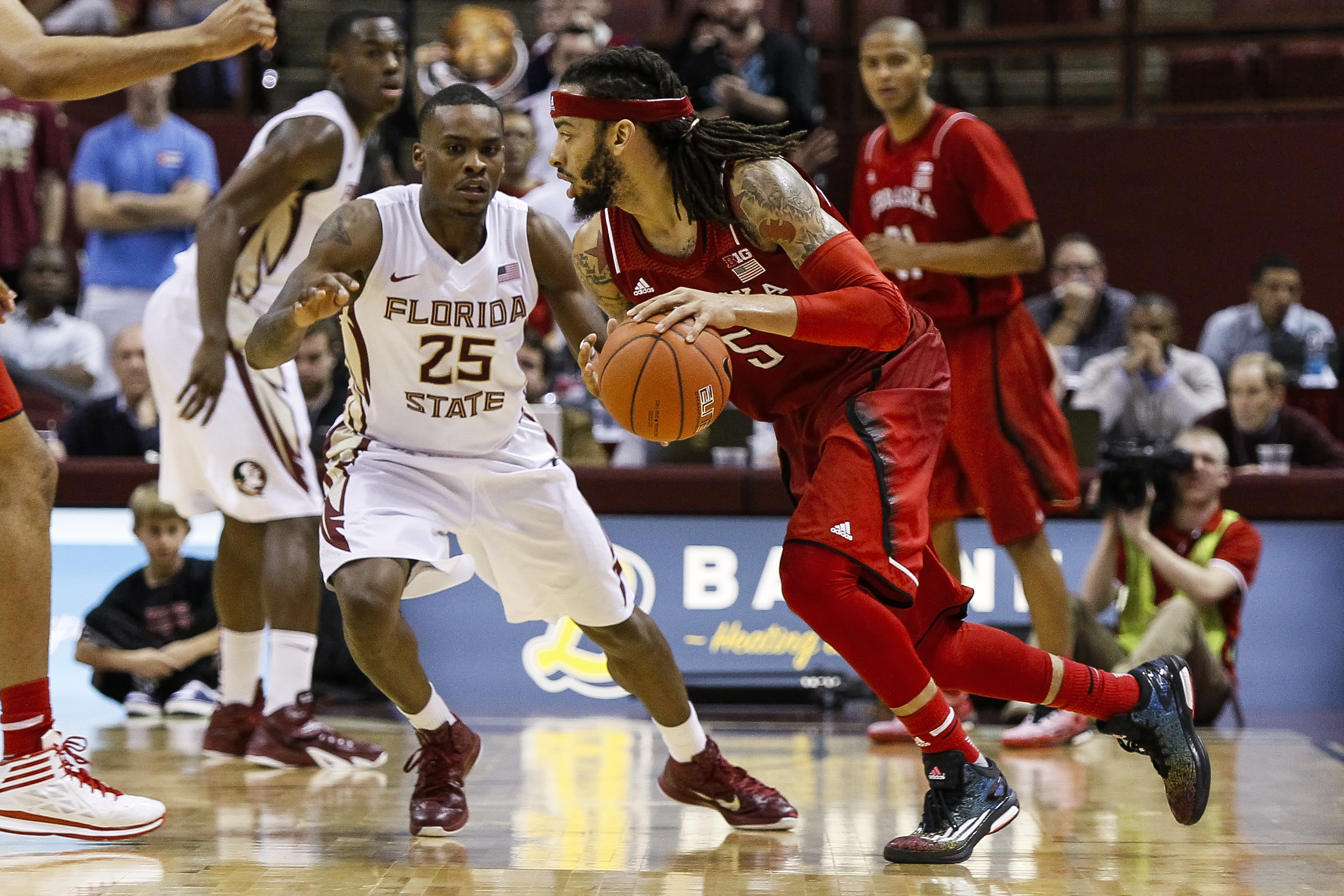 The Michigan schools: The Spartans are 7-4 on the season, their only relevant win is over a not-very-good Marquette team and they've lost to Texas Southern. They're also dealing with the absence of Branden Dawson, who broke his wrist in a fall earlier this season. This is the result of Tim Izzo and the Spartans swinging and missing on a number of elite recruits in the past couple of years.
And the worst part? Sparty is the best basketball program in the state right now, because the wheels have completely fallen off for Michigan. They are 7-5 on the year, having lost four in a row at one point this season: NJIT, Eastern Michigan and SMU at home with a 27-point road loss to Arizona thrown in the middle. This is what happens when you constantly get raided by the NBA for underclassmen. Michigan's bigs are just not ready yet, they have a mid-major point guard in Spike Albrecht playing major minutes and their big three of Derrick Walton, Caris LeVert and Zak Irvin cannot carry the load.
Nebraska: I thought Tim Miles' crew had a chance to finish in the top three of the Big Ten this season, building on the talent that they return from a team that finished fourth in the conference a season ago. Terran Petteway is back. Shavon Shields is back. And yet the Huskers head into the Christmas break with a record of 7-4, losses to Incarnate Word, Hawaii, Rhode Island and Creighton and an offense that ranks 245th on Kenpom. They turn the ball over a ton, they don't get offensive rebounds and they can't shoot it from the perimeter. That's a bad combination of things.
The whole Big Ten: There is no second contender in the Big Ten at this point. There's Wisconsin, then there's a major gap, and then there's everyone else. In addition to the Wolverines, Spartans and Cornhuskers, Iowa's been just as disappointing. Their win at North Carolina was nice, but they followed it up by more-or-less quitting against Iowa State at home. Purdue has lost to North Florida and Gardner-Webb. Ohio State has a gaudy record and a top 25 ranking, but they did not look impressive at all in losses to Louisville and North Carolina.
So who's the second-best team in the Big Ten? Maryland? Indiana? Illinois? Minnesota? That's not exactly a murderer's row.
Kansas: The Jayhawks have four impressive wins this season: Michigan State, Utah, Florida and at Georgetown. They have also been utterly embarrassed twice, losing to Kentucky and Temple by a combined 57 points. Their freshmen — Cliff Alexander, Kelly Oubre and Devonte' Graham — have not had the impact that was expected of them, and Wayne Selden and Perry Ellis are the kind of tough-headed, dynamic leaders they need to be. The Jayhawks are soft right now, and yet this team has still put together a top 15 resume this season.
Marcus Paige: I took a deeper look at what's wrong with Marcus Paige early on this season right here, so I won't go to in-depth. But in short: He's not playing an ideal role, his teammates are struggling from the perimeter and, frankly, he's missing open shots. This will turn around.
SMU: The Mustangs had an awful start to the season, but much of that can be attributed to one thing: Markus Kennedy. The best big man in the American missed the first month of the season after being declared academically ineligible. Well, he's back now. Will that allow Larry Brown to start to change things around?
Florida: Like SMU, there's a reason for Florida's early struggles, as the Gators were banged up to start the year and have too many players in roles that they aren't used to playing. A slow start wasn't unexpected, but it will be interesting to see if this group grows into being the second-best team in the SEC by the time the season is done.
UCLA: For a team with the amount of talent that Steve Alford has on his roster, it's pretty shocking to see them get blown out the way they did against Kentucky last weekend. It was 24-0 and 41-7 before Kentucky won 83-44. The Bruins, complete with at least two potential first round draft picks in 2015, are now 8-4 on the year their best win being San Diego or Coastal Carolina.
Memphis: The Tigers are starting to get things headed back in the right direction, but they are going to have a ton of issues all season long. That's what happens when the only player in your back court with any collegiate experience is a completely out of shape Kedren Johnson. Josh Pastner has good big men, but no one to get them the ball.
Colorado: I'll admit, I thought that the Buffaloes were a bit overrated entering the season, but I didn't see this coming. I didn't think they'd fall out of the top five in the Pac-12, but here we are in December and it looks like Tad Boyle's club will have a tough hill to climb to get into the NCAA tournament.