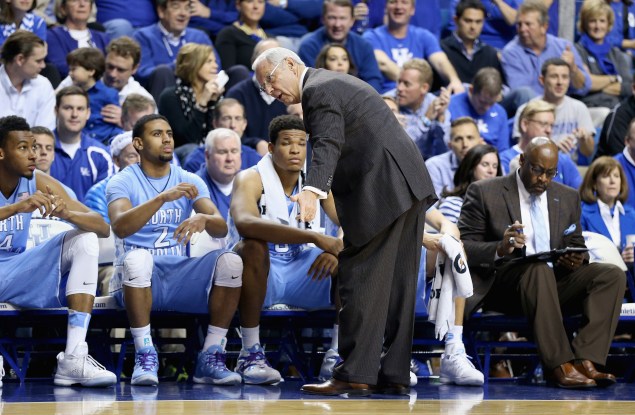 Conference play is right around the corner, so over the course of the next two weeks, College Basketball Talk will be detailing what some of the country's best, most intriguing, and thoroughly enigmatic teams should resolve to do with the New Year right around the corner. What can we say, we're in a giving mood. Thank Jessica Simpson.
MORE: The rest of our New Year's Resolutions | Midseason catchups
NORTH CAROLINA PROMISES TO: Continue to get more from Joel Berry II
It will happen because: In the last four games, freshman point guard Joel Berry II has seen a spike in action, logging 13.0 minutes per game. As noted in this piece on Marcus Paige's offensive woes, the Tar Heels are in need of Berry or Nate Britt to step up and run the offense to shoulder some of the pressure put on Paige. On Saturday, Berry scored five points and dished out four assists in North Carolina's 82-74 win over No. 12 Ohio State. Two of those dimes resulted in seven points for Paige. In the first setup, Berry drove into the lane in transition, attracting three defenders before finding the trailing Paige open on the left wing. Berry will be a better offensive option than fellow reserve point guard Nate Britt.
It won't happen because: While the his performance against Ohio State is encouraging, it's still a small sample size. Berry will have to continue this production in a larger role moving forward, in a conference that has talented guard play all around. Berry is also part of a bigger issue for North Carolina: its 3-point shooting. Berry is 3-of-16 shooting through the first 11 games.
NORTH CAROLINA ALSO SWEARS THEY WON'T: Struggle with perimeter scoring
It will happen because: Paige, who was not only being tabbed as a preseason All-American, but also a player of the year candidate, has seen his points per game and shooting percentages take a considerable dip this season. That is a byproduct of North Carolina's lack of perimeter scoring options surrounding Paige. The Tar Heels are 47-of-165 from three with Paige hitting 25 of those shots. Defenses are not only keying in on Paige, they are packing the paint, which also makes it difficult for Kennedy Meeks to operate in the post. This can change if several highly-regarded freshman can pick up their production offensively. As mentioned above, Berry looked more comfortable in UNC's win over Ohio State, which in return could have positive effects on Justin Jackson moving forward as suggested here.
It won't happen because: North Carolina has only connected on 28 percent of its threes, as a team. The Tar Heels can improve on that end of the floor if someone else on the perimeter can become a consistent offensive threat, whether it be Berry or Jackson. If/when that does happen, will it before enough to push the Heels into title contention with the ACC's elite teams. Duke, Louisville and Virginia — all in kenpom's top 5 — posses some of the top defenses in the country, all holding opponents to under 28 percent from beyond the arc. North Carolina could have a second perimeter option emerge, but that doesn't mean it'll be enough for UNC to compete with the nation's best.