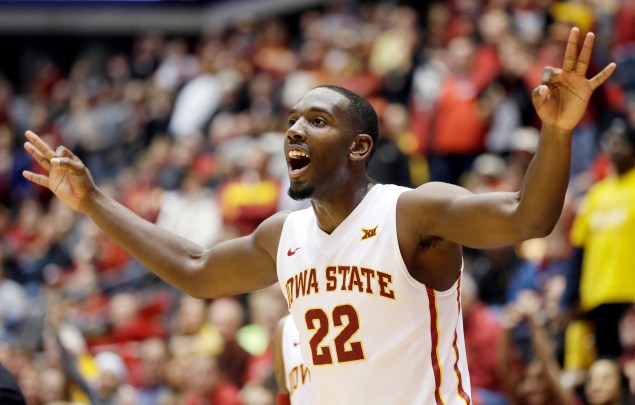 Conference play is right around the corner, so over the course of the next two weeks, College Basketball Talk will be detailing what some of the country's best, most intriguing, and thoroughly enigmatic teams should resolve to do with the New Year right around the corner. What can we say, we're in a giving mood. Thank Jessica Simpson.
MORE: The rest of our New Year's Resolutions | Midseason catchups
IOWA STATE PROMISES TO: Maintain tremendous scoring balance
It will happen because: Iowa State has been one of the most balanced offensive teams in the country this season, as they have an astounding five different players averaging at least 11 points per game through 10 games. Even better? All five of those players have shot at least 47 percent from the field and four of the five are above 50 percent. With so many weapons on the offensive end of the floor and so many versatile threats who can go inside or outside, it's hard to see Fred Hoiberg's ballclub getting slowed up scoring points this season. Georges Niang is an All-American candidate inside, point guard Monte Morris gets other players good shots and Bryce Dejean-Jones gives them an athletic slasher. Naz Long and Matt Thomas can both fill it up from the perimeter. Iowa State has a lot of offensive players who do different things well and it's tough to stop them all.
But it might not because: It's nice that Iowa State is putting up some good offensive numbers early in the season, but they haven't exactly played a difficult schedule filled with teams who can get consistent stops. Wins over Arkansas, Iowa and Alabama look nice on paper, but none of them are sure-fire NCAA Tournament teams as we enter the new year and Iowa State's offense looked completely average in a loss to Maryland. Maryland's length and athleticism on the defensive end made Iowa State's look normal and it will be interesting to see how the Cyclones fair against tough and athletic Big 12 opponents like Texas and Kansas.
IOWA STATE ALSO SWEARS THEY WON'T: Falter on the road
It will happen because: Away from the magic of Hilton Coliseum, Iowa State has been very average under Hoiberg. The Cyclones were 8-14 in true road games the last two seasons and return many of the same pieces from last year's campaign. And it's not like the Big 12 has gotten any easier since last season. As of this writing, seven of the 10 teams in the league sit in the AP Top 25 and Oklahoma State and Kansas State will both be tough outs at home outside of that group. If Iowa State wants to compete in the Big 12 in 2014-15, they need to string together some true road wins against top 25 teams.
But it might not because: A favorable schedule means that Iowa State only has three more true road games until February and one of those is a very winnable game at Texas Tech. The Cyclones also already earned an impressive road win at in-state rival Iowa as well this season and with Morris being so steady at point guard, this team is experienced and should be able to handle the pressures of playing in a hostile environment a little better this season. The addition of transfer big man Jameel McKay also gives Iowa State a rim protector that they haven't had in recent years and that should make them significantly better on the defensive end.