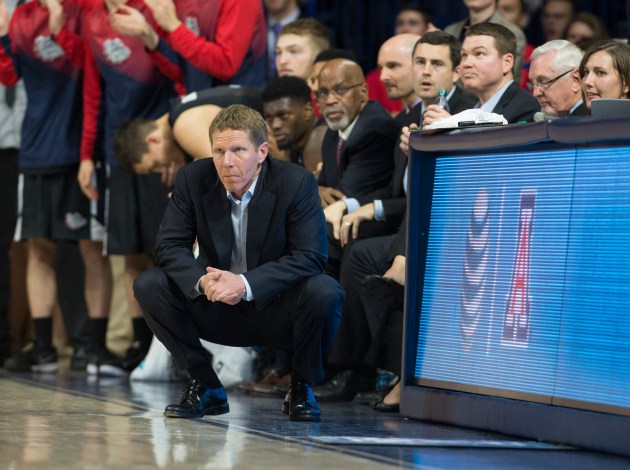 Conference play is right around the corner, so over the course of the next two weeks, College Basketball Talk will be detailing what some of the country's best, most intriguing, and thoroughly enigmatic teams should resolve to do with the New Year right around the corner. What can we say, we're in a giving mood. Thank Jessica Simpson.
MORE: The rest of our New Year's Resolutions | Midseason catchups
GONZAGA PROMISES TO: Get Kevin Pangos more shot attempts within the offense.
It will happen because: Pangos is currently averaging 7.2 field goal attempts per game, three fewer attempts than he averaged as a junior (10.3), and he's averaged at least nine attempts per game in each of his first three seasons at Gonzaga. Thus far Pangos has attempted ten shots or more in just two games (SMU and Arizona), and his scoring average (10.8 ppg) is more than three points below his average of a season ago (14.4). But it must be noted that Pangos' percentages are up, as he's currently shooting 48.8% from the field, 42 percent from three and 89.3% from the foul line while also averaging 4.9 assists per game (3.6 apg in 2013-14).
It won't happen because: He's their best distributor and with freshman Josh Perkins out of the lineup with a broken jaw, Pangos' ability to get the ball to his teammates in spots where they can be most successful is more important than him getting shots. Plus, this is where Gonzaga's improved depth and increased number of scoring options come into play. Kyle Wiltjer has been the impact transfer many expected him to be before the season began, Przemek Karnowski's improved in the post and the addition of newcomers such as Byron Wesley and Domantas Sabonis have helped as well. Add in fellow senior Gary Bell Jr., and there's no need to fret over how many shots Pangos is getting.
GONZAGA ALSO SWEARS THEY WON'T: Have issues getting to the foul line in conference play.
It will happen because: Interestingly enough getting to the foul line has been even more of an issue this season than it was in 2013-14, with Gonzaga's free throw rate dropping from 41.2 to 35.4. One key in this area is Karnowski, whose individual free throw rate has dropped from 75.8 to 24.2. Gonzaga's schedule in non-conference play has presented some matchups with teams better equipped to defend their big men without fouling, and with Wiltjer being more perimeter-oriented he hasn't gotten to the line much either.
It won't happen because: Even with the Bulldogs rating as one of the nation's best offensive teams with regards to both field goal percentage and efficiency, there's still room for this team to grow on that end of the floor. More game action together guys will have an even better idea of where each player is most capable of having an impact offensively, which should lead to more opportunities to get to the foul line. Add in the fact that they're in a conference that doesn't have another team ranked in the Top 100 in adjusted defensive efficiency per kenpom.com, and that should also benefit the Bulldogs moving forward.