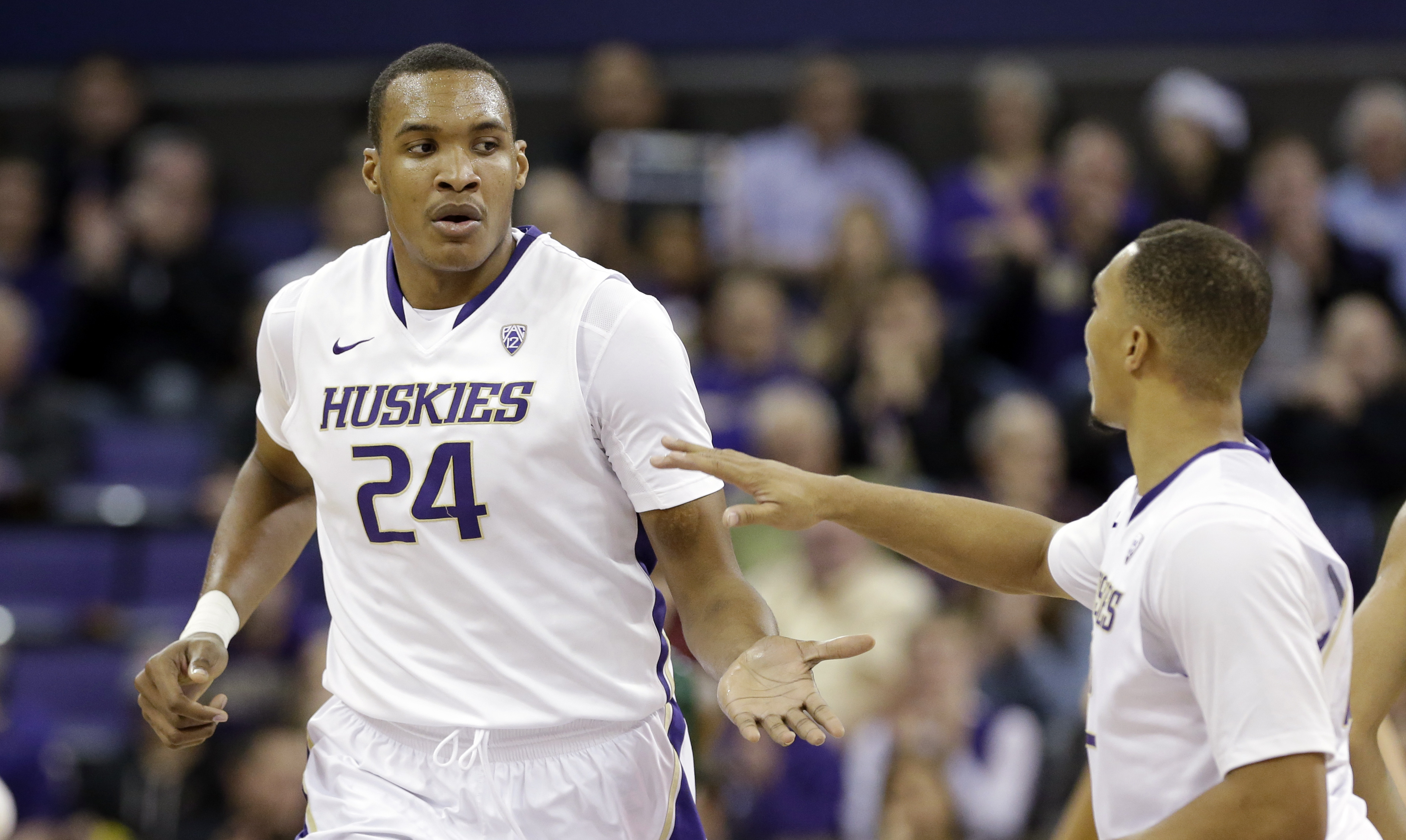 MORE: The rest of our New Year's Resolutions | Midseason catchups
Washington: No one saw this coming from Washington this season. Through the season's first month, the Huskies remain one of just eight undefeated teams left in the country, having won the Wooden Legacy tournament in California, beaten San Diego State at home and knocked off Oklahoma in a showcase in Las Vegas. Nigel Williams-Goss and Andrew Andrews have been terrific, but the real difference-maker this season has been Robert Upshaw. A seven-foot transfer from Fresno State, Upshaw's ability to block shots — he's averaging 4.6 blocks in just 20 minutes — has changed the way U-Dub can defend.
St. John's: I have no problem sitting here and telling you that I'm not sold on St. John's yet this season. Maybe it's because they seemingly are coming-from-behind in the second half of every game. Maybe it's because I don't trust D'angelo Harrison and Rysheed Jordan in the back court. Maybe I'm too used to Steve Lavin teams disappointing me.
But none of that matter right now.
The Johnnies are 10-1 on the season — the only loss coming to Gonzaga — and playing the nation's fourth-best defense, according to Kenpom. They've won at Syracuse, they've beaten Minnesota and St. Mary's, they're a top 25 team on Kenpom. Let's see if it holds.
West Virginia: I really didn't expect much from the Mountaineers this season, even with Juwan Staten on the roster. No one did, not in a loaded Big 12 conference. But at this point in the season, the Mountaineers have just a one point loss to LSU on their resume and wins over UConn, N.C. State and Wofford. Their full court pressure has been a game-changer, and there's a chance this team could end up finishing top five in the Big 12.
Kentucky: The fact that Kentucky is No. 1 in the country isn't surprising. The fact that they are still undefeated, or that there is speculation they will go undefeated this season, is not all that surprising, either. What is surprising, however, is just how well this team has bought into the idea of sharing minutes, and just how dominant that's allowed them to be. Who had the Wildcats beating Kansas, UCLA and Texas by a combined 83 points?
Maryland: Mark Turgeon is too good of a coach to have a team stay down forever, and while the Terps made a name for themselves when they beat Iowa State early this season, did anyone think they would survive the loss of Dez Wells unscathed? Maryland just won at Oklahoma State, has only lost to Virginia this season and will be getting Wells back by the time Big 10 play starts.
Justin Anderson: Anderson has always been known as a terrific athlete, teammate and defender. This season, however, he's turned into Virginia's leading scorer, a prototypical three-and-D wing that is shooting 60.0 percent (!!!) from beyond the arc.
Old Dominion: We can't ignore what Jeff Jones has done with this Monarch team this season. They've beaten LSU, Richmond, VCU and Georgia State already this season and look like they'll be a favorite Conference USA. This comes two years after they won just five games.
Dylan Ennis: The leading scorer on the best team in the Big East this season is also one of the most unexpected, as Dylan Ennis has turned into a star for Villanova this season. He's their best shooter, one of their best creators and a terrific defender.
Baylor: The Bears are another one of those teams that I can't figure out, but there's not denying their record and who they've beaten. Baylor is 10-1 on the season with wins over South Carolina, Stephen F. Austin, Memphis, Vanderbilt and Texas A&M. They kick off Big 12 play on January 3rd against Oklahoma. We'll see they do in league play.
Big East: The conference, as a whole, has come back down to earth a little bit over the last couple of weeks, but that doesn't change the fact that the league appears to be much stronger from top to bottom than anyone predicted. Villanova is still the class of the league, but St. John's and Georgetown both look like they could make the second weekend of the NCAA tournament. Butler, Creighton, Xavier, Providence and Seton Hall all put themselves in a spot when an NCAA tournament bid is possible. Marquette looks much better now that Luke Fischer is in the mix. And even DePaul did something good, beating Stanford by 15 points earlier this year.