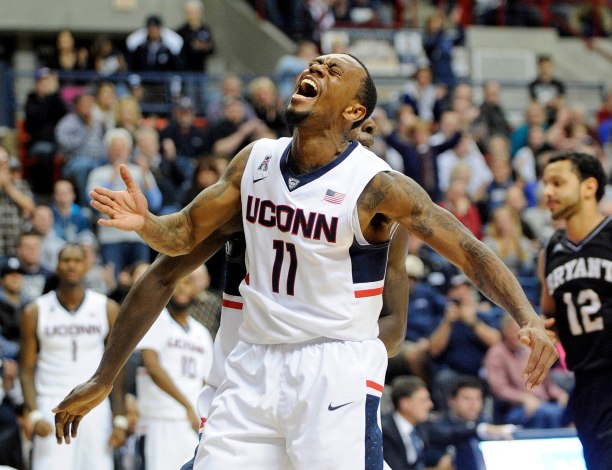 Conference play is right around the corner, so over the course of the next two weeks, College Basketball Talk will be detailing what some of the country's best, most intriguing, and thoroughly enigmatic teams should resolve to do with the New Year right around the corner. What can we say, we're in a giving mood. Thank Jessica Simpson.
MORE: The rest of our New Year's Resolutions | Midseason catchups
UCONN PROMISES TO: Get Ryan Boatright consistent help on the perimeter.
It will happen because: Despite the numbers, UConn's perimeter rotation doesn't lack for talent. Of course there's Daniel Hamilton, who has been one of the better freshmen in the country and has the ability to make plays not only for himself but for others as well. NC State transfer Rodney Purvis, while he's off to a slow start, can put points on the board and maybe his 21-point outing against Columbia is a sign of what's to come now that he's healthy. Add in Sam Cassell Jr., a solid defender in Terrence Samuel and (if he can stay healthy) Omar Calhoun, and depth won't be an issue for UConn on the perimeter. As the season wears on, that should result in more productivity.
It won't happen because: Of the players in UConn's perimeter rotation just two, Boatright (44.2%) and Hamilton (45.8%), were shooting better than 40 percent from the field prior to their game against Columbia Monday night with Purvis (42.9%) making the jump thanks to his performance against the Lions. Part of that is simply not knocking down shots, but there's also the matter of not taking too many challenged perimeter shots. Boatright's been solid at both getting shots at the rim and converting, as 34.5% of his attempts have come in that area of the floor and he's made 66.7% of those attempts per hoop-math.com. If anything they need Hamilton to use his skill to get even more shots in the paint, as just 18.1% of his attempts thus far have come at the rim.
UCONN ALSO SWEARS THEY WON'T: Settle for too many challenged jumpers, instead working to attack the basket more.
It will happen because: While UConn has taken fewer three-pointer than any team in the American, they've also attempted fewer free throws than any team in the conference. UConn's attempted just 170 free throws through nine games (18.9 FTA/game), with Boatright (59 attempts) and Amida Brimah (31) combining for 90 of those attempts. Thus far most of the rotation has found it tough to get to the foul line, with a number of those players (most notably Hamilton, Purvis and Cassell) pulling up for jumpers as opposed to seeking contact closer to the basket.
It won't happen because: With the number of players who either weren't part of the rotation (or program, for that matter) or have seen their roles changes from last year to this, the Huskies should become more comfortable with each other in Kevin Ollie's offensive system as the season wears on. Hopefully for them that will lead to more opportunities around the basket, which in turn will allow UConn to take greater advantage of their ability to knock down free throws. At 72.4% the Huskies are one of the best foul shooting teams in the American, and that includes a big man in Brimah who's made 71 percent of his attempts thus far.