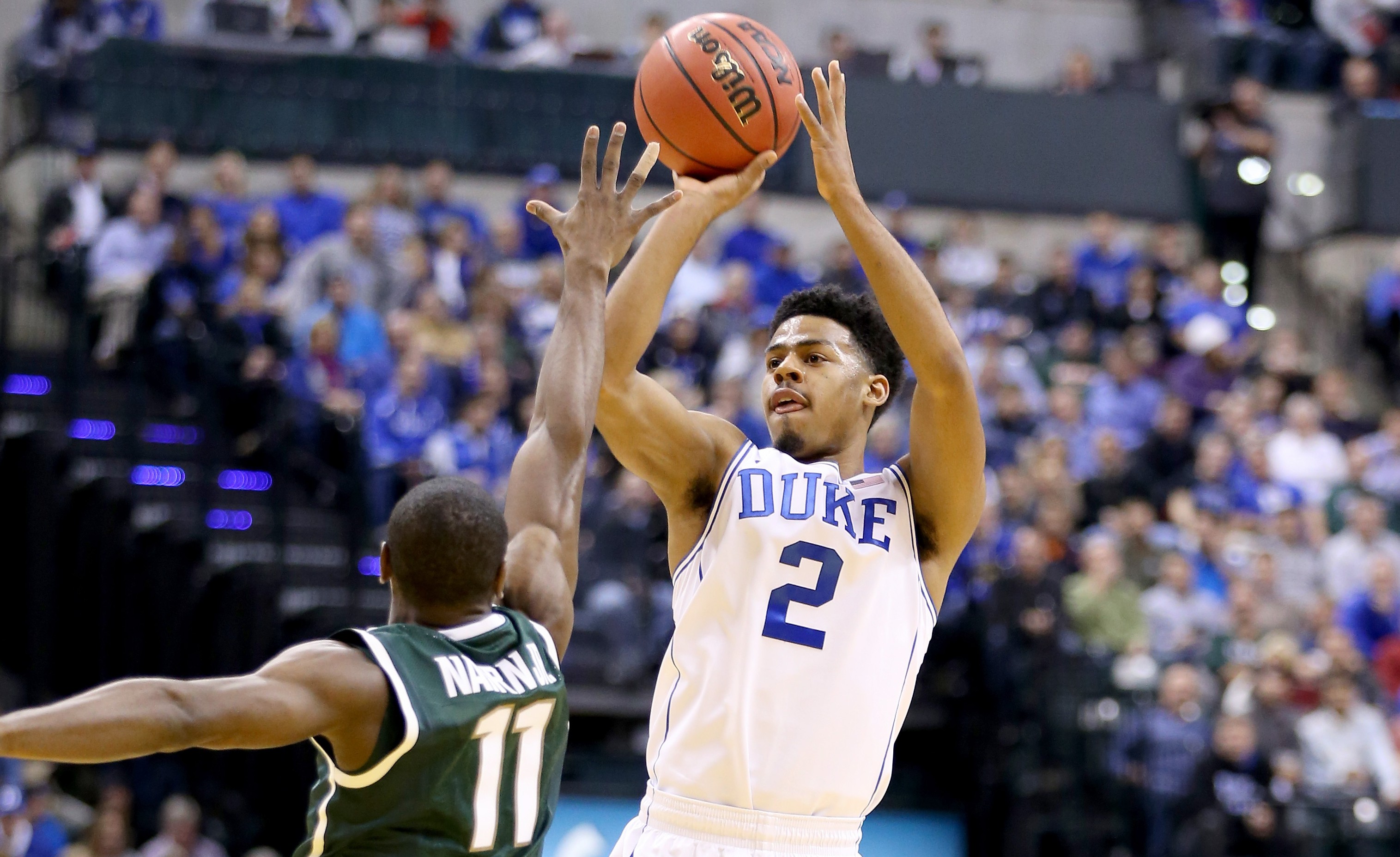 Conference play is right around the corner, so over the course of the next two weeks, College Basketball Talk will be detailing what some of the country's best, most intriguing, and thoroughly enigmatic teams should resolve to do with the New Year right around the corner. What can we say, we're in a giving mood. Thank Jessica Simpson.
MORE: The rest of our New Year's Resolutions | Midseason catchups
DUKE PROMISES TO: Keep embracing their roles.
It will happen because: The biggest reason that Duke looks like Kentucky's No. 1 challenger this season is their biggest player: Jahlil Okafor. He's the best player in the country. But having a supreme talent doesn't always make a team a Final Four contender. Ask Jabari Parker. The reason Duke looks so good this season is that everyone on the roster has bought into their role. Quinn Cook, who spent his entire life embracing the identity of being a point guard, has moved off the ball and is playing the two. Rasheed Sulaimon has gone from a guy thought to be a future star to just a role player off the bench. Grayson Allen is barely getting playing time. All of this is because of the three talented freshmen that joined the program. As long as Duke is winning, it's really easy to convince kids that's the right way to play.
It won't happen because: Eventually Duke is going to lose a couple games. What happens then? What happens if they drop two in a row and three out of four and Quinn Cook starts struggling with his jumper? Will everyone still be happy with when, where and how they're playing then? This is an issue that takes place in every locker room, but it gets magnified for Duke because they have nine McDonalds All-Americans.
DUKE ALSO SWEARS THEY WON'T: Fall too in love with the three-point shot.
It will happen because: Coach K knows where the strength of this team lies. He knows they are going to get their best looks when they get the ball into Jahlil Okafor in the post. Not only is he a terrific scorer on the block, but he's the best passer out of the post in the country. I went over that in detail yesterday. Duke's glut of guards are going to get plenty of looks from three this season. They'll be better looks if the ball goes into the post first.
It won't happen because: There are just so many guards on this roster. Justise Winslow and Tyus Jones need to prove they can shoot threes to executives at the next level. Quinn Cook can have a quick-trigger at times. Rasheed Sulaimon is a gunner at heart. Matt Jones and Grayson Allen can knock down threes as well. Those are a lot of talented players used to playing with a green light.