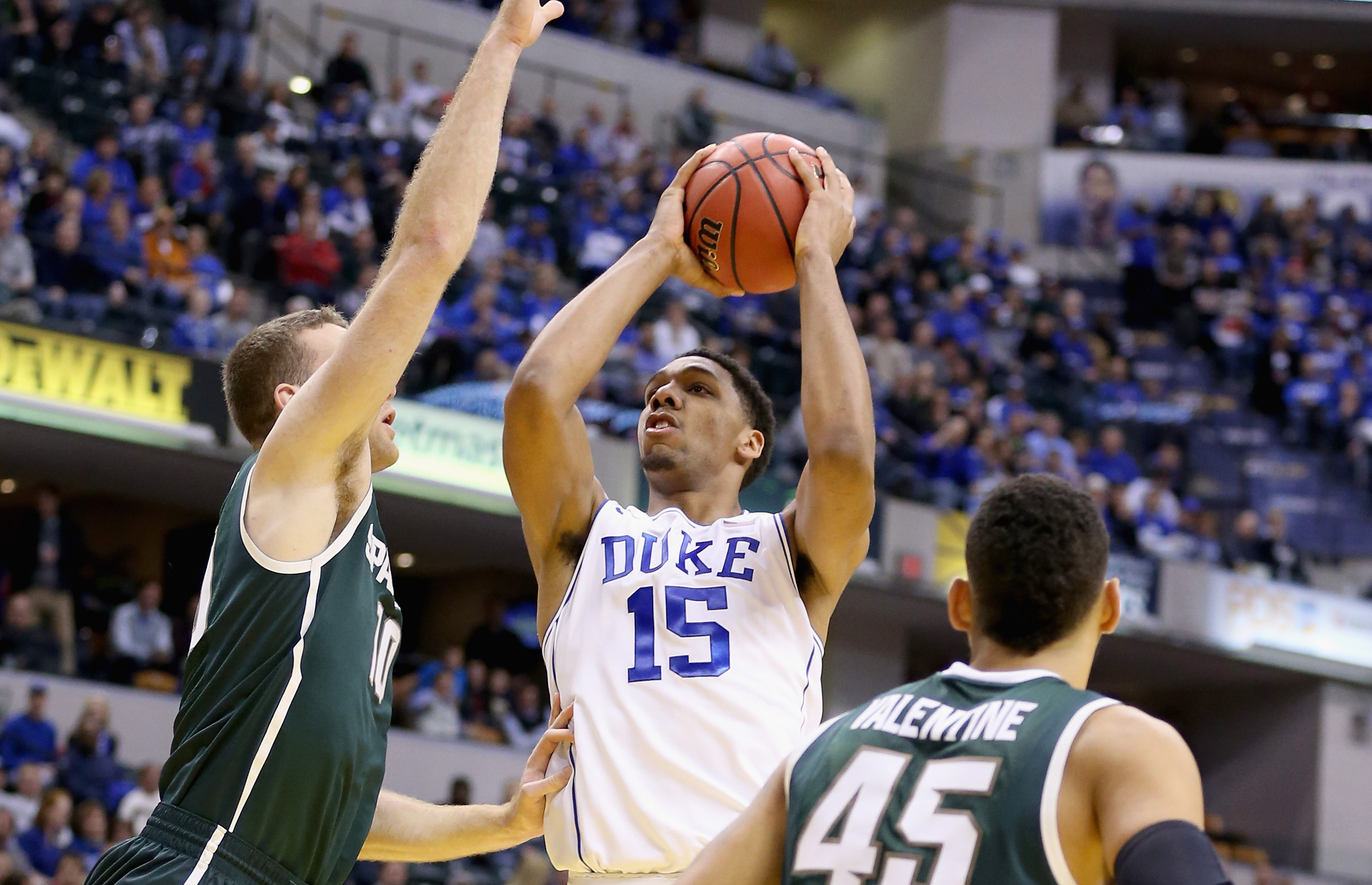 1. Jahlil Okafor, Duke: I've introduced you guys to my friend Rizzo before, a hardcore gambler and a Vermont-obsessed DJ. (Weird combo, right?) Anyway, a couple of weeks back, Rizzo and I got into an argument about Jahlil Okafor. I said that Okafor is a future star, that he's the best low-post prospect I've seen come through the college ranks and that his ceiling is Tim Duncan. Rizzo disagrees. Rizzo think Okafor will be a massive bust, mostly because he watched Okafor get pushed around by Cliff Alexander in the McDonald's All-American game.
I bring Rizzo up again because after Duke's win over UConn in New Jersey, Rizzo sent me a series of texts more or less explaining how Okafor stinks because he couldn't dominate UConn that had Amida Brimah on the floor for 13 minutes. My response?
Well, nothing.
You don't reason with Rizzo.
So I decided to explain here, for everyone, that Okafor's ability to pass out of the post is what makes him so good. You see, on Thursday, UConn almost always had two players running at Okafor when he got a touch in the post. Sometimes it was a big-to-big double, sometimes it was Ryan Boatright or another guard digging down, sometimes they doubled down with the guy that threw the ball into the post, whatever. What makes Okafor so good is his ability to distribute the ball out of these situations, creating shots for his teammates when he doesn't necessarily get an assist out of it.
In this first example, you see Okafor kicking the ball out from the double-team to Justise Winslow, who swings the ball to Quinn Cook for an open three:
In the second example, Okafor throws a ridiculous cross court pass to Matt Jones, who beats a close out and finds Amile Jefferson on the baseline who, eventually, scores:
And then there are passes like this that he makes:
Regardless of how good the shooters are around Okafor, you have to double-team him. When you don't, this happens:
2. Frank Kaminsky, Wisconsin: You got a glimpse on Monday night of what is going to plague Kaminsky all season long when it comes to his Player of the Year candidacy. Nigel Hayes finished with 17 points and 13 boards and Sam Dekker added 14 points. Kaminsky had 14 as well, but he was the third-best player on the floor for the Badgers. As talented as he is, Bo Ryan isn't going to pound the ball inside to him. When Hayes or Dekker gets it going — which will happen quite a bit this season — they're going to get plenty of touches. Will that limit Kaminsky's numbers?
3. Jerian Grant, Notre Dame: In the past two games, Grant has not shot the ball well, finishing with a combined 19 points on 5-for-22 shooting, including 2-of-10 from beyond the arc. But the Irish won both of those games by at least 25 points, including a 31-point beatdown of Purdue. Grant added 15 assists and just one turnover. That's a good sign for the Irish.
4. Willie Cauley-Stein, Kentucky: Cauley-Stein is the guy that makes Kentucky's engine run defensively. His ability to play at the top of Kentucky's press combined with being able to switch ball-screens and protect the rim as well as anyone in the country makes him so valuable.
5. Montrezl Harrell, Louisville: There may not be a more valuable player on this list than Harrell given what he provides Louisville offensively and defensively. He's their spark, but he's also the guy that will be suspended for Tuesday night's game with CSUN after getting tossed for throwing a punch in a win at Western Kentucky. Even emotional leaders need to keep their composure.
6. Georges Niang, Iowa State: Niang played just 17 minutes in a 29-point win over Drake since last week. He's still the focal point for this team offensively, especially if Bryce Dejean-Jones remains in Hoibergs doghouse.
7. Ty Wallace, Cal: Wallace has been terrific this season, and while Cal got worked over by Wisconsin on Monday night, it wasn't Wallace's fault. He finished with 17 points, seven boards and two assists and is now averaging 19.3 points, 8.8 boards and 4.2 assists. If you haven't seen him play, what the athletic, 6-foot-4 point guard does best is help on the defensive glass and slash to the rim off the dribble, where he's a lefty that finishes better with his right hand. The perfect example:
8. Justin Anderson, Virginia: I keep waiting for Justin Anderson's shooting to come back to earth. In wins over Cleveland State and Harvard last week, he was 4-for-6 from beyond the arc and is now hitting 60.0 percent from three on the season. That's pretty good.
9. Delon Wright, Utah: We named Wright a first-team Midseason All-American yesterday. Here's what we had to say about him: "The Utes are 3-1 in their last four games, beating Wichita State, BYU and UNLV, the latter two on the road. The only loss? By three, at Kansas in Kansas City. In those four games? Wright is averaging 17.8 points, 6.0 boards, 4.3 assists and 2.8 steals while playing 39.8 minutes. He's the most indispensable player in the country."
10. Ron Baker, Wichita State: Baker's development as a player has continued this season, as he's having easily the best season of his college career. He's averaging a career-high 17.3 points, shooting a career-high 46.0 percent from three and posting a career-high 127.8 offensive rating, according to Kenpom.com. What's interesting, however, is how much his role has changed this season. As a sophomore, Baker played more of a combo-guard role, getting used in more pick-and-roll actions and acting as more of a facilitator. This season, he's primarily a spot-up shooter (stats via Synergy):

There's a reason for this, I believe. With Cleanthony Early on the roster last season, the Shockers had a go-to scorer. They didn't need Baker to be a guy hunting shots and trying to score 20 points a night. With Evan Wessel in the lineup instead, Gregg Marshall is in need of more of a scoring pop, and Baker is the guy to fill that role.
OTHERS THAT WERE CONSIDERED: Ron Baker (Wichita State), Craig Bradshaw (Belmont), Tyler Haws (BYU), LaDontae Henton (Providence), Buddy Hield (Oklahoma), Jonathan Holmes (Texas), Angel Rodriguez (Miami), D'Angelo Russell (Ohio State), Wesley Saunders (Harvard), Nigel Williams-Goss (Washington), Joseph Young (Oregon)