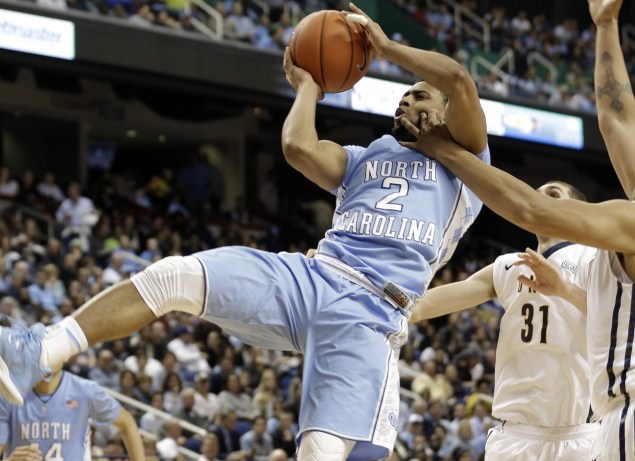 CHICAGO — After Marcus Paige struggled through another so-so offensive outing against Ohio State, the junior seemed very calm and collected at his locker talking to reporters after the game. Even though he's been mired by inconsistent play for much of the 2014-15 season, Paige feels comfortable with how things are going for North Carolina's offense because the subtle emergence of freshman guard Joel Berry II.
Berry's stats won't blow you away the last four games, but if you've seen the Tar Heels play, you'll recognize that the former McDonald's All-American is finally carving his role in the Carolina lineup. The 6-foot guard has played double-digit minutes the last four outings and looked far more assertive, both running the offense or hunting his own shot.
The recent success of Berry hasn't directly translated to Paige breaking out of his mini-slump — yet — but Paige has certainly noticed a difference in the caliber of open looks he's seeing the last few games. Paige is seeing a different Joel Berry and he likes what he sees.
MORE: Film Session: What's Plaguing Marcus Paige?
"He's starting to get over that hump of being the freshman point guard at UNC," Paige said of Berry. "Once he does that, I think you're going to see a different style that we can go. He was such a good scorer in high school."
Five points and four assists from Berry didn't break Ohio State on Saturday, but having the freshman on the floor and playing with confidence means that Paige has that much more room to operate. Sophomore Nate Britt is a nice option as a steady backup guard, but he's limited offensively, with a jump shot that is so unreliable that he's switched shooting hands during his career.
If Berry continues to be able to score on his own like he did in Chicago, it will free up Paige to look for easier catch-and-shoot opportunities and Berry can either run the offense or play off of the ball if Paige has the rock. Defenses don't have to hone in on Paige as North Carolina's only consistent perimeter scoring option at guard if Berry is playing well.
"You saw him today go to the elbow and hit a jumper and then hit a three-pointer on back-to-back possessions. That's the Joel Berry I'm used to playing with in pick-up and working out with. It's good to see that progress," Paige said.
With Paige and Berry both being natural point guards, when the two are on the floor at the same time, they're getting more-and-more aware of finding each other when the other has the ball. Berry has been more aggressive looking for his own shot and he still realizes that finding an open Paige is the best play that the Tar Heels can make on offense.
"We're both point guards, whoever gets the ball, they just tell us to run. So I'm going to look to push the ball and look for the shooters on the wings. That's how Marcus was able to get a couple of shots," Berry said.
If Berry and Paige get more minutes together it also means that freshman wing Justin Jackson can slide to the three in some cases and give North Carolina even more perimeter punch around Brice Johnson and Kennedy Meeks. Jackson has also struggled to hit shots from the outside so far this season, but if North Carolina has more of an ability to drive-and-kick between three players on the court at the same time, it should benefit all three players.
"If I keep getting the looks like I've gotten these past couple games, we're going to be fine, because they're not going to keep rimming in-and-out, I can promise you that," Paige said. "Our offense is alright, we just need more consistency out of everyone."
For a team that is shooting 28 percent from three-point range on the season, there were a lot of confident players in the North Carolina locker room on Saturday because they feel like they can turn a corner as the freshmen continue to acclimate to major college basketball. Paige isn't quite sure why there is a lid on the basket for him so far this season, but with Berry playing well, he knows he's going to get the looks he needs to break out of it.
"It wasn't the best first 11 games for us, and for me personally, but it's a long season and there's a lot of time to make some things happen," Paige said. "Definitely not concerned at this point."