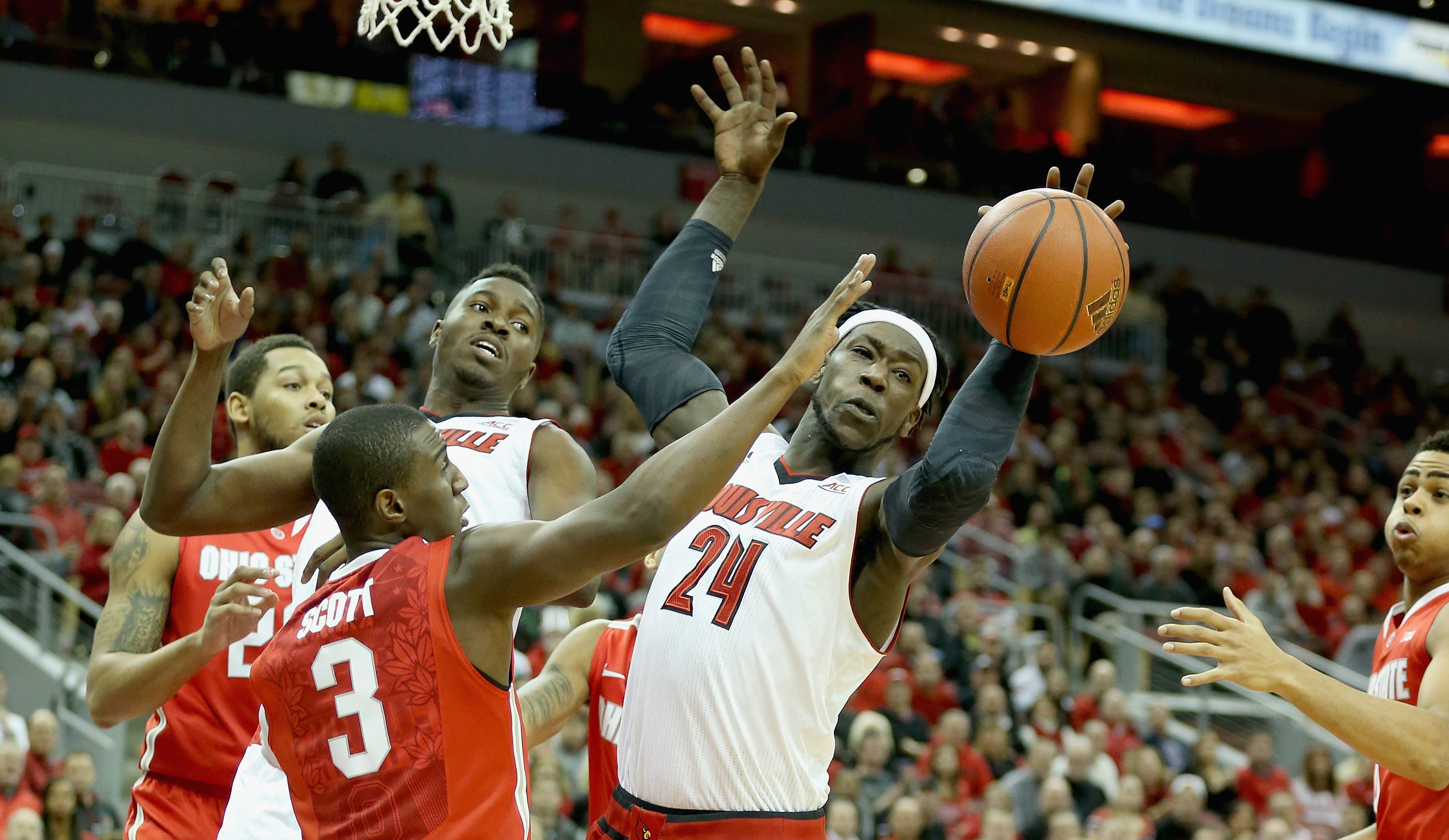 Conference play is right around the corner, so over the course of the next two weeks, College Basketball Talk will be detailing what some of the country's best, most intriguing, and thoroughly enigmatic teams should resolve to do with the New Year right around the corner. What can we say, we're in a giving mood. Thank Jessica Simpson.
MORE: The rest of our New Year's Resolutions | Midseason catchups
LOUISVILLE PROMISES TO: Get consistent production from people not named Terry Rozier and Montrezl Harrell.
It will happen because: Rozier and Harrell might end up being the nation's best 1-2 punch this season. Harrell has had an all-american caliber season and is very much in the race for the National Player of the Award right now. And Rozier? He's been terrific too, like on Saturday, when he scored 26 of his 32 points after Harrell was ejected to avoid a loss. But eventually, a consistent third option is going to have to show up for the Cards, especially on the offensive end of the floor, and there are simply too many talents on this team for that not to happen … right?
But it might not because: At what point do we just accept that Chris Jones is who he is, a terrific defender and volume shooter who just isn't that much of a scorer? That Wayne Blackshear is a tantalizing talent that will never consistently make threes and will never be Luke Hancock? Beyond that, who on Louisville can even be considered a scorer? Chinanu Onuaku has been good as a freshman, but he's a low-post banger that gets on the glass. Anton Gill isn't a scorer. Quentin Snider isn't ready, and neither is Shaqquan Aaron or Anas Mahmoud. Someone needs to step up, I'm just not sure Louisville has anyone for that role.
LOUISVILLE ALSO SWEARS THEY WON'T: Keep letting Chris Jones be their highest-volume shooter.
It will happen because: Eventually, Rick Pitino is going to realize that Chris Jones high usage rate and low efficiency numbers are dragging Louisville down. Defensively, Jones is a sparkplug, a energetic, harassing on-ball defender that thrives at the top of Louisville's press. When you have a senior that defends the way that he does, you give him some leash offensively; Jones earns shots with the way he plays defense. But when there are two all-americans on the roster, a guy shooting 32.2 percent from the floor shouldn't be the most heavily-involved player offensively.
But it might not because: Jones wants to be Russ Smith. He thinks he is Russ Smith, a shoot-first lead guard that can fire away at will without having to think twice about what he's doing. The rant that Harrell went on after the UNC-Wilmington game? The frustration that led to the outburst against Western Kentucky? That stems, in large part, from the selfishness that Jones has shown in recent weeks, a source close to the program told NBCSports.com. A key for any team is having a roster full of players that understand their roles. Do the Cardinals understand their roles?