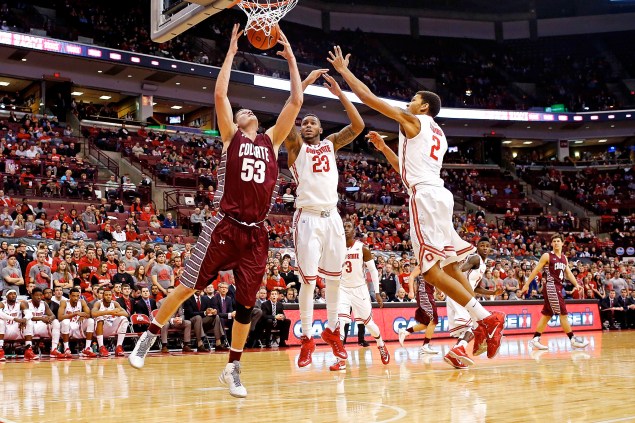 Conference play is right around the corner, so over the course of the next two weeks, College Basketball Talk will be detailing what some of the country's best, most intriguing, and thoroughly enigmatic teams should resolve to do with the New Year right around the corner. What can we say, we're in a giving mood. Thank Jessica Simpson.
MORE: The rest of our New Year's Resolutions | Midseason catchups
OHIO STATE PROMISES TO: To get improved interior play
It will happen because: The Ohio State front court did not play well on Saturday in a loss to No. 24 North Carolina. Amir Williams, Trey McDonald and Anthony Lee accounted for 1-of-6 from the field four points and eight rebounds. They allowed Brice Johnson to score 18 points and Kennedy Meeks to haul in 13 boards. Previously, the trio of big men were outrebounded by Louisville's Montrezl Harrell, who went for a double-double in a win for Louisville. Ohio State won't play an All-American talent like Harrell, or see the size of UNC until early March when it hosts Wisconsin. A Big Ten slate will allow Thad Matta to make the necessary adjustments and allow the interior to face a better crop of big men as opposed to the overmatched big men they have seen so far, in anticipation for the Badgers' frontline of Frank Kaminsky, Nigel Hayes and Sam Dekker.
But it might not because: In the losses to Louisville and North Carolina, the weaknesses of the Ohio State frontline were exposed. It's a small sample size, but it's an important one. These were the Buckeyes two marquee non-conference games and in both occasions, their big man could not handle the length or athleticism of the opposing front court. The Buckeyes will see similar results against talented teams if they can't establish a consistent presence inside.
OHIO STATE ALSO SWEARS THEY WON'T: Struggle away from home
It will happen because: The Buckeyes have racked up nine wins, against inferior competition, all in the city of Columbus. Ohio State went on the road for the ACC/Big Ten Challenge and lost to Louisville. On Saturday, in a neutral site game, Ohio State fell to 0-2 away from home with a loss to North Carolina. In both instances, the Buckeyes trailed by double digits — 19 to Louisville and 18 to North Carolina — only to cut the deficit to single digits both times. So, Ohio State has shown its flaws in its only two real tests of the season and while they failed both, the Buckeyes were able to still make it a game despite digging themselves into holes. The Buckeyes will get more road challenges on in conference play, most notably back-to-back away games in late February against Michigan State and Michigan.
But it might not because: Again, there's a troubling trend after Ohio State's first two key games. The Buckeyes have forced themselves to play from behind, handing both the Cards and Tar Heels double-digit leads In the loss to Louisville, D'Angleo Russell, who is being relied on heavily as a freshman, was forcing shots early before finishing with 17 points, however, that was off 6-of-20 shooting. Against UNC, Russell struggled for 11 points off 17 shots. Can the Buckeyes expect to win many big games, if any at all, if they continue to fall behind early, or if Russell struggles from the field?