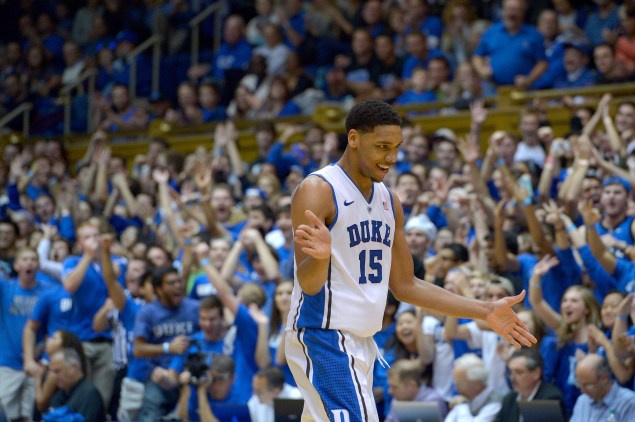 Before I get started on this, I want to make one note that I'm sure no one is going to pay attention to: We tried to build these teams into something similar to what you could actually put on a basketball court. Two guards, a wing, a couple big men, whatever.
The reason?
For starters, I've always thought that should be the way that it's not. It's the "All-American Team", not the "All-American List". Secondly, if all you want is a list, we do weekly Player of the Year Power Rankings.
They come out every Tuesday. Right here.
With that out of the way, let's get to the All-American Teams:
MORE: The rest of our New Year's Resolutions | Midseason catchups
NBC SPORTS MIDSEASON ALL-AMERICAN FIRST TEAM
Jerian Grant, Notre Dame: We can debate all we want about what position Jerian Grant is — for what it's worth, I will always refer to him as a lead guard — but the bottom line is this: there is no back court player in the country has played better than Grant over the course of the last month. He's averaging 18.2 points and 6.3 assists (along with just 1.3 turnovers) for an 11-1 team. Notre Dame's schedule has been awful, I know, but I don't think Grant's numbers are a product of that.
Delon Wright, Utah: The Utes are 3-1 in their last four games, beating Wichita State, BYU and UNLV, the latter two on the road. The only loss? By three, at Kansas in Kansas City. In those four games? Wright is averaging 17.8 points, 6.0 boards, 4.3 assists and 2.8 steals while playing 39.8 minutes. He's the most indispensable player in the country.
Georges Niang, Iowa State: Niang is the centerpiece of one of the nation's most high-octane offenses. A power forward by trade, Niang has turned into one of the nations most skilled passers, averaging 4.2 assists. It's a luxury for Fred Hoiberg to have Niang on the roster when his point guard, Monte' Morris, is one of the best in the country.
Frank Kaminsky, Wisconsin: It feels like we haven't heard from Frank Kaminsky in forever, doesn't it? Well, that's what happens when Wisconsin goes 18 days between meaningful games. Trust me when I tell you that The Tank hasn't gone anywhere. He's still averaging 16.0 points and 7.6 boards for the No. 6 team in the country.
Jahlil Okafor, Duke: The Player of the Year to date this season, and he proved it last week. Against an Elon team that was considerably overmatched in the paint against him, Okafor went for 25 points and 20 boards as the Blue Devils struggled to beat the Phoenix. Three days later, when Duke tripped up to New Jersey to take on UConn, Okafor finished with just 12 points and 10 boards, but he facilitated everything offensively, allowing Duke to work through him and take advantage of mismatches when the Huskies sold out defensively to double-team him. He also fouled Amida Brimah out in 13 minutes. Dominance.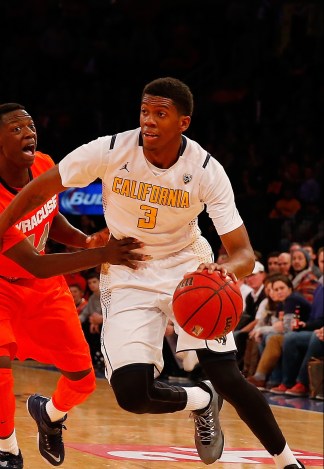 NBC SPORTS MIDSEASON ALL-AMERICAN SECOND TEAM
Ty Wallace, California: Listen to this stat line: 19.5 points, 8.9 boards, 4.4 assists, 1.3 steals, 50.6% 2PT, 50.0% 3PT. And Cal's record: 11-1. Not mutually exclusive.
Ron Baker, Wichita State: No one is replacing Cleanthony Early for Wichita State, but Baker is trying his best, as he's become a more aggressive, well-rounded scorer this year.
Justin Anderson, Virginia: Anderson is a perfect fit for Virginia, a three-and-D wing that is shooting 60.0 percent from three, plays terrific defense and gets to the offensive glass.
Montrezl Harrell, Louisville: The leading scorer, leading rebounder and most versatile defender on a top three defense that struggles to score. Now only if he stopped punching people …
Willie Cauley-Stein, Kentucky: The Wildcats are going to go as far as their defense takes them, and Cauley-Stein is the engine that makes their defense run.
NBC SPORTS MIDSEASON ALL-AMERICAN THIRD TEAM
Nigel Williams-Goss, Washington: Williams-Goss is the engine for Washington, which may be the nation's most surprising team. The irony: He may not even be their most valuable player. Robert Upshaw is.
D'angelo Russell, Ohio State: Russell was the last to make this list. His numbers are absurd, but OSU's schedule has been awful and Russell is 10-for-37 from the floor and 3-for-16 from three against North Carolina and Louisville.
D'angelo Harrison, St. John's: Harrison is having the best season of his career, averaging 19.8 points and 6.6 boards. He's not a great decision-maker, but he's as competitive as anyone and has sparked a number of St. John's comebacks this season.
Stanley Johnson, Arizona: The leading scorer and biggest perimeter threat for an Arizona team ranked No. 3 in the country.
Jonathan Holmes, Texas: Holmes is the leading scorer for a Texas team that has a chance to be the first team to knock Kansas off the top of the Big 12.