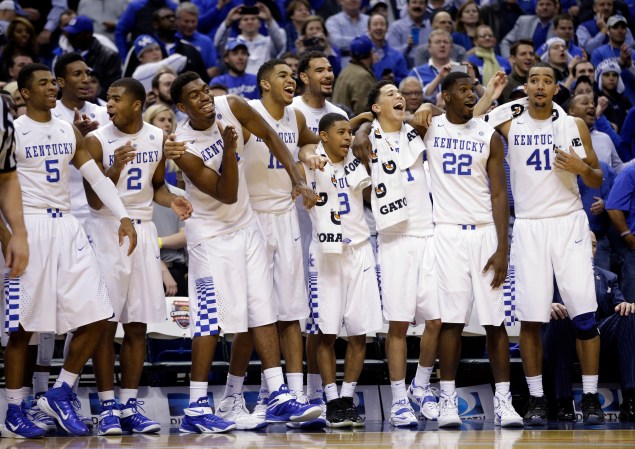 CHICAGO — If you try to compare the 2014-15 Kentucky Wildcats to something else in the world of sports, you might be best served linking them to the early version of Mike Tyson from the '80s.
Before Tyson ran into problems with arrests and issues with outside influences later in his boxing career, he was the "Baddest Man on the Planet" often destroying the confidence of opponents before they even stepped in the ring. Tyson's ferocious combinations — and the fear he generated before the fight itself — often left opponents on the mat within the first few rounds of the fight.
Sound familiar?
It should.
Because Kentucky is currently knocking opponents out before the Wildcats even get a chance to break a sweat.
Saturday's 83-44 drubbing of UCLA at the United Center was just the latest example of the Wildcats' quick-strike ability. Much like the Kansas game in the Champions Classic in late November, Kentucky ended the game before the other team could even get acclimated. The Wildcats jumped out to a 24-0 lead that grew to 41-7 by halftime and a reeling UCLA never recovered.
The win moved No. 1 Kentucky to 12-0 on the season, and although the Wildcats had some first-half battles with the likes of Buffalo, Boston and Columbia earlier this season, they've won every game by double digits in 2014-15.
If there is still one thing we have yet to see Kentucky face this season, it's how they will handle the pressures of being in a close game late in the second half. At some point this season, it's bound to happen, and it could change the chemistry of the team just enough to throw things off.
Kentucky has already handled the preseason hype of being No. 1, the unique concept of platoons to get 9-to-10 talented players nearly equal playing time while also overcoming the loss of junior starting forward Alex Poythress to a season-ending knee injury. But Kentucky hasn't been punched in the mouth and tasted their own blood late in a game yet.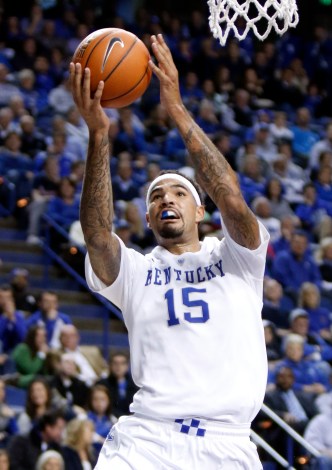 "We were down 11-0 to Columbia, we were down five to Buffalo at the half. We were down to Boston. They're not machines and they're not computers. They don't play great every time out," Kentucky head coach John Calipari said of his players after the win on Saturday.
Calipari is correct, his players can't be counted on to bring their 'A' game every single time, they've just been so good at bringing waves of athletic players at opposing teams that they really haven't been seriously tested yet. So what happens if an opponent faces Kentucky on an off night and a veteran team with some hot perimeter shooting keeps the game close? History showed last season that returning Wildcat players like Andrew and Aaron Harrison will step up their play in big games, but there are still four freshmen — two of them "starters" — who have yet to play in a close game in their college careers.
"Clutter" was a word that Calipari often threw around during Saturday's press conference. If the Wildcats can continue to avoid the pitfalls from pressure and hype generated by those that watch them, they are less likely to come out flat and avoid a letdown. So far this season, it seems like the only team that might be able to beat Kentucky is themselves.
"Jay Bilas gave a great talk about the clutter. That the media will try to break you down, how they'll evaluate one against the other," Calipari said. "They'll really promote one guy to try to separate the team and make the other guy out to be a schmo. I've got no schmos on this team."
This week could be the biggest test of all for Kentucky before the 2015 NCAA Tournament. Not only will the Wildcats face their biggest rival in No. 4 Louisville, but their players will go home for Christmas and hear the outside influences within their own circles. Family and friends will question each player on why their individual numbers are so small, or how they can give up minutes and shots when NBA millions are so close.
Going back to Tyson, he didn't get upset by Buster Douglas in 1990 because he was the inferior fighter — Iron Mike was 37-0 and the undisputed heavyweight champion of the world entering the fight while Douglas was a 42-to-1 underdog.  Tyson lost the fight because he let outside distractions seep in and gave a 'C' effort while his opponent fought the fight of his life.
Even if the Louisville game turns out to be another blowout Kentucky win — which is doubtful, but could happen — every opponent Kentucky faces this season is going to circle their name on the calendar and give their best effort facing the Wildcats. There is going to be some game when Kentucky goes cold from the field, comes out flat and an opposing team will run clock and keep it tight in the second half.
So far, nothing has been able to distract Kentucky from its quest of a national championship, and a potential perfect season, but there are plenty of talented teams featuring future pros that won't be intimidated by Kentucky. All that it takes is for one off night to happen and the dream of a perfect season — and a national title — could be ruined.
It doesn't look like anyone can beat Kentucky at their best this season, but things can change quickly when things aren't going as planned. Will Kentucky still buy into the team concept if times get tough and a limited rotation is forged at the end of a close game? Will certain players be upset not being able to take big shots in key moments? How will John Calipari's coaching style change if he has to worry about subbing individual players instead of line shifts.
"I don't have to worry about subbing. Think about taking that off of a coach's plate," Calipari said.
Those are questions that still remain unanswered about Kentucky this season, and minor as they might appear on the surface, they could still come up at any moment and change the delicate complexion of the team dynamic.
All eyes will continue to be on Kentucky this season as they've already made national headlines for blowing out two storied programs, but all it takes is 40 minutes of mediocre play for everything to change.