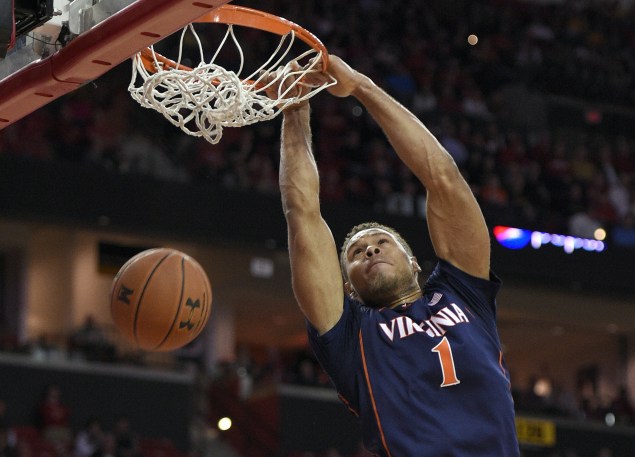 I wanted to use this space to say a few words about Virginia, who set a records when they held Harvard to just a single field goal in the first half of their 76-27 win over the Crimson on Sunday.
Seriously.
Take a look at this halftime box score: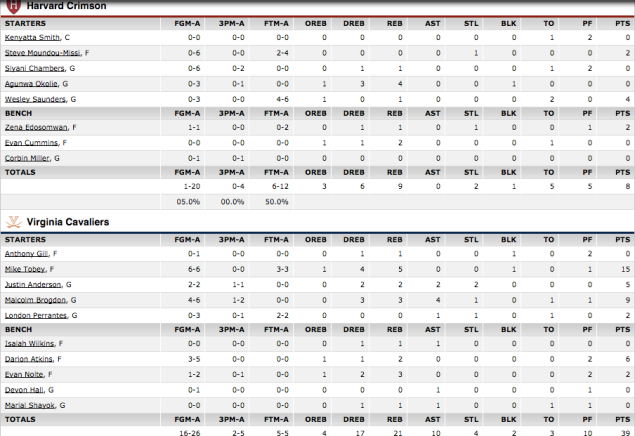 I've said in the past that I have a hard time seeing this Virginia team being a real ACC title contender, and to be frank, that still may be true; Duke is just that good this year. But I'm also still not convinced that Virginia is going to be able to consistently beat good teams without Joe Harris. As I wrote earlier this month, The 'Hoos don't have that one guy that commands the attention of a defense everywhere they move on the court.
But does that matter?
Kentucky's size and athleticism will overwhelm anyone, and Louisville's pressure and complicated defensive looks are a nightmare for anyone to game-plan against. But when it comes to simply playing tough, fundamental, aggravating defense, there is no one in the country better than Virginia.
They may not need that elite offensive weapon to win, especially if they are going to field a team that is this balanced on that end. Maybe I was wrong about Virginia.
Anyway, here's the NBCSports.com Top 25:
1. Kentucky (12-0, LW: No. 1): Virginia's first half against Harvard was impressive, but Kentucky's first half against UCLA was even more dominant. They led 41-7 at the break, and were up 24-0 at one point.
2. Duke (10-0, LW: No. 2): Everyone is going to point to the 25-point, 20-rebound performance that Jahlil Okafor had against Elon as his most dominant performance of the season, but I was just as impressed as his ability to be the guy that offense ran through in Duke's win over UConn on Thursday.
3. Arizona (12-0, LW: No. 3): Arizona was pushed on the road against UTEP on Friday night, and while that win doesn't look all that impressive right now, it will by the end of the year. Late night road games on typical off-nights are not easy to win, especially when classes are out.
4. Wisconsin (10-1, LW: No. 4): Wisconsin didn't have anything going on the last week. But they do play at Cal on Monday night. That will be a good test for the Badgers, and also a chance to see if Sam Dekker's ankle got healthier.
5. Virginia (11-0, LW: No. 7): Virginia's domination of a good Harvard team gets them a bump up to No. 5 this week.
6. Texas (10-1, LW: No. 6): We still cannot judge Texas fully since they've been playing without their star point guard Isaiah Taylor for a month. He'll be back by the time Big 12 play starts.
7. Gonzaga (11-1, LW: No. 5): Gonzaga has had a couple of relatively unimpressive performances in recent weeks, culminating in an uninspiring, 13-point win over Cal Poly on Saturday night. Slowly but surely, this team's ability on the defensive end is getting exposed.
8. Louisville (10-0, LW: No. 8): Montrezl Harrell will be suspended for the Flagrant 2 he was given on Saturday afternoon, but luckily for the Cardinals, they'll play on Tuesday, meaning that Harrell will be in the lineup with Louisville takes on Kentucky on Saturday.
9. Villanova (11-0, LW: No. 9): Villanova was tested on Saturday, getting taken to overtime by Syracuse. But the Wildcats responded, erasing a 14-point second half deficit and coming up with a huge steal in the final 10 seconds to erase a late, five-point deficit.
10. Kansas (9-1, LW: No. 10): It didn't get much play this weekend, but Kelly Oubre started on Saturday and finished with 23 points and 10 boards. The Jayhawks are going to be just fine this season.
11. Wichita State (8-1, LW: No. 11)
12. Iowa State (9-1, LW: No. 12)
13. Utah (8-2, LW: No. 12)
14. Washington (10-0, LW: No. 17)
15. Oklahoma (7-3, LW: No. 13)
16. Notre Dame (11-1, LW: No. 16)
17. Georgetown (7-3, LW: No. 18)
18. Maryland (11-1, LW: No. 19)
19. Colorado State (11-0, LW: No. 21)
20. Ohio State (9-2, LW: No. 14)
21. North Carolina (8-3, LW: No. 23)
22. St. John's (9-1, LW: No. 24)
23. Northern Iowa (10-1, LW: UR)
24. Cal (10-1, LW: UR)
25. VCU (8-3, LW: UR)
Dropped Out: No. 20 Miami, No. 22 Butler, No. 25 Michigan State