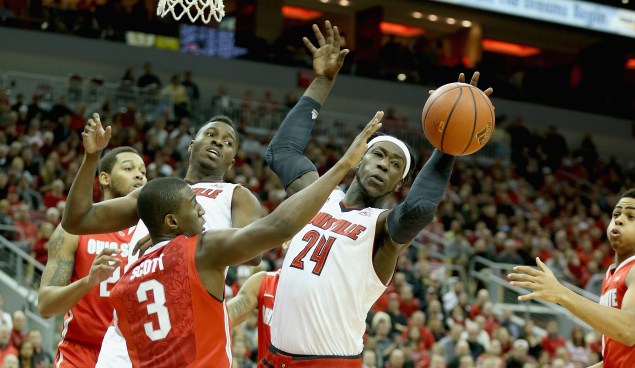 Every Monday from now until every team in the country has a loss on their resume, we will be Tracking The Unbeatens, and predicting when, exactly, that unbeaten streak will end. You can follow along here.
Who lost last week?: No one that was undefeated heading into the week.
Kentucky (12-0): With each passing week, it's looking increasingly likely that next Saturday's date with Louisville will be the best — Last? Only? — chance for someone to pick off the Wildcats. Kentucky absolutely embarrassed UCLA over the weekend, taking a 41-7 lead into the break. This may be the most anticipated matchup in the nation's most intense rivalry.
Next Game: Dec. 27 at Louisville
First Loss?: Dec. 27 at Louisville
Duke (10-0): The Blue Devils struggled to an ugly win over Elon last week before knocking off UConn in New Jersey on Thursday. Jahlil Okafor's ability to distribute the ball out of the post makes this team just that much more dangerous offensively. At this point, I think we are all hoping for a Duke-Kentucky matchup at some point in the NCAA tournament.
Next Game: Dec. 29 vs. Toledo
First Loss?: Jan. 17 at Louisville
Arizona (12-0): The Wildcats survived a tough trip to El Paso, beating a scrappy UTEP team, and now head to Vegas next week to take on a talented UNLV squad. The real test for the Wildcats will be a stretch during Pac-12 play where they're on the road for seven out of 11 games, including trips to Stanford, Cal, Utah, Washington and Colorado.
Next Game: Dec. 23 at UNLV
First Loss?: Feb. 13 at Washington
Virginia (11-0): Virginia set a record for fewest field goals allowed in the first half, as Harvard was 1-for-20 from the floor. In a 76-27 win, the 'Hoos held the Crimson starter to 1-for-32 shooting.
Next Game: Dec. 30 vs. Davidson
First Loss?: Jan. 10 at Notre Dame
Louisville (10-0): Louisville has had a couple of close calls in recent weeks, barely hanging on against UNC-Wilmington and struggling to avoid an upset at Western Kentucky after Montrezl Harrell was tossed. I think we can be thankful that Harrell's suspension did not include the Kentucky game.
Next Game: Dec. 23 vs. Cal St.-Northridge
First Loss?: Dec. 27 vs. Kentucky
Villanova (11-0): Villanova came very close to not being on this list anymore, as they needed to come back from 14 down in the second have — and five down in the final 10 seconds — just to force overtime against Syracuse on Saturday.
Next Game: Dec. 23 vs. NJIT
First Loss?: Jan. 19 at Georgetown
Washington (10-0): Is Washington the third-best team in the Pac-12 this season? It looks more and more like it every time they win. In their last four games, they're now beaten San Diego State, Eastern Washington and Oklahoma.
Next Game: Dec. 22 vs. Tulane
First Loss?: Jan. 2 at Cal
Colorado State (11-0): Colorado State survived at Denver in one of the most impressive shooting performances you'll see this season. The Pioneers were 17-for-31 from three.
Next Game: Dec. 22 vs. Charleston Southern
First Loss?: Jan. 3 at New Mexico
TCU (11-0): I guess there's something to be said for beating teams you're supposed to beat.
Next Game: Dec. 22 vs. Grambling
First Loss?: Jan. 3 vs. West Virginia
There five potential meetings between undefeated teams the rest of the season, although it seems unlikely that we will get more than one.
Kentucky at Louisville, December 27
Duke at Louisville, January 17
Duke at Virginia, January 31
Louisville at Virginia, February 7
Arizona at Washington, February 13