GAME OF THE DAY: No. 7 Villanova 82, Syracuse 77 OT
The Orange had complete control of this game. Villanova never led in regulation. They did trail by 14 in the second half before using an 8-0 run sparked entirely by Darrun Hilliard to kick-start a comeback that culminated in Villanova scoring five points in ten seconds to force overtime.
This is the kind of loss that a rebuilding Syracuse team is going to feel in March. This was their marquee non-conference win slipping through their fingers.
IMPORTANT OUTCOMES
1. No. 24 North Carolina 82, No. 12 Ohio State 74: North Carolina jumped out to a big lead before letting Ohio State back into it late. We had Scott Phillips on site for the game. Here is his story from Chicago.
2. No. 1 Kentucky 83, UCLA 42: Kentucky absolutely embarrassed the Bruins on Saturday afternoon, jumping out to a 24-0 lead and burying UCLA 41-7 at the break. UCLA is a borderline tournament team this season, but they still have some talent on that roster. And that should scare you. Kentucky has now played three games against elite programs on national television, blowing out both Kansas and UCLA and beating Texas by 12. When the Wildcats come to play, who can beat them?
3. SMU 62, Michigan 51: Michigan's losing streak has been extended for four games, as the Wolverines lost to an SMU team that has been one of the nation's most disappointing teams this season. Three of those four losses, including Saturday's, came in Ann Arbor. Given the relative weakness of the Big Ten outside Wisconsin, it's time to start considering the idea that Michigan is not a tournament team. For SMU, this was an important win, but not as important as the news they got yesterday: Markus Kennedy is now eligible. He finished with five points and three boards off the bench.
STARRED
1. Terry Rozier, Louisville: Montrezl Harrell got tossed at halftime after this skirmish. He had been all of Louisville's offense to that point, but Rozier took over in the second half, scoring 26 of his 32 points after halftime.
2. Rayvonte Rice, Illinois: Rice scored 19 points and buried this buzzer-beater to give the Illini a 62-59 win in the Braggin' Rights game over Missouri.
3. Troy Williams, Indiana: Williams had 22 points, 11 boards, three assists, two steals and two blocks as the Hoosiers knocked off No. 23 Butler, 82-73, at the Crossroads Classic.
4. Kelly Oubre, Kansas: I know that is was against Lafayette, but that doesn't change the fact that Oubre started and finished with 23 points and 10 boards today.
STRUGGLED
1. Caris LeVert, Michigan: LeVert was a no-show on Saturday, finishing 1-for-8 from the floor with four points and five turnovers in a loss to SMU at home. He was also torched by Nic Moore, who finished with 17 points.
2. UCLA: Presented without comment: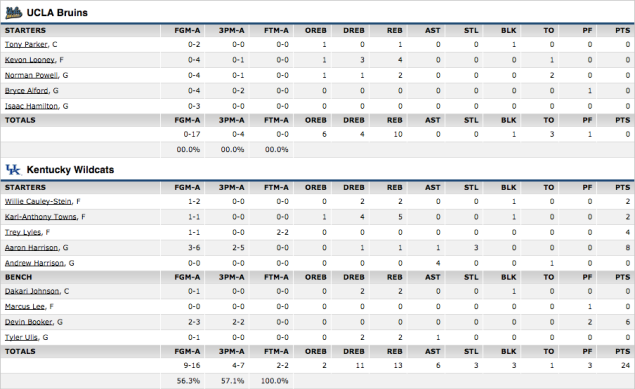 3. Travis Trice and Bryn Forbes, Michigan State: Trice and Forbes combined to score 12 points and shoot 4-for-22 from the floor and 1-for-12 from three as the No. 25 Spartans lost to Texas Southern in overtime in the Breslin Center. That's a bad, bad loss.
THE REST OF THE TOP 25
No. 13 Iowa State put four players in double-figures in a blowout win over Drake. Oh, and they landed a pretty important transfer, too.
No. 21 Notre Dame got 22 points from Demetrius Jackson — who led six scorers in double-figures — as the Irish blew out Purdue in the Crossroads Classic, 94-63. More impressive? They did it on a night where Jerian Grant shot 3-for-13 from the floor.
Jernard Jarreau scored 12 points and all eight Huskies scored at least six as No. 16 Washington beat No. 15 Oklahoma 69-67 in Las Vegas.
Javan Felix scored 17 points in No. 9 Texas' 78-68 win over Long Beach State, which received 23 points from Mike Caffey.
Juwan Staten scored 24 points as No. 22 West Virginia beat NC State 83-69 at the Gotham Classic in New York City.
Przemek Karnowski and Kevin Pangos scored 16 points apiece in No. 8 Gonzaga's 63-50 win over Cal Poly in Seattle.
Winston Shepard scored 15 points as No. 19 San Diego State beat Ball State 70-57.
Delon Wright anf Brandon Taylor combined to score 33 points to lead No. 14 Utah to a 59-46 win over UNLV.
NOTABLES
Nino Williams had 17 points to lead four players in double-figures as Kansas State shot 61.5 percent from the floor to beat Texas A&M.
Kris Dunn had 16 points, 11 assists and five steals while LaDontae Henton added 27 in a blowout win for Providence over UMass.
In his first game with the Gators, Alex Murphy had nine points, four boards, two steals and two blocks off the bench. Dorian Finney-Smith added 16 points, six boards, four assists and four steals as Florida knocked off Wake Forest.
VCU hit 15 threes and rolled, 68-47, over a Cincinnati team playing without their head coach, who has an unruptured aneurysm.
Georgetown avoided what would have been an ugly loss, blowing a double-figure lead at home, against Charlotte, surviving 81-78.
D.J. Newbill had 20 points and four assists as Penn State improved to 11-1 on the year with a win over Drexel.
Devon Bookert went for 24 as Florida State knocked off South Florida in Tallahassee.
Georgia Tech picked up a nice win against Vanderbilt thanks to 19 points and eight boards from Charles Mitchell.
Davidson improved to 9-1 on the season as they knocked off old SoCon rival College of Charleston, 80-68, on the road.
K.T. Harrell finished with 24 points as Auburn knocked off Xavier in a double-overtime thriller, 65-59.
Houston lost again, this time at home against South Carolina State.
Northern Iowa limited Iowa to 27.5% shooting from the field, winning 56-44 in Des Moines. Ben Jacobson's Panthers are now 10-1 on the season.
Lehigh picked up a road win Saturday night, outlasting Arizona State 84-81 in triple overtime. Savon Goodman, playing in his second game for ASU, scored 24 points and grabbed 12 rebounds in a losing effort.
BYU had to hang on for dear life for their 79-77 win over Stanford, a game they led by 13 with 4:20 remaining. Tyler Haws, back from an ankle injury, scored 24 points in the win.