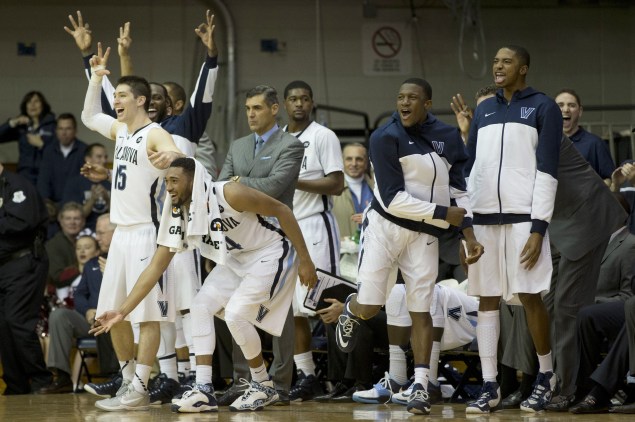 Conference play is right around the corner, so over the course of the next two weeks, College Basketball Talk will be detailing what some of the country's best, most intriguing, and thoroughly enigmatic teams should resolve to do with the New Year right around the corner. What can we say, we're in a giving mood. Thank Jessica Simpson.
MORE: The rest of our New Year's Resolutions | Midseason catchups
VILLANOVA PROMISES TO: Get improved 3-point shooting from Darrun Hilliard and Ryan Arcidiacono
It will happen because: The Wildcats are actually shooting slightly better than they did during the 2013-14 campaign, where they sunk better than 35 percent of their threes. Despite the consistent numbers as a team, starting guard Darrun Hilliard and Ryan Arcidiacono have seen their percentages from deep dip from a season ago. Hilliard is down from 41 percent to 31 while Arcidiacono has nosedived to 21 percent. However, Hilliard has already shown improvement recently, knocking down 11-of-24 from beyond the arc over the last five games. On Friday, before Villanova's rivalry game with Syracuse, Jay Wright told reporters after practice, Arcidiacono looks healthy this week, which could reverse the slide in his numbers.
But it might not because: Villanova might not need similar numbers from Hilliard and Arcidiacono. Villanova is an unselfish team, seeing five different players leading the team in scoring through 10 games. Dylan Ennis and Josh Hart are both averaging double figures in their second seasons in the program with both shooting the ball better from deep. Ennis is up to 46 percent and Hart is up to a 40 percent clip. Add in reserve forward Kris Jenkins and the Wildcats have ample perimeter shooting options. Yes, Arcidiacono's scoring average has decreased each year, but he's continuing to focus on his role, taking care of the ball with an assist-to-turnover that was 3.5-to-1 before the Temple game. He also had nine assists and zero turnovers against VCU's Havoc defense.
VILLANOVA ALSO SWEARS THEY WON'T: Bow out early in postseason play
It will happen because: Villanova's 29 wins were overshadowed by a quarterfinal upset loss to Seton Hall in the Big East Tournament followed by a loss to UConn, the eventual national champion, in the Round of 32 of the 2014 NCAA Tournament. Despite the cast of returnees, the early exits caused preseason skepticism for the Wildcats. But this team is one year older, and should learn from past shortcomings. Villanova is incredibly balanced offensively and are experienced with three juniors and two seniors in the starting five. The Wildcats have had/will have their battles — not turning the ball over against VCU, a thriller against Michigan and Saturday's rivalry game against Syracuse. The Wildcats will also get tested from a better Big East, going up against a tough defensive team in Butler, a talented Georgetown team and a St. John's team that runs a smaller lineup. Xavier, Providence and Seton Hall also figure to be in the conversation come Selection Sunday.
But it might not because: While Villanova is tough to prepare for given its balance, last year saw the Wildcats end up on the wrong end of mismatches. In two blowout losses to Creighton, the Wildcats allowed the Bluejays to shoot 60 percent (30-of-50) from three. Another area of concern for the Villanova is its frontline. Jayvaughn Pinkston can provide a scoring punch as a mismatch for opposing forwards and Jenkins has seen a spike in production, but outside of 6-foot-11 Daniel Ochefu, the Wildcats roster lacks another true big man.