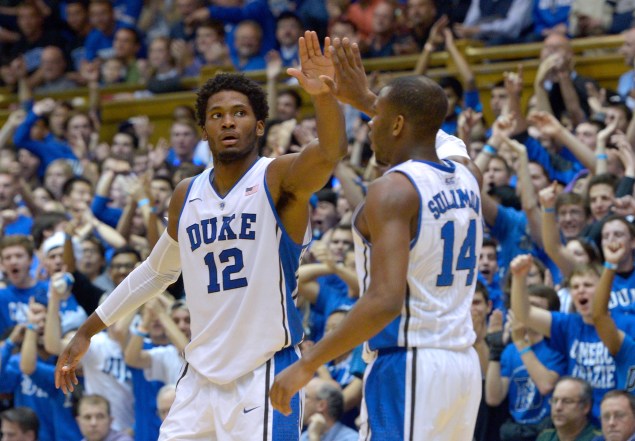 Conference play is right around the corner, so over the course of the next two weeks, College Basketball Talk will be detailing what some of the country's best, most intriguing, and thoroughly enigmatic teams should resolve to do with the New Year right around the corner. What can we say, we're in a giving mood. Thank Jessica Simpson.
MORE: The rest of our New Year's Resolutions | Midseason catchups
DUKE PROMISES TO: Maintain focus
It will happen because: Duke had some sluggish periods of play its last two wins over Elon and UConn but they've made adjustments, picked up the intensity when needed and continued to win. After Mike Krzyzewski lit into the Blue Devils for starting the second half poorly against UConn, they responded with a 14-2 run and it looked like the message from Coach K came through loud and clear. With two point guards on the floor in senior Quinn Cook and freshman Tyus Jones, Duke has two stable ball handlers who can settle the team down in certain situations when things get tight. It certainly doesn't hurt that Jones and fellow freshmen Jahlil Okafor and Justise Winslow played for multiple years with USA Basketball and been a part of a lot of big international contests.
But it might not because: For as much talent as Duke has, they're still a pretty young team. They start three freshmen in Jones, Okafor and Winslow and fellow frosh Grayson Allen and sophomore Matt Jones also regularly receive double-digit minutes as reserves. The win in the Kohl Center over Wisconsin was a nice early-season non-conference road test, but playing in the ACC/Big Ten Challenge is not nearly as pressure-packed as facing a well-oiled machine of experienced players in an elimination game in March. And it's not like we can trust the upperclassmen on this team, either. Guys like Cook, senior Marshall Plumlee and juniors Amile Jefferson and Rasheed Sulaimon have never been to the Final Four and were a part of a first-round exit to Mercer last season.
DUKE ALSO SWEARS THEY WON'T: Let Quinn Cook fade down the stretch
It will happen because: If history is to repeat itself, Cook will slow down after a hot start and fade as the season wears on. As a junior, the guard scored in double figures in 13 of Duke's first 15 games but his downfall was so severe after that he was out of the starting lineup the last 10 games of the season. Are we already seeing this trend begin in 2014-15? The last two Duke wins over Elon and UConn, Cook shot a combined 6-for-18 from the field and 3-for-13 from three-point range, both way below his season averages. Will Cook continue to falter like last season or will his new role keep more pressure off of him?
But it might not because: The senior has been invaluable as a floor leader, floor spacer and secondary ball handler this season and the three freshmen in the starting lineup realize that. Cook is currently the team's second leading scorer behind Okafor. Now that Cook can lean on Tyus Jones to primarily handle the ball and run the Duke offense, he can just worry about being a catch-and-shoot threat who also will get some entry feeds inside to Okafor and move the ball around the perimeter. That means less of a burden on Cook to create offense for himself or someone else off-the-dribble, which has not been a strength. Cook seems comfortable in this new role and you can tell by his enhanced shooting splits (48% FG, 40% 3PT, 93% FT) so far this season.