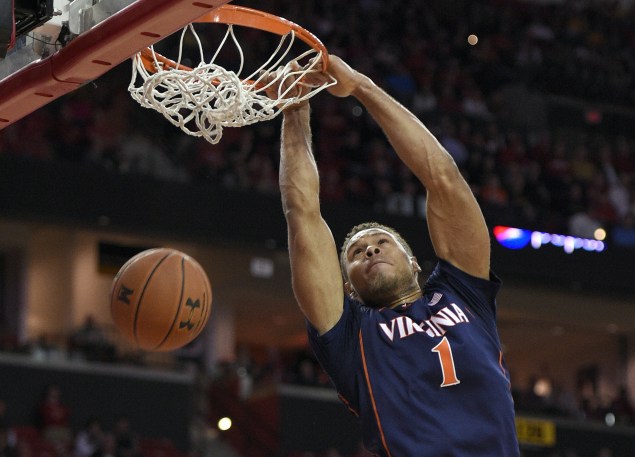 Conference play is right around the corner, so over the course of the next two weeks, College Basketball Talk will be detailing what some of the country's best, most intriguing, and thoroughly enigmatic teams should resolve to do with the New Year right around the corner. What can we say, we're in a giving mood. Thank Jessica Simpson.
MORE: The rest of our New Year's Resolutions | Midseason catchups
VIRGINIA PROMISES TO: Be better from three.
It will happen because: As a team, the 'Hoos are shooting 37.2 percent from beyond the arc this season, but that includes Justin Anderson's freakish and impossible-to-keep-up 58.8 percent shooting. Take away Anderson — a career sub-30 percent shooter — and Virginia is just 25-for-87 from deep, or a cool 28.7 percent. That's what happens when three of a team's best shooters — Malcolm Brogdon, London Perrantes and Evan Nolte — all suddenly lose the ability to shoot. Last year, they were a combined 38.5 percent from deep. This year? That number's down to 25.8 percent.
But it might not because: There is no Joe Harris on the roster this season. I wrote about this extensively earlier this month, but Harris is the kind of player that could drag a defense with him when he ran off of screens. Everyone on the floor had to be aware of where he was at all times, and that created opportunities for the rest of the guys on the roster. Virginia doesn't have someone like that this season. As I wrote on Tuesday, Justin Anderson's damage has been done mostly as a spot-up shooter and a target in transition. He's not Joe Harris, even if his numbers may look like it.
VIRGINIA ALSO SWEARS THEY WON'T: Stop giving Anthony Gill the ball.
It will happen because: Mike Tobey is the guy on this Virginia team that has played with Team USA; he made the same U19 roster that Jahlil Okafor did two summers ago. He was more highly-regarded and is probably more skilled inside than Gill, who isn't as good of a defensive player as Darion Atkins is. But neither of them are able to produce the way that Gill has this season. He's really good moving without the ball and has excellent hands, he's active on the offensive glass and he seemingly finishes everything around the rim, as he is shooting 66.7 percent from inside the arc. Like Anderson, Gill is not really a go-to guy in this offense, but as long as he is making the most of his opportunities, you keep the touches coming.
But it might not because: Eventually, Virginia is going to run into front lines that are bigger, stronger and more athletic. Gill, for everything that he can do on a basketball court, is not going to grow anymore. What happens when the Cavs run into teams like Louisville and Duke and North Carolina, teams with bigger big men? Well, if they keep shooting like they have been this season, the touches that Gill gets in the post are not going to be as clean as they have been.