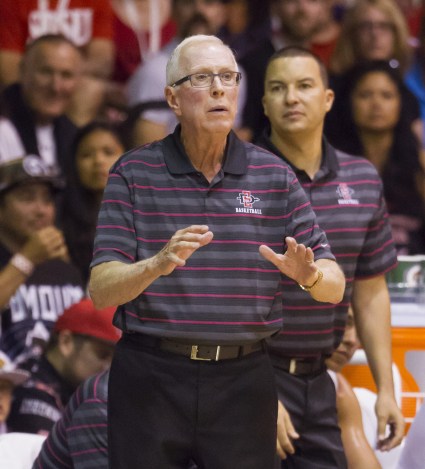 Conference play is right around the corner, so over the course of the next two weeks, College Basketball Talk will be detailing what some of the country's best, most intriguing, and thoroughly enigmatic teams should resolve to do with the New Year right around the corner. What can we say, we're in a giving mood. Thank Jessica Simpson.
MORE: The rest of our New Year's Resolutions | Midseason catchups
SAN DIEGO STATE PROMISES TO: Do a better job of finding quality looks on offense.
It will happen because: This is a group that doesn't lack for talent, with junior Winston Shepard and seniors Aqeel Quinn and Dwayne Polee II among those who are asked to take care of the offense for Steve Fisher. In regards to Polee, his finish to the 2013-14 season is a clear indicator that he's capable of being a consistently productive offensive option. And in big men Skylar Spencer and Angelo Chol the Aztecs have two interior players who can complete the pick-and-roll situations that have been a staple for San Diego State in recent years. As poorly as this team has shot offensively, things have to turn around at some point, right?
It won't happen because: While the shooting percentages (40.0% FG, 27.0% 3PT) have been poor, the bigger issue for San Diego State has been the caliber of shots they've been able to create. SDSU's assist percentage is better than it was a season ago, but the fact of the matter is that they're still searching for a creator who can do some of the things that made Mountain West POY Xavier Thames so special last season. Trey Kell's been the starter at the point, with Shepard also being placed in a position where he can make plays offensively, but things have yet to click for this group.
SAN DIEGO STATE ALSO SWEARS THEY WON'T: Continue to have issues protecting the defensive glass.
It will happen because: Opponents are currently rebounding 36.3% of their missed shots this season, a percentage that nearly seven points worse than what the Aztecs allowed a season ago. While the addition of Chol has given SDSU more athleticism inside, the now-departed Josh Davis was one of the best defensive rebounders in America. Neither Spencer nor Chol have rebounded at a level approaching Davis', and given how good the Aztecs are at forcing missed shots (opponents are shooting 37.1%) that's a big deal moving forward.
It won't happen because: Unlike last season, in which Davis grabbed 10.1 rebounds per game and no other Aztec averaged more than 4.9 rpg (Shepard), these current Aztecs handle rebounding responsibilities as a committee with J.J. O'Brien averaging a team-best 5.9 rebounds per game. Three SDSU players are averaging at least five rebounds per game (Spencer- 5.8 rpg; Shepard- 5.1 rpg), and three more are averaging between 3.1 and 3.9. San Diego State can buckle down on the glass, just as they have defensively, thus shoring things up in that department as they approach the start of Mountain West play.