Marcus Paige was supposed to turn into a star this year. He was the Preseason ACC Player of the Year. He was an NBCSports.com Preseason All-American, and that was far from the only All-American team he was named to. He was supposed to be the focal point offensively for a North Carolina team that was going to compete with Duke and Virginia and Louisville for an ACC title.
But here we are, more than a month into the season, and North Carolina is only in the Top 25 because there really aren't 25 teams deserving of being ranked. They're 7-3 overall with losses to Butler, Iowa (at home) and Kentucky. Those wins against Davidson, Florida and UCLA are solid — and will likely look better as the season progresses — but you can watch this team play and realize they're not the North Carolina we expected them to be.
Paige isn't the Marcus Paige we expected him to be, either. He's averaging just 13.5 points, down from 17.1 last season, and shooting 34.8 percent from the floor and 35.4 percent from three.
To get to the bottom of what's ailing the Heels, you first have to understand what they want to do.
North Carolina, as always, wants to run off of misses and off of makes. They're 12th nationally in tempo, according to Kenpom.com, and that's not by accident. And while it may seem unorganized at times, there really is a method to the madness. It works like this: the point guard is supposed to receive the outlet pass on the right side of the floor at or above the free throw line. As he's receiving the ball, the two is streaking up the right side of the floor and the three is streaking up the left side of the court while the four-man is sprinting to the block: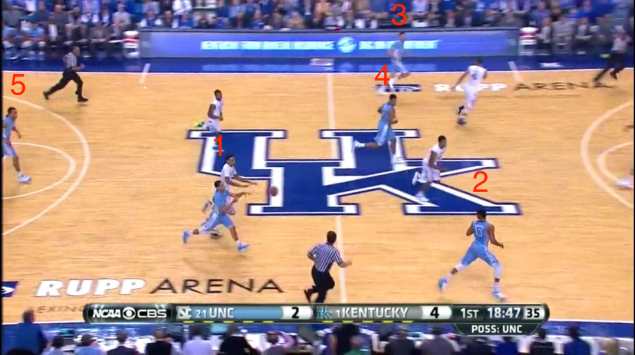 Ideally, the one will hit ahead to one of those three, getting an easy look at the rim … :
Or an open three or driving lane on the wing:
If nothing is there, North Carolina can pull the ball out and run their secondary break, which is essentially a four-out, one-in system that has a number of different reads, set plays and quick-hitters: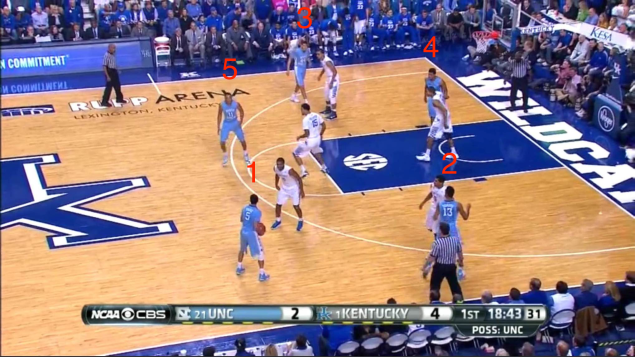 Now the problem with this is that Paige is, by far, the best offensive weapon that North Carolina has on their perimeter. In an ideal world, he's not the guy making the pass-ahead, he's the guy spotting up on the wing. He's the guy looking to finish in transition, not the guy sparking the fast break. He's not bad at it, per se, but J.P. Tokoto and is not Rashad McCants. Justin Jackson is not P.J. Hairston. Theo Pinson is not Wayne Ellington.
In other words, the guys that Paige is putting into a position to score in transition aren't your typical, high-scoring Carolina wings.
The other problem is that Roy Williams doesn't appear to trust the other two point guards on UNC's roster — sophomore Nate Britt and freshman Joel Berry — with the reins offensively quite yet, meaning that Paige is, in a sense, being asked to play out of position. He's a scorer at heart, not a facilitator. Kendall Marshall he is not.
That limits their effectiveness in transition, which is only half of the problem right now.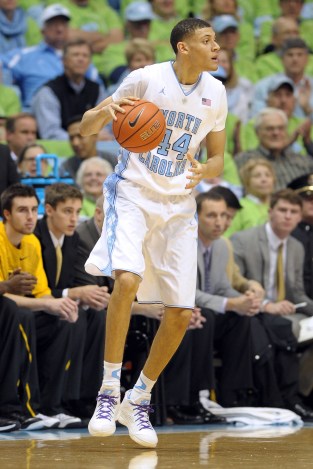 North Carolina just does not have any weapons on their perimeter outside of Paige, and all you have to do is look at their three-point shooting to understand that. On the season, the Tar Heels have hit 44 three-pointers. Paige has 23 of them. No one else has more than six, and that number belongs to Nate Britt, who is shooting 28.6 percent from three on the season and actually had to change which hand he shot with during the offseason because he's struggled so much. He's right-handed this year. Last season, he was a lefty.
That not only allows teams to focus their defense on Paige beyond the arc, it allows them to sag off of the other non-shooters, crowding the paint for North Carolina's big men, namely Kennedy Meeks and Brice Johnson. That front court in UNC's strength this season, which means that lack of shooting not only limits Carolina's ability in transition, it hurts them when they can't get easy buckets off the break.
All of this leads me to believe that, more than anything, we overrated North Carolina in the preseason.
You see, the two players that made the biggest improvements during the summer were Meeks and Johnson, but having those two get better without adding any perimeter firepower didn't really solve any of the major issues that last season's No. 6 seed had. Justin Jackson was supposed to be the guy that would provide some perimeter scoring pop, be he's 4-for-22 from beyond the arc this year and doing most of his damage as a slasher, scoring in the mid-range and around the rim.
And unless Jackson makes a notable improvement once we hit ACC play, it looks that is going to be an issue for the Heels all year long.
Now, the Tar Heels do have some problem areas where they can improve. They are abysmal of the defensive glass right now, allowing opponents to collect 35.6 percent of the available offensive rebounds. And to be frank, Paige is missing a lot of clean looks from the perimeter, shots that he's going to make far more often than he misses. Those will eventually start going down, and at some point, you have to think a team with this big of a front line and this many athletes on the wing will get better on the defensive glass.
In other words, the trio of Paige, Meeks and Johnson will be enough to keep Carolina in the top 25 and ensure them a spot in the NCAA tournament. The sky isn't falling just yet.
But unless one of the young point guards becomes a viable option to play starter's minutes, and unless Williams can find some kind of consistent production from his wings, the Tar Heels look much more like a No. 6 seed again than they do a legitimate ACC title contender.