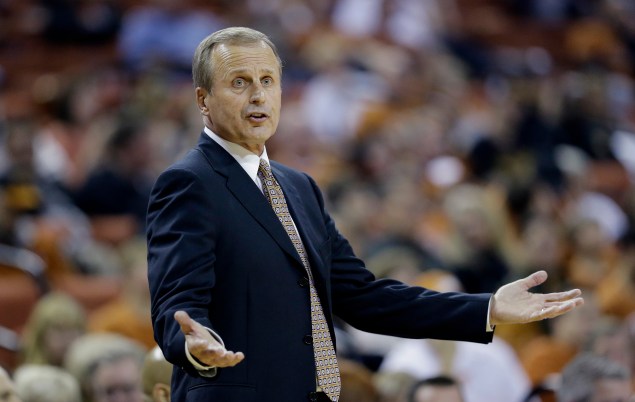 Conference play is right around the corner, so over the course of the next two weeks, College Basketball Talk will be detailing what some of the country's best, most intriguing, and thoroughly enigmatic teams should resolve to do with the New Year right around the corner. What can we say, we're in a giving mood. Thank Jessica Simpson.
MORE: The rest of our New Year's Resolutions | Midseason catchups
TEXAS PROMISES TO: Continue to shut teams down defensively.
It will happen because: Simply put, what the Longhorns have done to date has worked. Texas has played both man and zone this season and to great effect, as they're the nation's best team when it comes to defending inside of the arc. Opponents are shooting 32.4% from two, with top-ranked Kentucky (which handed Texas its lone defeat) right behind them at 32.5%. With players such as Cameron Ridley, Myles Turner and Jonathan Holmes in the front court interior defense shouldn't be much of an issue, and those bigs also provide the guards (who don't gamble all too often) with a nice safety net should they get beat off the dribble.
It won't happen because: The competition gets significantly tougher when Big 12 play begins. Using Kenpom.com's rankings eight teams on Texas' non-conference schedule are currently ranked outside of the Top 100; currently just one Big 12 team (Texas Tech at 110) can claim that dubious distinction. By no means will Texas become human turnstiles on the defensive end when conference play begins; they've got too much talent to do that. But if they manage to allow 60 points or more in just two games as they have to this point in non-conference play (Kentucky and Lipscomb, who Texas scored 106 on), that would be incredibly impressive given how good the Big 12 has been thus far.
TEXAS ALSO SWEARS THEY WON'T: Continue to turn the ball over at the rate they have.
It will happen because: Outside of Isaiah Taylor just four of the top ten Longhorns in minutes per game have more assists than turnovers to this point in the season: Demarcus Holland (26 assists, 18 turnovers), Connor Lammert (21 assists, nine turnovers), Kendal Yancy (22 assists, 14 turnovers) and Jordan Barnett (four assists, two turnovers). The highest possession percentage of those four players belongs to Yancy, who thus far has factored into 16.5% of Texas' possessions, and of the top six players in possession percentage four have more turnovers than assists with Taylor and Jonathan Holmes (18 assists, 18 turnovers) being the exceptions. Turning things around in that area, especially for the big men, could prove difficult in Big 12 play given the level of competition.
It won't happen because: Taylor will rejoin the lineup eventually, with the sophomore stating at the end of November that he'd be ready for the start of Big 12 play. Through three games Taylor had just seven assists and five turnovers, but his ability to make plays is key for the Longhorns. Things just go smoother when he's on the floor, even with the experienced Javan Felix taking over the primary ball-handler responsibilities in Taylor's absence. As a team Texas has turned the ball over on 21.4% of its possessions this season, and a healthy Taylor will help Rick Barnes' team improve on that number.