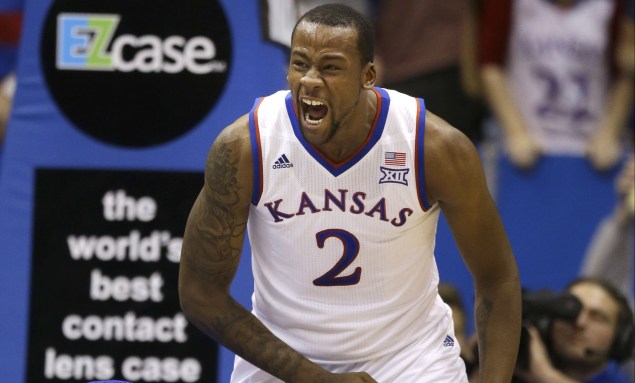 Conference play is right around the corner, so over the course of the next two weeks, College Basketball Talk will be detailing what some of the country's best, most intriguing, and thoroughly enigmatic teams should resolve to do with the New Year right around the corner. What can we say, we're in a giving mood. Thank Jessica Simpson.
MORE: The rest of our New Year's Resolutions | Midseason catchups
KANSAS PROMISES TO: Play their best players the majority of the minutes.
It will happen because: Bill Self isn't stupid. He hasn't won a decade's worth of consecutive Big 12 titles by accident. He's as good of a coach as there is in the country, and he understands what he needs to get out of his guys if the Jayhawks are going to be real Final Four contenders. If that means that he has to limit minutes early on for guys like Cliff Alexander and Kelly Oubre while he drives home the importance of things like offensive execution and attention to detail defensively, than that's what he'll do. Remember, Kansas has not yet played their best, and they've beaten Utah, Michigan State, Florida and Georgetown in D.C.
But it might not because: There's no guarantee that those guys ever get to a place where they're as good as they're expected to be. These are college freshmen, 19-year olds that have a long, long way to go in their basketball careers. Rome wasn't built in a day, and neither was Wayne Selden's left-hand, Alexander's awareness or Oubre's knowledge of defensive rotations. This is a by-product of recruiting guys that will only be on campus for a year or two.
KANSAS ALSO SWEARS THEY WON'T: Continue to get beaten up in the paint.
It will happen because: Maybe you hadn't noticed, but one of the biggest issues that Kansas has had this season has been the play of their big men around the rim. Some stats: They're 310th nationally in how often their two-points attempts get blocked (13.5 percent), they're 287th in the country in two-point field goal percentage and they're allowing opponents to grab 30.5 percent of the available offensive rebounds. With the number of title contenders with powerful front lines, that's a concern, one Self will no doubt make a point of emphasis. Alexander's growth should help in that regard.
But it might not because: As good as Perry Ellis and Alexander are, they're never going to be as bigas opposing front lines. At some point, it is what it is, which is why Self has publicly discussed playing someone like Oubre, Brannen Greene or Svi Mykhailiuk at the four. If you're going to get beat up inside, you might as well tryto create mismatches at the other end of the floor while you're at it.