Every Tuesday, we will be providing you with a breakdown of the top ten candidates for National Player of the Year. You can read through the older posts here.
1. Jahlil Okafor, Duke: Duke head coach Mike Krzyzewski made a couple of interesting comments last night regarding Okafor and his Duke team. I'm paraphrasing here, but he essentially said that Duke can't get comfortable relying on the big fella to bail them out when they play poorly. He had 25 points and 20 boards against Elon in an uninspiring 13-point win on Monday. Hey, if you need a security blanket, it might as well be the best one in the country.
2. Frank Kaminsky, Wisconsin: I'm not ready to drop Kaminsky out of the No. 2 spot just yet, but I am ready to see him put together the kind of performances that we expect out of a Player of the Year favorite. They should start coming, too, as Wisconsin's schedule suddenly looks quite friendly. They play at a 9-1 Cal team on Dec. 22nd, but they won't play a ranked team until … Feb. 24th trip to Maryland? They get Nebraska and Iowa twice, Indiana and Illinois at home, and a trip to Michigan before then.
3. Montrezl Harrell, Louisville: There's only one player in the top 25 that is currently averaging a double-double, and it's not Okafor or Kaminsky. It's Harrell, who is currently averaging 17.0 points and 10.4 boards for the Cardinals this season after going for 21 and 11 against Indiana and posting a 19 and 17 line in an all-too-close win over UNC Wilmington.
But Harrell's value to Louisville is about so much more than just the numbers. He's a fountain of energy and excitement, something that the Cardinals need if their pressuring defense is going to be effective. He's also such a versatile weapon on the defensive end. He can more or less guard any position on the floor, quick enough to switch on ball-screens and capable of being a wing or the center in Louisville's 2-3 zone.
Rick Pitino also likes to play him at the point of their most aggressive press, a 1-2-1-1 trap that can create sequences like this:
4. Jerian Grant, Notre Dame: Before the season, Mike Brey told me that, in addition to Grant being his team's "closer", losing his star hurt because Grant was so good at getting teammates open looks. His presence — whether it's his passing, his ability of drawing help defense or the focus that opponents have to place on him — just made things that much easier for Notre Dame.
This season, the Irish are fifth nationally in adjusted offensive efficiency. They lead the nation in effective field goal percentage, are shooting 64.7 percent on their twos and 40.6 percent on their threes. Every starter has an offensive rating of at least 123.6. By comparison, Pat Connaughton had the team's highest offensive rating last year at 123.8, and those Irish finished 43rd nationally in offensive efficiency.
Granted, Notre Dame has played the second-worst schedule in the country, according to Kenpom, and their defense isn't all that improved from last year. So don't pencil them into the Final Four just yet.
5. Willie Cauley-Stein, Kentucky: Cauley-Stein is not only the leading scorer and rebounder for this Kentucky team, but he's also the best defensive player in all of college basketball. He more than anyone — and that includes Alex Poythress, who tore his ACL last week — is the reason that John Calipari is slowly but surely going away from a straight platoon system. He's actually playing more minutes than he did last season, and in the last four games, he's averaging 28.8 minutes compared to Marcus Lee's 11 minutes. Against Texas, Cauley-Stein played 33 minutes. Lee played four.
6. Georges Niang, Iowa State: There's a fair argument to make that Niang hasn't even been Iowa State's best player this season, I guess, but I'll ride with Niang for now. He was terrific in the second half in the biggest win of the season for the Cyclones, as they blew out rival Iowa in Iowa's gym. The best part? He sealed it with a kiss:
7. Ty Wallace, Cal: For my money, Wallace is the most underrated player in America right now. A rangy, 6-foot-4 lead guard, Wallace is averaging 19.4 points, 8.7 boards, 4.5 assists, 1.4 steals and shooting 45.8 percent from three in 34.2 minutes. Every one of those stats are team-highs for the Bears, who are now 9-1 on the season. Cal gets Eastern Washington, Wisconsin and Washington at home in the next two weeks. By Jan. 3rd, we'll know if Wallace and his team are for real.
8. Justin Anderson, Virginia: Virginia hasn't taken the court since their 74-57 win at VCU two Saturdays ago, so we don't have much new to discuss in regards to Anderson. But I was curious anyway, because his emergence as Virginia's leading scorer — and one of the nation's deadliest three-point shooters through the first month — is as big of a surprise as anything this season.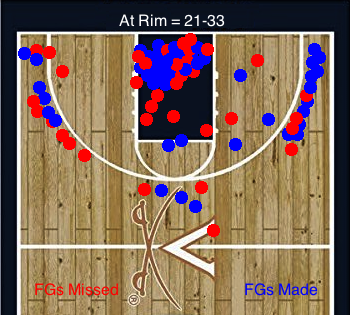 To the right, you can see a shot-chart for Anderson, and after watching every one of his field goal attempts this season, there really isn't all that much different about his game. He's not a great one-on-one player, he's not going to beat anyone off the dribble that often and Virginia doesn't run much for him because he's fairly limited offensively. But he's terrific moving without the ball, as aggressive as ever going to the rim and he's much, much better at getting open on the perimeter, in transition and in half-court sets.
Anderson is somewhat limited on the offensive end of the floor, but he knows that. It's not often that he forces drives or throws up heat-checks. And what he does well, he does really, really well. He's a classic 3-and-D kind of player right now, and that fits perfectly with Tony Bennett's system.
9. Kyle Wiltjer, Gonzaga: As much as I love Kevin Pangos and what he's been able to do for the Zags this year, Wiltjer has become the most potent weapon for Mark Few (some of that has to do with Josh Perkins being out, but that's another post for another time). His ability in the pick-and-roll, his three-point shooting and his skill on the block have made him one of the most versatile offensive weapons in the country. It remains to be seen whether issues with defense and rebounding will end up hurting the Zags this year.
10. Delon Wright, Utah: Utah has played three games in December: they beat Wichita State in overtime, they won at BYU and they lost by two in a de-facto road game against Kansas in Kansas City. Wright's numbers in those three games: 18.0 points, 7.3 boards, 4.7 assists, 2.3 steals and 1.3 blocks while playing all-but four of a possible 125 minutes. Oh, and he's shooting 35.0 percent from three this season as the Utes look like the clear-cut No. 2 team in the Pac-12.
OTHERS THAT WERE CONSIDERED: Ron Baker (Wichita State), Craig Bradshaw (Belmont), Tyler Haws (BYU), LaDontae Henton (Providence), Buddy Hield (Oklahoma), Jonathan Holmes (Texas), Angel Rodriguez (Miami), D'Angelo Russell (Ohio State), Wesley Saunders (Harvard), Nigel Williams-Goss (Washington), Joseph Young (Oregon)