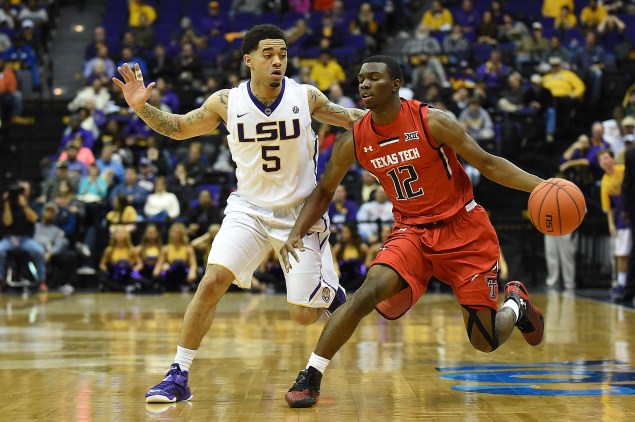 LSU starting point guard Josh Gray will miss some time with an ankle injury that the junior suffered on Saturday in a win over Sam Houston State. The 6-foot-1 Gray landed awkwardly on his right ankle three minutes into the second half and did not return after being looked at by trainers.
According to a report from Shelden Mickles of the New Orleans Advocate, LSU head coach Johnnie Jones would not specify on the severity of the injury or how long his point guard would be out, but Gray left the basketball facility on crutches with a walking boot. He'll be evaluated on Monday.
The Tigers have a game against UAB on Thursday and if Gray is in a boot and on crutches it might be tough for him to be ready for that game. After that, LSU has three more non-conference games before SEC play begins with a Jan. 8 game at Missouri, so Gray will hopefully be healthy by then.
If Gray can't go, the Tigers could promote sixth man Tim Quarterman from the bench, as the 6-foot-6 sophomore has played well this season off the bench. It would give LSU more size but less perimeter shooting and perimeter depth.
Gray is averaging 11.1 points, 4.7 assists and 3 rebounds per game this season while shooting 47 percent from the field and 44 percent from the three-point line. He can really fill it up from the perimeter, but he's also averaging 3.7 turnovers per game and can get reckless with the ball.