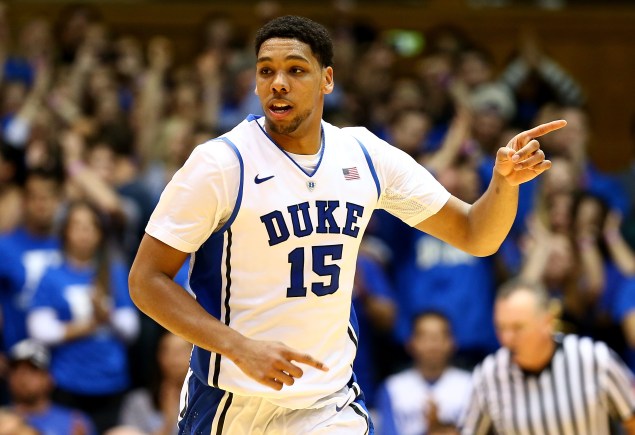 GAME OF THE NIGHT: UT Martin 81, UIC 78, OT
Facing a 17-point second-half deficit, UIC rallied with a 20-4 run to help force overtime. But UT Martin held strong in the extra frame to secure the road victory as Deville Smith had a monster game. The UNLV transfer had 26 points, seven assists, six rebounds, five blocks and three steals in the win as UT Martin improved to 6-2 on the season.
IMPORTANT OUTCOMES
1. Georgia Southern 68, South Florida 63
This is the third consecutive loss for the Bulls, but that's not the story here. Georgia Southern looks like they might be a legitimate contender in the Sun Belt alongside Georgia State and Lousiana-Lafayette with a win over an AAC team on the road. The Eagles have a solid senior one-two punch in guard Jelani Hewitt and forward Trent Wiedeman and only have losses on the road at Illinois and Central Florida. Long way to go this season, but the Sun Belt race is looking more-and-more intriguing.
2. Memphis 81, North Carolina Central 47
The Tigers have followed four losses with four wins this season as that trend continued on Monday night. Memphis needed a blowout win re-gain some confidence and the interior starters of Shaq Goodwin (11 points, eight rebounds) and Austin Nichols (14 points, seven rebounds) both played well in the victory. Let's see if Memphis can build on this and start in winning streak in the 2014-15 season.
STARRED
1. Duke's Jahlil Okafor
On his 19th birthday, Okafor decided that producing numbers in the teens wasn't good enough. The freshman added another solid game to his Player of the Year cause with 25 points and 20 rebounds against Elon in only 29 minutes.
2. Oregon State's Gary Payton II
The junior guard finished with 10 points, 12 rebounds, 10 assists and six steals on the night, joining his legendary father in exclusive company.
3. Gonzaga's Kyle Wiltjer
Wiltjer's hot stretch continued as he went 9-for-11 from the field to finish with 21 points, three rebounds and two assists in a win over Texas Southern.
STRUGGLED
1. North Florida's second-half defense (and pregame dunking) 
The North Florida defense collapsed in the second half after building up a 41-32 lead at halftime on Tennessee Tech. The Ospreys allowed 60 percent shooting in the second half as the Golden Eagles scored 50 points in the game's final 20 minutes for the 82-80 win.
2. Missouri State's perimeter shooting
Three-point shooting didn't come easily for the Bears in a road loss to Oral Roberts. Missouri State went 4-for-17 from behind the three-point line (23 percent) after entering the game shooting 40 percent for the season.
3. Champion Baptist College
You might remember these dudes for trailing Southern 44-0 last season before eventually losing 116-12. Well, the Tigers have gotten better since last season, but they still lost 128-54 to Lamar.
NOTABLES
Georgia Tech advanced past Appalachian State as Marcus Georges-Hunt paced the Yellow Jackets with 15 points.
Drake freshman guard Reed Timmer had 19 points as the Bulldogs held off Jackson St., 76-66.
Cleveland State played a non-Division I opponent in NAIA school Mount Vernon Nazarene, but junior guard Trey Lewis poured in 32 points, including going 9-for-11 beyond the arc.