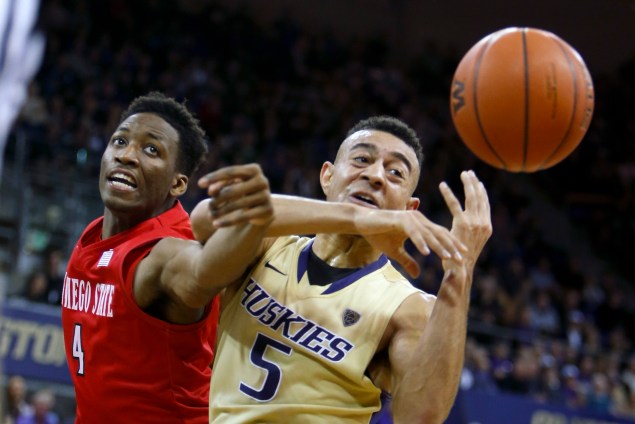 GAME OF THE NIGHT: Eastern Washington at No. 17 Washington, 8:00 p.m.
This will be a really interesting night contest as unbeaten and No. 17 Washington hosts 8-1 Eastern Washington. Nigel Williams-Goss is having a really good sophomore season for the Huskies and the addition of Robert Upshaw has given Washington a much better interior defense than last season. They'll have to slow down the dynamic duo Venky Jois and Tyler Harvey, who are both averaging 20 points per game for Eastern Washington. The Eagles already own a road win at Indiana, so they're tested this season and have enough scoring punch to make this a game.
THE OTHER GAME OF THE NIGHT: Louisiana Tech at Syracuse, 4:00 p.m.
Syracuse is coming off of two consecutive losses and has struggled to find consistent point-guard play. Louisiana Tech has some depth and likes to speed it up for opposing teams. Sense a theme here? This could be a good clash of styles and we'll see how the Orange respond to some early-season adversity while playing a talented Bulldogs team that is one of the best in Conference USA.
FIVE THINGS TO WATCH FOR: 
No. 15 Butler gets a tough road game when they travel to Tennessee to face the Volunteers. Both teams are going to be rugged and physical and this could easily be the type of game where the first team to 50 points wins.
Temple matching up with No. 7 Villanova makes for some really fun Big 5 ball on a Sunday afternoon. Can the improved Owls hand the Wildcats their first loss of the season with a road upset?
N.C. State won't have any kind of easy out when they host Wofford on Sunday. The Terriers only lost senior Aerris Smith from last season's NCAA Tournament team and the Terriers are 7-2 and favored in the Southern Conference this season.
A reunion of sorts as UNC-Wilmington and head coach Kevin Keatts, a former Louisville assistant, travels to face the No. 4 Cardinals. Keatts is in his first year as head coach for the Seahawks and will go against his former boss, Rick Pitino. How well will Keatts know the team he helped coach last year?
Michigan State hosting Oakland could be interesting. The Golden Grizzlies always get up at the chance at playing the in-state power Spartans and Oakland senior big man Corey Petros is one of the best mid-major post scorers in the country. Michigan State had some trouble defending Jahlil Okafor, could the 6-foot-10 Petros do some damage?
THE TOP 25:
Southern at No. 14 Iowa State, 6:00 p.m.,
No. 22 West Virginia at Marshall, 4:30 p.m.
Fordham at No. 24 St. John's, 2:00 p.m.
OTHER NOTABLE GAMES:
St. Peter's at Seton Hall, 12:00 p.m.
George Washington at Penn State, 12:00 p.m.
Illinois State at DePaul, 4:00 p.m.
Coppin State at UConn, 4:00 p.m.
Auburn at Clemson, 4:00 p.m.