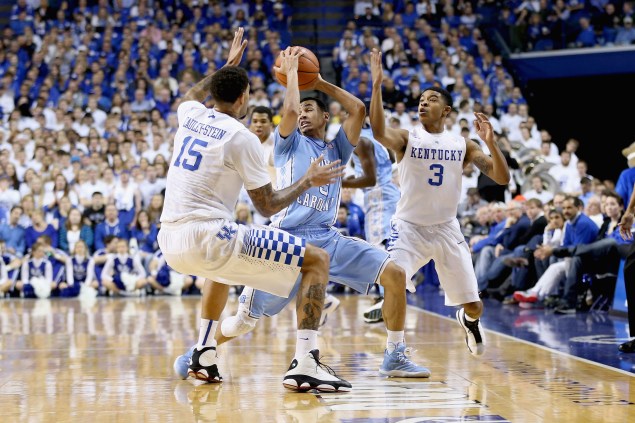 The first real adversity Kentucky faced during the 2014-15 season had nothing to do with an opponent the Wildcats faced on the floor. After losing junior wing Alex Poythress for the season with a torn ACL late Thursday night, the Wildcats had to pick themselves up and face a top-25 team in North Carolina on Saturday.
Kentucky responded in a major way in an 84-70 blowout win over the Tar Heels.
Junior center Willie Cauley-Stein and freshman guard Devin Booker each had 15 points to pace Kentucky while sophomore guard Aaron Harrison added 14 points. After struggling in the first half, North Carolina junior point guard Marcus Paige woke up a bit in the second half and finished with 14 points while Brice Johnson led the way with 15 points.
Platoons have dominated the early-season chatter for Kentucky, since they're obliterating nearly everyone on the floor, and the loss of Poythress meant that head coach John Calipari had to switch up a system that was working very well. Rather than add a new 10th man to the platoon, Calipari shortened his rotation to nine members, as freshman forward Trey Lyles (nine points) replaced Poythress in the starting lineup.
The new "jumbo" starting lineup of Kentucky looked awfully good against North Carolina, and the different roster combinations that Calipari used during Saturday's game was fun to watch.
Offensively, Kentucky didn't miss Poythress one bit and its offense probably played even better without him.
With Poythress on the floor, he provided zero threat to shoot from the perimeter, so Kentucky's floor spacing is much better with either Lyles or freshman guards Tyler Ulis (three points, eight assists) or Booker on the floor in place of the junior.
Lyles has struggled to a 3-for-20 start from the three-point line this season, but the high number of perimeter attempts — and his new spot in the starting lineup — means Calipari and Trey's teammates are confident with the ball in his hands. Ulis instead of Poythress means Kentucky gets the freshman's unique dribble-penetration ability and more floor-spacing as another perimeter shooter. And Booker can also knock down perimeter shots and was 3-for-3 from three-point range on Saturday to tie for a team-high 15 points.
Those three guys providing more spacing also frees up more room for the Harrison twins to operate. Aaron Harrison (14 points) was 3-for-7 from three-point range on Saturday and had plenty of clean looks and Andrew Harrison (11 points, five assists) and Ulis were both able to drive the paint and find big men for rim-rattling alley-oops. Kentucky shot 46 percent from three-point range on Saturday after entering the game shooting 27 percent from three on the season. If the Wildcats are making three-pointers to go along with that stifling defense? Good luck beating Kentucky.
Kentucky's defense will undoubtedly miss Poythress. North Carolina didn't have an elite scoring wing to capitalize on Lyles' perimeter quickness deficiency now that he is playing slightly out of position and the Tar Heels also didn't have the perimeter shooting and spacing to make Kentucky's defense pay for late rotations. North Carolina's offense also beat Kentucky's defense down the floor a few times for easy baskets, even after Wildcat made baskets, because the Tar Heels were just faster than the bigger Kentucky lineup.
But it's no secret that Poythress was one of Kentucky's worst offensive players among the 10-man platoon, and now the Wildcat offense is more dangerous without him on the floor. It's hard to say if Calipari continues with a nine-man rotation, or if Lyles continues in the starting line-up, but the most intriguing thing about Kentucky now is the different roster combinations that Calipari might put on the floor.
It's hard to believe that Kentucky is 11-0 with all 11 wins coming by double digits, but this team might have even more room to grow on offense and that's a scary thought.