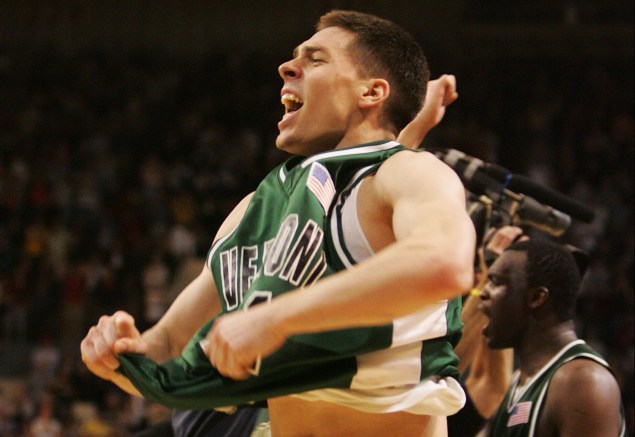 On Sunday night, Brown's basketball team went into Providence and knocked off the Friars, 77-67. It was a really nice win for Mike Martin, one of the better young coaches in an Ivy League that seems to be full of them these days. An assistant on that Brown staff is a native Rhode Islander by the name of T.J. Sorrentine, a guy that knows a thing or two about staging upsets and whose name doubles a curse-word in Upstate New York.
You see, back in 2005, Sorrentine hit a shot that not only helped him cement his legacy as one of the best players to ever suit up for Vermont, it also helped turn Gus Johnson from just another announcer into one of the most beloved cult figures in college basketball.
Here's the situation: Vermont has taken No. 4 seed Syracuse — a team two years removed from winning a national title — to overtime in what would eventually end up being the last season for UVM legend Tom Brennan. Sorrentine, a point guard, isn't even the best player on this Catamounts team — that title belonged to Taylor Coppenrath — and he's struggling on this night, just 4-for-19 from the floor and 4-for-15 from three.
And, well, I'll just let you watch the rest:
There are two things that I love about this moment:
– Right before the shot goes in, you can hear Gus Johnson start to say Sorrentine but get caught in the moment, and it comes out as a hissing sound. I like to think of it as the fuse burning before Gus Jeezy explodes with a "Hit that one from the parking lot!!!"
– When the shot clock hits the 15-second mark, you can see Brennan start yelling something at Sorrentine, who casually waves off his coach as if it's not overtime of the NCAA tournament with a minute left. Brennan told the story of what happened to Mike Waters of the Syracuse Post-Standard years later:
"We had put in a special set for Syracuse's zone," Brennan said. "We set a screen and skipped the wing pass to try to get a good shot from the corner. We had run it a couple times and it didn't work well."

"So I said 'Run Red,' which was the name for the set and T.J. He put his hand out like a traffic cop and then he turned and fired."

"That was not the play until it went in, and then it was just what we drew up."
That shot instantly turned Sorrentine into a legend in the state of Vermont. Ask any Catamount fan — UVM has a surprisingly large and passionate fanbase — and they'll tell you that's the single greatest moment in Vermont athletics history, the kind of moment where you remember exactly where you were and who you were watching with when it happened.
Here's an example of what I mean.
Eight years later, on Labor Day in 2013, Sorrentine got married back in Vermont. At some point that weekend, Sorrentine's wedding party made their way to CK's, a sports bar in Winooski, a town over from Burlington, that was described to me as "the place where you meet all your buddies from high school when you're back in town". Sorrentine is a legend in the state, so everyone that worked at CK's knew Sorrentine and a number of his teammates — Taylor Coppenrath, Germain Mopa-Gjila, Kyle Cieplicki, Brennan — would be making their way to CK's.
The DJ that night, a Williston native known as Rizzo that doubles as one of the biggest UVM fans in the state, had already downloaded the audio of Gus Johnson's call … because why wouldn't he?
He played it at the bar that night.
"At first people really weren't sure what it was," Jordan Tipson, whose family owns CK's, said. "Once people started to realize what it was, the place got pretty quiet to let it all play out. As soon as Gus went off about the parking lot the whole place just erupted."
"T.J. and Coach went right up to Rizzo after and dapped him up."
It doesn't get much better than that.
"Don't make me out to be some doofus," Rizzo said.
"But it was incredible."