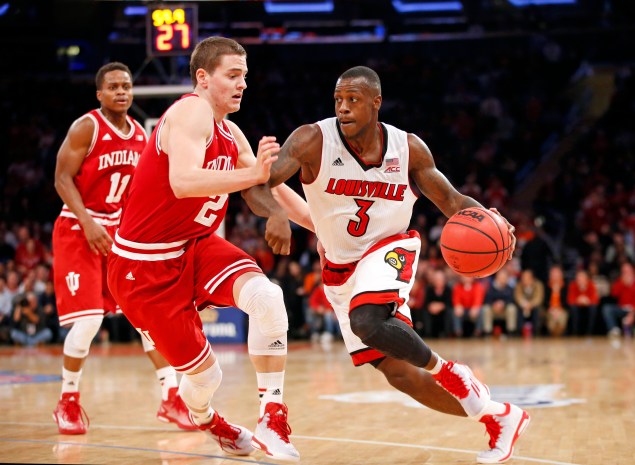 NEW YORK — The nightcap of Tuesday's Jimmy V Classic at Madison Square Garden was one of the most entertaining basketball games that I've watched this season.
It wasn't all that close — No. 4 Louisville pulled away over the final ten minutes and eventually beat Indiana 94-74 — but the style that both the Cardinals and the Hoosiers play turned this into an up-and-down affair. The game was played with pace, the floor was spread on both ends, big-time shot-makers made big-time shots. There was effort, execution, plenty of scoring and more than enough dunks to keep even the most avid NBA fan entertained.
College basketball fans crave games like this. Through the season's first month, it's become evident that a return to the old charge and hand-check rules have once again turned college hoops into a game built around physicality and fouling on every possession on the defensive end, knowing full-well that no referee is going to blow his whistle on every possession.
And Louisville? They've been as bad as anyone this season.
The Cardinals are 8-0 on the season, and while they've reached the 80-point plateau in six of those eight games, it's hard to put too much stock in putting 87 on Savannah State when the Cardinals can physically overwhelm Big Ten teams. Louisville's win over Minnesota was ugly. Their win over Ohio State was worse. That 45-33 game against Cleveland State was downright unwatchable.
As the saying goes, defense wins championships, and it's hard to argue with what the Cardinals have done on that end of the floor; the 74 points they allowed to Indiana was a season-high, but that came on 77 possessions. There's a reason they're the second best defensive team in the country in terms of defensive efficiency.
But do the Cardinals have the offensive firepower to beat the best teams in the country? In the three games Louisville has played against teams ranked higher than 246th on Kenpom.com, the Cards have scored 0.941 PPP.
Terry Rozier and Montrezl Harrell have been great all year long. Harrell has looked like a National Player of the Year candidate, averaging 16.8 points and 9.6 boards, while Rozier has chipped in with 14.6 points.
The question mark has been the supporting cast. There's an argument to be made that, entering Tuesday, Chris Jones was the most inefficient player in the country. Playing 28 minutes a night, Jones was shooting 28.6 percent of Louisville's shots while he was on the court and churning out an offensive rating of 94.6, according to Kenpom.com.
Not all of you are fluent in advanced stats, but put simply, that's awful.
He wasn't alone in his struggles. Wayne Blackshear has had his moments — including an 18 point first half against Ohio State — but he's been inconsistent and has struggled to knock down open threes.
On Wednesday, Rozier finished with 26 points and Harrell added 21 points, 11 boards — six offensive — and a pair of steals, and that wasn't the end of their contributions. Harrell's aggressiveness on the glass and on the defensive end helped lead the Cardinals to their 26 offensive boards and the 19 Hoosier turnovers that they forced.
"I think [he] is the best player in the country," head coach Rick Pitino said. "He has a skillset like Kenneth Faried and Rodman in his prime, playing every possession like he hasn't eaten in a week."
And Rozier? Well, he simply is a force scoring the ball, sparking a run early in the game and hitting a big three and a handful of free throws down the stretch to close out the win.
It's pretty much precisely what you expect out of Louisville's two potential first round draft picks against an opponent that plays at a fast tempo and can be averse to defense for long stretches. They should be putting up huge numbers against the Hoosiers.
What Louisville should feel great about as they leave New York City is that the supporting cast that head coach Rick Pitino has surrounded his two stars with finally showed up.
Wayne Blackshear finished with 14 points, six boards and five assists, but he still shot 1-for-9 from beyond the arc — a number of them wide-open looks — he was active on both ends and moved the ball well. He's now shooting 26.9 percent from beyond the arc, a number that needs to improve.
The bigger surprise, however, was Jones, who might have been the best player at the Garden on Tuesday. Jones finished with 24 points, nine boards, six assists and three steals while shooting 8-for-17 from the field. He was the best player on the floor, causing major issues for the Hoosiers atop Louisville's press and slicing through Indiana's "defense".
The importance of getting those two going offensively cannot be overstated, but here's the question that must be asked: How much of Wednesday's performance was a product of Indiana simply being inept defensively?
"I don't think you're going to see us shooting 60 percent against good competition," Pitino said.
Has Chris Jones actually turned a corner, or was he just hitting the tough shots he takes far too many of because they weren't as well defended as the ones he took against Shannon Scott and D'angelo Russell? Was he cutting up Indiana in transition because they just don't get back on defense well? Is Blackshear really moving better without the ball, or was he just not impeded by Indiana's defenders? We already know the Hoosiers didn't help him break his shooting slump.
Louisville has reach the point under Pitino that their season is judged by championships. Regular season titles, league tournament championships and wins in the Final Four. Given how good the teams in the top seven or eight are this season — particularly on the defensive end of the floor — it's hard to believe that Louisville can have the kind of season that they want to have with Blackshear unable to make a defender pay for helping off of him or Jones shooting with less of a conscience than Kobe.
"I think Kentucky and Duke are at the highest level right now," Pitino said. "We hope to get to that level."
"I like the way we're rebounding, I like the way we're blocking shots. We'll get there."
He hopes.
Was Wednesday a step in the right direction?
Or was it simply a tease facilitated by college basketball version of a slump-buster?