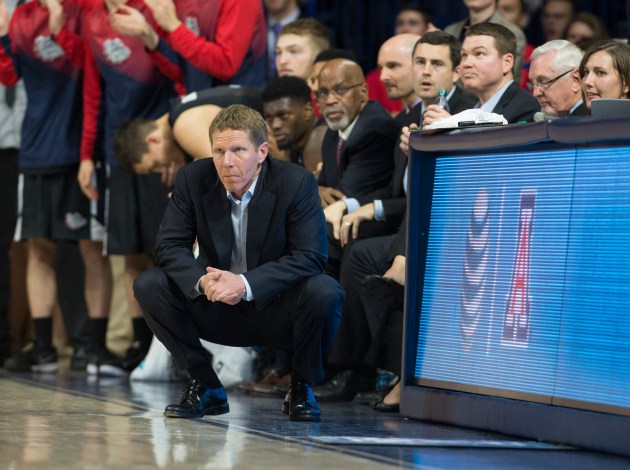 TUCSON — In winning 29 games a season ago, No. 9 Gonzaga was able to combine a solid offensive attack with a level of play on the defensive end that was better than many had grown accustomed to seeing. From an efficiency standpoint Gonzaga ranked 15th nationally in adjusted defensive efficiency per kenpom.com, the program's best ranking in that category during Mark Few's tenure as head coach, and they also limited opponents to 39.8% shooting from the field and 31.8% shooting from beyond the arc.
Yet even with those numbers being what they were there was doubt regarding the Bulldogs' chances of beating the nation's best teams, as their overall schedule lacked opportunities against high-level competition. Gonzaga would play just one game against a ranked team last season, and that was their loss to Arizona in the NCAA tournament.
With that, and the fact that the Bulldogs haven't reached the second weekend of the NCAA tournament since 2009, there are some skeptics when it comes to discussing this current group's chances of making a run at the program's first Final Four appearance. However if there's anything to be taken from their tough 66-63 overtime loss at No. 3 Arizona, it's that the Bulldogs should be considered every bit capable of doing just that.
The biggest reason why: this group has defended at a level that most of Few's past Gonzaga teams have been incapable of reaching.
And even though there was certainly a high level of respect for Gonzaga ahead of their meeting Saturday, Arizona head coach Sean Miller noticed a difference in Few's squad.
"We played Gonzaga because they're one of the great programs in college basketball," Miller said following the win. "And to be candid I didn't anticipate them having even as good of a team as they have, because adding [Domantas] Sabonis and Byron Wesley as late as they did gives them, to me, that 'next level' type of team."
Of course the way in which Gonzaga finished that game, scoring just one field goal over the final 9:05, wasn't pretty. But even with that drought the Bulldogs were right in there, going toe-to-toe with an Arizona team that's been afforded the respect worthy of a national title contender. Gonzaga's defense, even with Arizona shooting 60 percent from the field in the second half, had a lot to do with that. Arizona broke even in assist-to-turnover ratio (13 assists, 13 turnovers), and for the game they shot just over 44 percent from the field.
And those numbers were far superior to what Gonzaga was able to produce during the teams' NCAA tournament game last season.
On that day Arizona beat Gonzaga by the final score of 84-61, and the fact of the matter is that the game wasn't all that close. The Wildcats led by as much as 28 on that day, limiting the Bulldogs to 40.7% shooting and forcing 21 Gonzaga turnovers. Arizona was even better offensively, shooting 49.2% from the field and racking up 24 assists to just six turnovers.
"Last year they destroyed us in the NCAA tournament, but it's a different year and a different team," Gonzaga junior center Przemek Karnowski told NBCSports.com after the game. "We remembered that we were simply destroyed by them, and I think we really fought [Saturday]."
For Gonzaga, the improved health of guards Kevin Pangos and Gary Bell Jr. and Few having more options to turn two are the differences between last season and this one. Thanks in part to the addition of the likes of Sabonis, Wesley and Kyle Wlitjer the Bulldogs are more diverse offensively, with Wiltjer giving them a four capable of stepping out onto the perimeter and Wesley filling a void on the wing the Bulldogs were unable to adequately address in 2013-14.
Gonzaga didn't shoot as well as they would have liked Saturday, with Wiltjer needing 16 shot attempts to score 15 points and Pangos limited to eight points on 3-for-10 shooting. Yet even with that being the case, their defense not only kept the Bulldogs afloat but also had them in position to earn what would have been one of the most impressive wins of the season to date.
Will Gonzaga need to do a better job of finding quality looks down the stretch? Yes, but it isn't as if that was a serious issue entering Saturday's game. Against Arizona the Bulldogs encountered challenges they'd yet to face this season, and despite not playing their best Gonzaga nearly overcame them. In the end Gonzaga went home with a loss, but they also returned to Spokane with experiences that will only help them as the season wears on.
"It's a great experience," Few noted. "Obviously we wanted to finish it off, and we felt like we should have finished it off. We just let it slip away. We've been scheduling games like this since I've been the head coach.
"That's what college basketball is all about."
Despite the outcome, the question of whether or not this current group of Bulldogs was equipped to take on such a test was answered in the affirmative.