Every Tuesday, we will be providing you with a breakdown of the top ten candidates for National Player of the Year. You can read through the older posts here.
1. Jahlil Okafor, Duke
2. Frank Kaminsky, Wisconsin
Jahlil Okafor and Frank Kaminsky went head-to-head last Wednesday as Duke and Wisconsin squared off in the Kohl Center. Okafor's team got the best of the Badgers, as Duke won 80-70, but it was Kaminsky that ended up with the better line, finishing with 17 points, nine boards and two assists to Okafor's 13 points and six boards.
We wrote plenty about the different ways that Mike Krzyzewski and Bo Ryan utilize their all-american big men in the lead-up to the game, but the irony of it all was that the way that Coach K schemed basically took the two out of it and turned this into a battle of the guards. Duke switched all exchanges defensively, meaning that anytime there was a screen — or even two players running by each other — Duke would switch, regardless of size.
This meant that Wisconsin couldn't invert their offense, that they couldn't run what they wanted to run and couldn't take advantage of their size relative to Duke. But it did mean that Wisconsin's bigger, slower defenders had to try and cover Duke's quick, talented perimeter players.
The upper image shows you an example of what a typical Wisconsin possession devolved into. The bottom image is a screen grab of power forward Nigel Hayes, matched up with Justise Winslow, reaching instead of moving as a help defender, allowing Quinn Cook a lane to drive and find Okafor for a layup: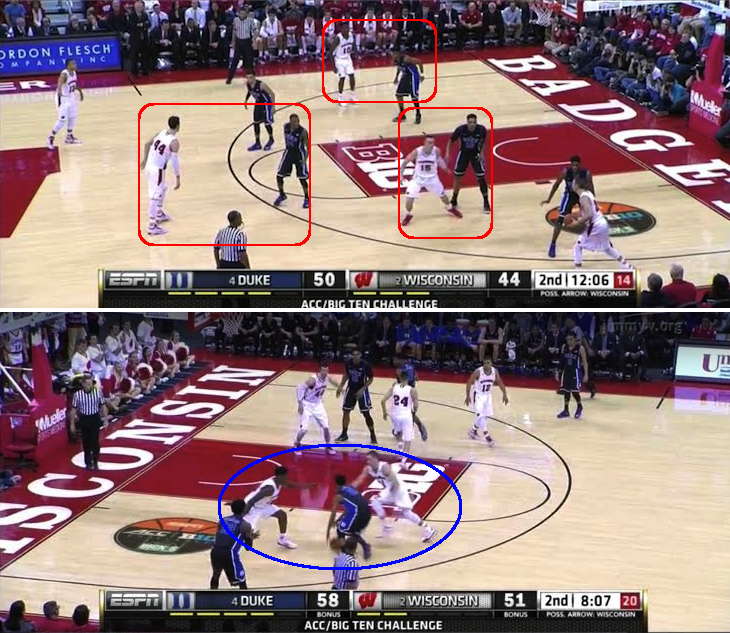 The irony of it all.
The two best individuals matchup in the best game of the season and it was decided by coaching and maximizing the ability of role players.
And Duke won out.
I can't be the only one hoping for a rematch in March, can I?
3. Jerian Grant, Notre Dame: Mike Brey has harped, over and over again, on the fact that Grant's return is so important because Grant is this team's "closer". The Irish lost nine games by single digits after Grant was suspended last season, and that would have changed seeing as he's the guy they go to down the stretch of games. Notre Dame has played two close games this year. In the final eight minutes of regulation in a win against Michigan State, Grant had ten points and an assist and, had the refs called a foul on this … :
[youtube=http://youtu.be/LxrO9LSK7Xo?t=2m3s]
… likely would have been the hero as well.
In the final 12 minutes of a loss to Providence, Grant had 12 points and four assists, setting up all of the final 25 points the Irish scored in that game. Notre Dame lost by one. Grant did not take the final shot, but it did look like he got fouled on a drive a few seconds before that.
4. Kevin Pangos, Gonzaga: Like I said earlier, we talked last week about just how good — and efficient — Pangos has been for the Zags this season, but he learned the hard way that Tucson is where efficiency goes to die. Pangos was 3-for-10 from the floor with four turnovers in an overtime loss to Arizona. He did hit a big three in overtime to cut a deficit to 64-63, but he wasn't that effective down the stretch. He turned the ball over in a tie game in the final minute of regulation, down by one with 1:15 left in overtime and then, down by one on the ensuing possession, was stripped and lucky to get the ball back on held possession.
5. Caris LeVert, Michigan: LeVert is averaging 18.6 points, 5.6 boards and 4.4 assists this year, and while the Wolverines did just lose to NJIT at home, LeVert did his best to make sure that didn't happen, finishing with 32 points and making big shot after big shot late. He's demanding the ball at the end of games, which is something that he hasn't done before.
6. Georges Niang, Iowa State: You see how versatile Niang is as a scorer by the numbers, this is a quintessential Georges. Slip a high-ball screen (1) and receive a pass on the right wing, using a pump-fake (2), a nasty behind-the-back move (3) and another pump-fake (4) to get all the way to the block and score over a shot blocker that's bigger and much more athletic: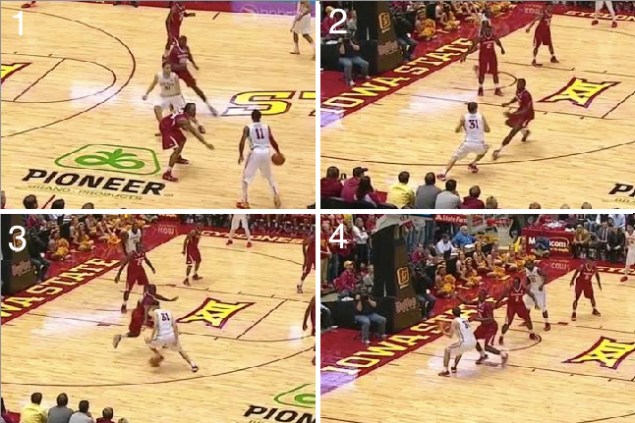 http://instagram.com/p/wXcGlRHw1a/
7. Montrezl Harrell, Louisville: All that talk about Montrezl Harrell adding a three-point shot during the offseason appeared to be supported by the 6-foot-8 center hitting three threes in the season-opener against Minnesota. In the six games since, he's 0-for-9 from beyond the arc.
8. Justin Anderson, Virginia: The most surprising development of the early part of this season has been the development of Anderson into a knockdown three-point shooter for the 'Hoos. He's 20-for-34, or 58.8 percent, through nine games, and in two road wins against VCU and Maryland last week, Anderson was 11-for-16 from the floor, 4-for-7 from three and averaged 18.5 points.
9. Angel Rodriguez, Miami: Rodriguez has come crashing down to earth after a scorching start to the season. In his last three games, he's shooting 6-for-31 from the floor and 3-for-13 from three with nine turnovers and nine assists during that stretch. The Hurricanes did beat Illinois last Tuesday, but they lost to Green Bay at home by 13 in that game. Rodriguez finished 2-for-15 in the loss.
10. LaDontae Henton, Providence: In his last three games, Henton is 11-for-40 from the floor and 3-for-15 from three in a trio of losses for the Friars. One of those losses was at Kentucky, which is understandable. The second was at Boston College, which is not. The third was at home t0 in-state rival Brown. The fact that he's still on this list should tell you just how good he was to start the season.
OTHERS THAT WERE CONSIDERED: Ron Baker (Wichita State), Craig Bradshaw (Belmont), Quinn Cook (Duke), Tyler Haws (BYU), Buddy Hield (Oklahoma), Jonathan Holmes (Texas), D'angelo Russell (Ohio State), Wesley Saunders (Harvard), Robert Upshaw (Washington), Tyrone Wallace (Cal), Delon Wright (Utah), Joseph Young (Oregon)