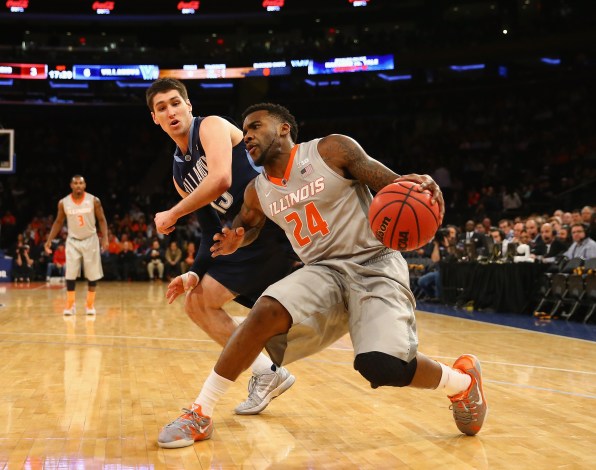 GAME OF THE NIGHT: Evansville 65, Belmont 62
In a matchup of really strong mid-major teams, the Purple Aces mounted a second-half comeback after trailing by eight at halftime to land a big road win. D.J. Balentine scored 25 points had five rebounds and added four assists in the win for Evansville, who is looking to be a third NCAA Tournament title in the Missouri Valley behind No. 11 Wichita State and unbeaten No. 23 Northern Iowa. As one of the tougher games in the non-conference slate, this is a nice win for the Purple Aces.
UPSET OF THE NIGHT: Eastern Michigan 45, Michigan 42
The Wolverines had a shocking home loss to N.J.I.T. on Saturday and followed that up with another home loss to Eastern Michigan on Tuesday. Zak Irvin, Caris LeVert and Derrick Walton all struggled to find their shots and Eastern Michigan won despite shooting 32 percent from the field and 31 percent from the three-point line.
IMPORTANT OUTCOMES 
1. No. 7 Villanova 73, Illinois 59
This one was tied midway in the second half before the Wildcats once again showed why they are a top-flight team at this point in the season. It was once again a balanced effort for Villanova as Dylan Ennis led with 18 points and Darrun Hilliard II and Daniel Ochefu each had 12 points.
2. No. 11 Wichita State 77, Seton Hall 68
The Shockers don't get many chances to host power conference opponents, so they made the most of it in an easy win. Ron Baker finished with 22 points while Fred VanVleet added 18 points and Darius Carter finished with 16 points and 12 rebounds. Isaiah Whitehead did everything he can to keep the Pirates in the game, but the lost their first game of the season, as the McDonald's All-American finished with 23 points.
3. No. 4 Louisville 94, Indiana 74
The Cardinals withstood a hot-shooting first half from Indiana and ran away with ease as Terry Rozier (26 points), Chris Jones (24 points) and Montrezl Harrell (21 points) all finished with 20-plus points in Madison Square Garden. Louisville now owns three Big Ten wins during the early part of the season.
STARRED
1. Notre Dame trio of Auguste, Grant and Vasturia
The No. 25 Fighting Irish cruised to a 93-67 win over Mount St. Mary's as Zach Auguste, Jerian Grant and Steve Vasturia each had 19 points to carry Notre Dame.
2. Xavier's depth
It wasn't the prettiest night for Xavier in terms of scoring the ball, but the Musketeers had points from 12 different players in a 66-43 win over IUPUI. Only two players, Trevon Blueitt and Remy Abell scored in double figures.
STRUGGLED
1. Army's perimeter shooting
The Black Knights shot only 4-for-17 from three-point range as Army (6-2) lost at home to a Bryant (2-5) team that was struggling to find wins.
2. Maine's second-half defense
The halftime lead attained by the Black Bears went to waste when they allowed 53 second-half points and gave LIU Brooklyn its first win of the season in an 83-70 home loss. The Blackbirds were also 10-for-17 from the field in the win.
3. Texas A&M's rebounding
The Aggies were crushed on the glass 36-17 against Baylor as they allowed 15 offensive rebounds. Baylor ran past Texas A&M 77-63 in the first time these two former rivals played since the Aggies left for the SEC.
NOTABLES
No. 14 Iowa State cruised to a 73-56 win over UMKC as Bryce Dejean-Jones led the way with 22 points.
Mark Nwakamma had 29 points on 14-for-18 shooting as Hartford beat Holy Cross, 79-61.
Saint Joseph's grabbed a win over Loyola (MD) as DeAndre Bembry had 21 points and seven rebounds.
Myles Mack had 20 points as Rutgers got past New Hampshire 60-56.
Dayton only shot 1-for-15 from three-point range, but battled back in the second half to top Bowling Green. Devon Scott led the Flyers with 15 points and 10 rebounds.
Navy ran past VMI as Tilman Dunbar had 26 points.
N.J.I.T. picked up another win on Tuesday night as Damon Lynn had a game-high 22 points in a win over St. Francis (NY)
TCU remained one of the nation's unbeatens as the Horned Frogs won 80-69 over Furman. Stephen Croone had 23 points to lead the way.
South Dakota State earned a solid road win at Saint Louis as Reed Tellinghuisen had 15 points.
UL Monroe had double-doubles from Tylor Ongwae (19 points, 10 rebounds) and DeMondre Harvey (12 points, 10 rebounds) in a win over Northwestern State.
Nino Williams had 14 points and 12 rebounds to lead Kansas State to a 50-47 home win over Bradley.
Iowa bounced Alcorn State for an easy home win as Aaron White had 15 points.
Rondae Hollis-Jefferson had 12 points and 10 rebounds to lead No. 3 Arizona past Utah Valley.
Creighton needed 24 points and eight assists from Austin Chatman to last two overtimes for a win over South Dakota.