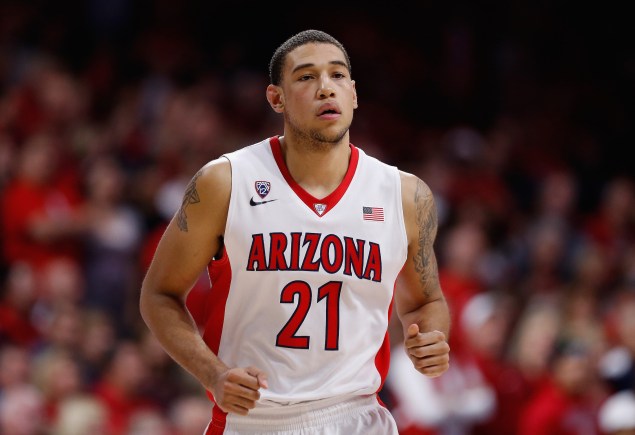 TUCSON — It's been said on multiple occasions that the 2013-14 season for the Arizona Wildcats hit a significant bump in the road on the night of February 1, when starting forward Brandon Ashley suffered a season-ending foot injury in the team's loss at California. With Ashley the Wildcats hadn't lost a game, his diverse skill set giving head coach Sean Miller a player capable of causing mismatches on most night.
Without him the Wildcats no longer had that luxury, and as one would expect their offense sputtered as a result. A season that very well could have ended in Arlington, Texas, on the first Monday night in April came to a painful end at the Arrowhead Pond in Anaheim in the Elite 8.
With No. 9 Gonzaga in town Saturday afternoon Ashley and his fellow front court contributors were faced with a difficult matchup, as the Bulldogs were able to counter with starters Przemek Karnowski and Kyle Wiltjer and freshman reserve Domantas Sabonis. Karnowski played well on both ends of the floor for Gonzaga, accounting for 10 points and 11 rebounds, and Wiltjer led the way offensively for the Bulldogs with 15 points while also grabbing seven rebounds.
But Arizona managed to erase a six-point deficit over the final 4:05 of regulation, going on to win 66-63 in overtime thanks to some exceptional defense and big plays made down the stretch by senior point guard T.J. McConnell.
It also must be said, however, that without Ashley's contributions, Arizona would not have been able to get the game into overtime, much less come away with the win.
Ashley, who struggled offensively in each of Arizona's two games prior to the win over Gonzaga, tallied 14 points, five rebounds and two assists on Saturday. All six of his points in the second half were critical, as they were the final six points Arizona scored in regulation. Ashley's ability to step out onto the perimeter and make sound decisions, whether its with his jump shot or as a facilitator, is one of the keys for Arizona offensively and that was the case down the stretch against Gonzaga.
Interestingly enough, Ashley did the majority of his scoring in the final three minutes of the first two halves, as he scored five points in the final three minutes of the first half and six in the final three minutes of the second. It was during those stretches when the trouble that comes with defending a player like Ashley was most evident.
"We had been sagging and plugging in the middle, and we knew that his best shot was the 17-foot face-up," Gonzaga head coach Mark Few said of Ashley following the game. "We wanted our guys to get in the gaps and help and then close out to him, but we just played him a little too soft."
One of the benefits of having a big man capable of scoring on the perimeter is that they can force opposing centers into situations they aren't used to defending.
"They were stressing our defense because they were posting up Hollis-Jefferson and Johnson, so we had to come with help," Few continued. "And anytime you come with help you're exposed somewhere, rotating out, and we just didn't rotate far enough. And it's a big rotating; usually it's your guards rotating out, so it was just a little different."
As mentioned above Ashley entered the game having scored a total of 13 points in wins over No. 18 San Diego State and Gardner-Webb, shooting 6-for-14 from the field. While that percentage (42.9%) isn't bad it's well below Ashley's field goal percentage for the season (52.9%), and there's also the matter of him averaging seven field goal attempts in those two wins. Ashley attempted 11 shots on Saturday, and his overall performance was a difference-maker for the Wildcats.
"In Maui, I didn't think he was as good of a player as he really is and that's to be expected; we know that," Arizona head coach Sean Miller noted. "I'm trying to tell him that, but it's not always easy on his end to accept that, 'wow, I'm starting my season and I've waited a long time to get back, and I want to play better than I'm playing.'"
"There's a process with everything. [Saturday] you saw what he's really capable of, his big field goals made in the second half and just his overall play," Miller continued. "No turnovers and [five] rebounds, he was one of our team's best players and a big reason we won the game. I think he'll continue to grow and hit his stride as the season unfolds."
Arizona certainly doesn't lack for talent, as evidenced by the fact that three players (Ashley, Hollis-Jefferson and Johnson) on the early season lists for both the Naismith and Wooden awards, and players such as McConnell and Kaleb Tarczewski can't be ignored either. But if there's one player whose skill set demands that opponents adjust the things they do defensively it's Brandon Ashley.
The scary thing?
He still hasn't reached the point where he was prior to suffering the injury that led to his sophomore season ending prematurely.