It's a Sunday in December, which means that fantasy points are weighing heavily on the minds of just about every football fan in America.
But it was fantasy points that very nearly cost Harvard a win at Vermont over the weekend. Specifically, it was one fantasy point, one that appeared midway through the second half.
With 12:39 left to go in regulation, Vermont drew up an out of bounds play that got Kurt Steidl an open 18-footer coming off of a screen. He made it, seemingly tying the game at 30. You can see the referee on that side of the floor staring straight at Steidl … :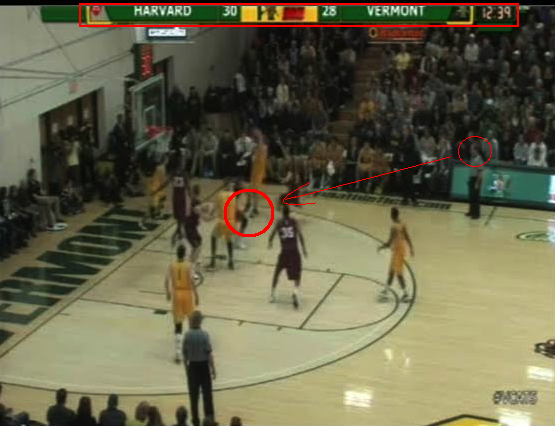 … and, a couple of seconds later, signaling that the shot was a two-pointer: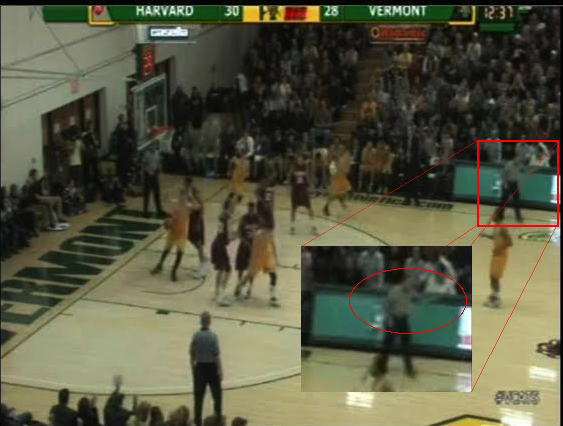 That's clearly a two-point field goal, right?
Not according to the official scorekeeper, who credited Kurt Steidl with a three:

The feed initially showed that the score was tied, but the scoreboard in the gym showed 31-30, with Vermont winning. The announcers were confused by the score as well, initially believing that the score was tied and then mentioning that the Vermont jumper had cut the Harvard lead to one point.
Vermont was aware of the scoring mistake — it literally happened three feet in front of their bench — but Harvard did not immediately realize that anything was amiss. According to NCAA rules, a review on whether or not a shot was a three-pointer can be requested up until the next dead-ball. That occurred at the 12:14 mark, but according to a Harvard spokesperson, the Crimson still were not aware that Vermont had been given an extra point. By the time they figured it out, it was too late to go back and review the ruling.
This is where things get interesting: The game ended up going into overtime, and at the end of regulation, there was a discussion as to whether or not Harvard had actually won the game. The argument that Harvard made is that the shot did not need to be reviewed; the referee very clearly determined that Steidl's shot was a two. The error was made by the scorekeeper, and that can be changed and adjusted until the game is over, according to Section 12, Article 14 of the NCAA rule book.
It's murky, but using this interpretation, this game should have never gone to overtime.
It looked like the Crimson would lose in the extra period, but Corbin Miller hit a late three to force a second overtime, where Harvard pulled away and left Burlington with a 64-52 win.
It eventually worked itself out, but if anyone wants to get in touch with Vermont's official scorekeeper, let them know I could use some fantasy points of my own. I started Drew Brees, Mark Ingram, Kelvin Benjamin and Josh Gordon in the playoffs this week.