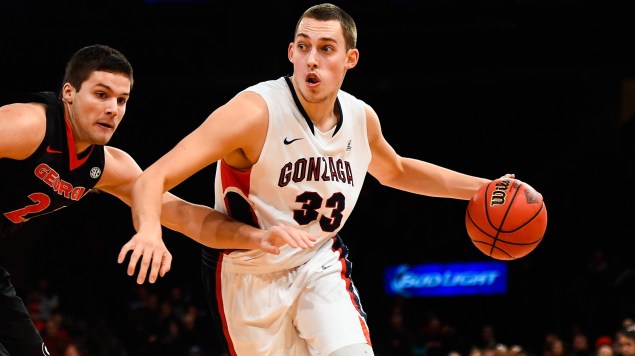 GAME OF THE NIGHT: No. 9 Gonzaga at No. 3 Arizona (5:15 p.m., ESPN)
Besides being the best game of Saturday, this is one of the very best match-ups of the entire season. Two top-ten teams and legitimate national title contenders with the added intrigue of Gonzaga not getting many chances to play elite competition like Arizona once conference play begins. It's also nice to see the Wildcats continuing to challenge themselves with good competition and this will be a fun game for bragging rights on the west coast. Kevin Pangos vs. T.J. McConnell and seeing how the Zags defend Stanley Johnson will be among the interesting storylines in this one.
THE OTHER GAME OF THE NIGHT: No. 7 Virginia vs. VCU (2:00 p.m., ESPNU)
VCU's "Havoc" has come under some fire in the early season after the Rams lost to Villanova and Old Dominion, but they're still a very tough team at home and get to host a top-ten opponent in Virginia in what should be a heated in-state contest. Justin Anderson is questionable for the Cavaliers and VCU can still get hot and get points as long as someone like Melvin Johnson or Briante Weber is making plays alongside Treveon Graham. Virginia still has a tremendous defense and Melvin Brogdon is still a capable scorer and leader for the Cavaliers.
MID-MAJOR GAME OF THE NIGHT: Eastern Michigan at Dayton (2:00 p.m.)
Eastern Michigan is a surprising 7-0 on the season, but they finally play on the road for the first time on Saturday against Dayton, who is 6-1 after last season's NCAA Tournament run. The Flyers will be the favorite since they've played legitimate competition and are at home, but the Eagles will give them a tough non-conference game and Rob Murphy's team has enough athletes where the team should keep up a bit with Dayton.
FIVE THINGS TO WATCH FOR: 
Marquette probably doesn't stand much of a chance at home against No. 2 Wisconsin after falling at home to Omaha earlier in the season, but rivalry games are always interesting to watch and this is a fun one. Let's see how the Badgers look after losing to Duke and if former Coach K assistant Steve Wojciehowski can pick anything up in how the Blue Devils took apart the Wisconsin defense.
A fun matchup of experienced point guards and some teams with scoring punch as Green Bay (5-2) travels to Miami to face the No. 15 Hurricanes. The Phoenix have senior guard Keifer Sykes and a team that is looking for a NCAA Tournament appearance and a win against an unbeaten Miami team would be great for the resume. Miami will counter with Angel Rodriguez and Shelden McClellan and both transfers have played well this season.
Speaking of Horizon League teams off to a solid start, 8-1 Valparaiso hosts New Mexico in its final chance to earn a nice non-conference win before conference season begins. Crusaders forward Alec Peters is one of the most underrated scorers in the country, as he's currently shooting 59 percent from the field and 60 percent from the three-point line for the season.
Wichita State will be looking to bounce back after a loss on the road at Utah earlier in the week as they host Saint Louis (5-2). The No. 8 Shockers need to get Fred VanVleet going this season, as the junior point guard has struggled to 37 percent shooting and 20 percent three-point shooting.
Oklahoma State is quietly off to a 7-0 start, but they haven't faced any opponent nearly as tough as their game Saturday at South Carolina. Phil Forte and LeBryan Nash have both stepped up with solid play so far this season for the Cowboys.
THE TOP 25:
Saint Joseph's at No. 10 Villanova, 1:00 p.m., Fox Sports 1
Colgate at No. 14 Ohio State, 4:30 p.m., Big Ten Network
N.J.I.T. at No. 17 Michigan, 12:00 p.m., Big Ten Network
Arkansas-Pine Bluff at No. 19 Michigan State, 2:15 p.m., Big Ten Network
Winthrop at No. 21 Maryland, 2:00 p.m., ESPN3
Northwestern at No. 23 Butler, 4:30 p.m., FOX
American at No. 24 Illinois, 2:00 p.m., ESPN3
OTHER NOTABLE GAMES:
La Salle at Temple, 12:00 p.m.
Rutgers at Seton Hall, 12:00 p.m.
UCF at Florida State, 2:00 p.m.
Arizona State at Texas A&M, 2:00 p.m.
Mississippi State at Tulane, 2:00 p.m.
Kansas State at Tennessee, 3:15 p.m.
St. John's at Syracuse, 5:15 p.m.
Hawaii at BYU, 6:00 p.m.
Penn State at Marshall, 6:00 p.m.
Wake Forest at NC State, 7:30 p.m.
Alabama at Xavier, 8:00 p.m.
Rhode Island at Southern Miss, 8:00 p.m.
Boise State at Saint Mary's, 11:30 p.m.