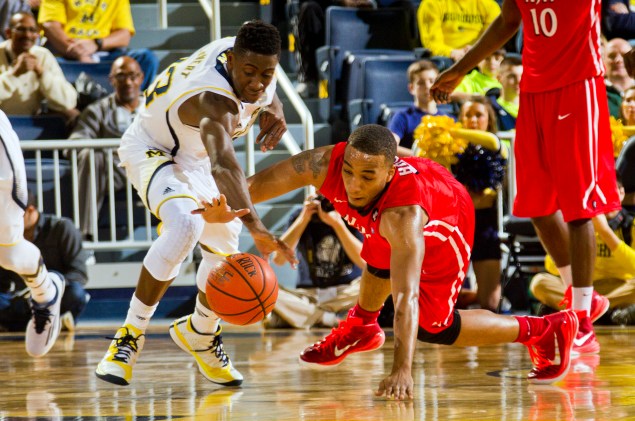 NJIT used to be a joke. An afterthought. In seven years of Division I existence, they've never really mattered because they're now the lone independent team. They had never played a top 25 team, only once losing to Georgetown when the Hoyas were unranked a few years ago, but on Saturday, got a crack at No. 17 Michigan.
The Highlanders gave their best shot at the Wolverines in Ann Arbor and came away with a 72-70 win. After Michigan beat Syracuse earlier in the week in the ACC/Big Ten Challenge, this is a shocking upset.
Despite Michigan junior wing Caris LeVert putting up 32 points, six rebounds and four steals, NJIT got hot from the perimeter, especially in the second half, as Damon Lynn had 20 points and six three-pointers in the game.
The Highlanders also had 17 points each from guard Ky Howard and guard Winfield Willis as the team went 11-for-17 from beyond the arc in the game. NJIT played well on the defensive end for a big stretch early in the second half and used a Princeton-style offense to methodically pick apart Michigan's defense. The Highlanders got a lot of inside looks on patient plays and breakdowns were able to stay ahead most of the last 10 minutes of the game.
For Michigan, Derrick Walton Jr. had 16 points but no other Wolverine finished in double-figures. They struggled to defend on the perimeter and NJIT made a lot of tough shots and got hot, but the perimeter rotations were not good. This is obviously a letdown game, but it's a really bad home loss and they still need to find an offensive identity outside of LeVert and Walton making plays.