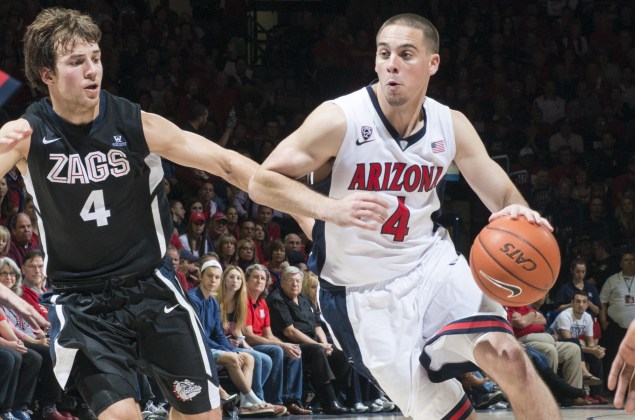 GAME OF THE DAY: No. 3 Arizona 66, No. 9 Gonzaga 63 (OT)
T.J. McConnell made two huge shots in overtime and Arizona's defense turned stifling over the course of the final nine minutes as the Wildcats knocked off Kevin Pangos and Gonzaga at the McKale Center on Saturday night. Our Raphielle Johnson is on site and will be filing from the game, but two notes I noticed from couchside:
McConnell, and not all-american Kevin Pangos, made all the big plays down the stretch. Pangos had a key three, but he also had a pair of bad turnovers.
Yeah, we need to do this again come March. How about we run it back in the Elite 8? Anyone say no?
PLAYER OF THE DAY: London Perrantes, Virginia
The No. 7 Cavaliers went into the Siegel Center on Saturday afternoon and put a whooping on VCU in one of the toughest environments in college basketball. Justin Anderson was the leading scorer and Malcolm Brogdon is the most well-known player on the roster, but I've giving this award to Perrantes because of how well Virginia handled VCU's pressure and executed offensively in the half court. They were 28-for-41 from the floor and Perrantes had nine assists and three turnovers in 35 minutes.
TEAM OF THE DAY: NJIT 72, No. 17 Michigan 70
The Highlanders were a joke four years ago. They lost more than 50 consecutive games, one of the worst teams in the history of Division I basketball. Now? They still don't have a conference — they are the lone Division I independent left — but they went into Ann Arbor and knocked off the Wolverines despite the fact that Michigan hit 11 threes and got 32 points from Caris LeVert.
IMPORTANT OUTCOMES:
1. No. 2 Wisconsin 49, Marquette 38: Sam Dekker still doesn't look like himself, but Frank Kaminsky does. He had 15 points, 10 boards, four steals and three blocks to lead the Badgers to a win over arch-rival Marquette at the Bradley Center. It was a nice way to bounce back from Wednesday's loss to Duke.
2. Green Bay 68, No. 15 Miami 55: The Phoenix manhandled Miami on the road, running them off the floor in the second half despite the fact that their star guard Keifer Sykes was just 5-for-15 from the floor.
3. St. John's 69, Syracuse 57: D'Angelo Harrison had 24 points and Phil Greene scored 11 straight points late in the second half to give the Johnnies a nice road win over the Orange.
STARRED:
1. Kyle Collinsworth, BYU: Tyler Haws had 30 points in a win for BYU over Hawaii, but Collinsworth was the best player on the floor. He finished with 19 points, 12 boards and 10 assists, adding two blocks and one steal to boot.
2. Alex Caruso, Texas A&M: Caruso finished with 23 points on 9-for-11 shooting, adding six steals, six assists and six boards as the Aggies came from behind to beat Arizona State on Saturday afternoon. Texas A&M was down as much as 13. Kourtney Roberson hit a free throw with 5.1 seconds left for the win.
3. Isaiah Whitehead, Seton Hall: The star freshman for the Pirates seems to be hitting his stride. He finished with 25 points on 9-for-15 shooting (4-for-5 from three), five assists, three steals and no turnovers in a blowout win over Rutgers.
STRUGGLED:
1. Phil Forte, Oklahoma State: There aren't five shooters in the country more lethal than Forte. You wouldn't know it based on Saturday. He was 1-for-14 from the floor and 1-for-10 from three.
2. Purdue: The Boilermakers looked really good during the ACC/Big Ten Challenge when they knocked off N.C. State at Mackey Arena. On Saturday, they followed that up by losing to North Florida, 73-70.
3. Georgia Tech: The Yellow Jackets lost to USC Upstate at home despite the face that the Spartans shot 30 percent from the floor.
NOTABLES
Oklahoma State suffered its first loss of the season in rough fashion, falling 75-49 at South Carolina. Duane Notice led the Gamecocks with 20 points.
Texas A&M erased an 11-point halftime deficit to beat Arizona State 72-71 in College Station. Kourtney Roberson's free throw with 5.1 seconds remaining was the difference.
Tennessee managed to hold off Kansas State 65-64, with the Wildcats' Marcus Foster going on a late three-point barrage that nearly erased a ten-point Volunteer lead.
Harvard needed two overtimes to vanquish Vermont but the Crimson got the job done, winning 64-52 in Burlington. Wesley Saunders (25 points, seven steals and six assists) led the way for Harvard.
Guards Ralston Turner, Anthony Barber and Trevor Lacey combined to score 50 points as NC State beat Wake Forest 78-65 in the ACC opener for both.
Northern Iowa is now 8-0 after beating George Mason 71-65 in overtime.
Xavier and Alabama combined to score 110 points in the second half of their game Saturday, but it was the Musketeers' play in the first half that gave them the cushion needed to beat the Crimson Tide 97-84.
Having lost two of their last three games Rhode Island got back on track in emphatic fashion, winning 75-43 at Southern Miss.
Since suffering a disappointing home loss to USC, New Mexico has won two straight. Saturday they won 63-46 at 8-2 Valparaiso.
Derrick Marks scored 22 points and grabbed seven rebounds to lead Boise State to an 82-71 win at Saint Mary's.
THE REST OF THE TOP 25
No. 8 Wichita State 81, Saint Louis 52
No. 10 Villanova 74, Saint Joseph's 46
No. 14 Ohio State 70, Colgate 50
No. 19 Michigan State 85, Arkansas-Pine Bluff 52
No. 21 Maryland 82, Winthrop 62
No. 23 Butler 65, Northwestern 56
No. 24 Illinois 70, American 55