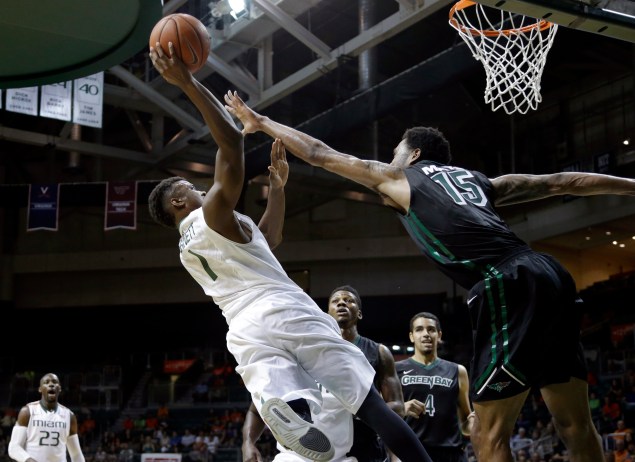 Over the last two seasons, Green Bay has been one of the mid-major teams that gets the most attention for at-large NCAA Tournament bids. And coming from what is traditionally a one-bid league, the Phoenix need to do all they can for their resume outside of the Horizon League.
Green Bay and talented senior point guard Keifer Sykes pulled off a giant road win on Saturday as they topped previously-unbeaten No. 15 Miami 68-55. The Hurricanes fell behind by double digits in the second half and did everything they could to slow down the Green Bay offense, but to no avail.
Miami tried multiple looks, including a box-and-one on Sykes, but junior guard Carrington Love stepped up with 20 points, nine rebounds, four steals and three assists while forward Greg Mays chipped in 10 points. Sykes added 18 points and spearheaded a defense that changed looks throughout the game and confused the Miami offense.
The Hurricanes only shot 32 percent from the field on the afternoon as point guard Angel Rodriguez struggled to a 2-for-15 day and only 12 points.  Miami could have overlooked Green Bay after knocking off a top-25 opponent in Illinois earlier this week, but this is just not a strong effort from the Hurricanes.
For Green Bay, they showed that they have the interior size and depth with guys like Alfonzo McKinnie and Henry Udadiae coming off of the bench, to match up with some bigger teams and if other scorers step up around Sykes, they have a very dangerous team. Coming off of a big loss earlier in the week to Georgia State, Green Bay came out aggressive and  won its biggest game of the season to date.
Of course, Green Bay beat Virginia last season, but they couldn't save their season after a loss in the Horizon League tournament. Head coach Brian Wardle and his team know that they'll likely have to win the conference tournament title to play in the the Big Dance this season. But the Miami win shows that they're capable of doing that, and being a threat if they make it.