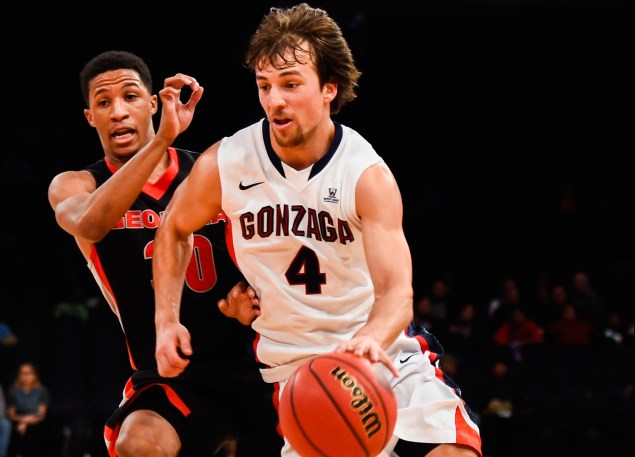 GAME OF THE WEEKEND: No. 9 Gonzaga at No. 3 Arizona, Sat. 5:15 p.m.
There may not be five games this season that are more intriguing than seeing the two best teams on the west coast square off. Kevin Pangos has been the best guard in the country this season — I'm not sure it's all that close — but he will be forced to square off against a tough, veteran defender in T.J. McConnell. Up front is where it gets even more interesting, as Arizona's massive front line will be forced to deal with the versatility that Mark Few has at his disposal.
The game is at the McKale Center in Tucson, which means that the Wildcats will enter the game as the favorites. But they are going to have to find a way to score, because Gonzaga is one of the toughest teams to matchup with in the country. The key may end up being how the Zags deal with the size of Stanley Johnson and Rondae Hollis-Jefferson on the wing.
THE OTHER GAME OF THE WEEKEND: No. 6 Texas at No. 1 Kentucky, Fri. 7:00 p.m.
As good as this game is on paper, I'm not sure that it will end up being all that close come 9:00 p.m. on Friday night. There are two reasons for that: 1. The game is being played at Rupp, and with the way that Kentucky is playing right now, I'm not sure anyone can beat them in Rupp; and 2. Texas will be without guard Isaiah Taylor, the lightning quick penetrator that would help them negate the size advantage the Harrisons have in the back court. The good news for Texas? They won't get pushed around inside. The Longhorns have just as many bigs that are just as, well, big as Kentucky's front line.
THE OTHER, OTHER GAME OF THE WEEKEND: No. 7 Virginia at VCU, Sat. 2:00 p.m.
You won't find a better matchup of styles all season long. Virginia likes to grind it out, controlling tempo and clock and running their sets until they get a good look, even if it takes 30 seconds to do so. VCU? They're 'Havoc'. They're flying all over the court, trying to force turnovers and make the game as choppy as possible. What wins out?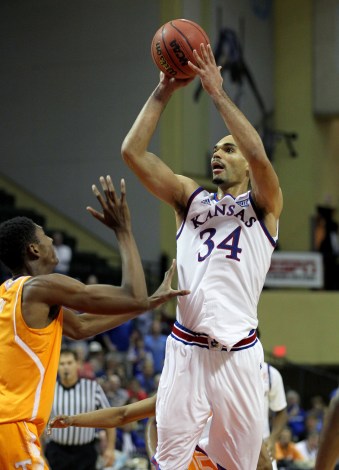 FIVE MORE GAMES TO WATCH:
Florida at No. 11 Kansas, Fri. 9:00 p.m.: Fair to say that these have been the two most disappointing preseason top ten teams? Kansas looks like they've turned a corner. Florida? Not so much.
No. 2 Wisconsin at Marquette, Sat. 12:30 p.m.: Rivalries don't get much more heated than this. The problem? Marquette is rebuilding and Wisconsin is pissed they just lose to Duke.
Boise State at Saint Mary's, Sat. 11:30 p.m.: Saint Mary's is probably better than they are getting credit for right now, and Boise State should matchup well with them.
Creighton at Nebraska, Sun. 7:00 p.m.: Wisconsin-Marquette isn't the only in-state rivalry game being played. This game becomes that much better now that both programs are good.
St. Joseph's at No. 10 Villanova, Sat. 1:00 p.m.: There's a reason this is called 'the Holy War'.
WHO'S GETTING UPSET?: No. 13 San Diego State at Washington, Sun. 9:00 p.m.
Washington is better than anyone is giving them credit for this season, although I'm not sure that actually means all that much. They won the Wooden Legacy last month and have one of the nation's most underrated point guards in Nigel Williams-Goss running the show. SDSU is good — really good — but a road game late on a Sunday night is never an easy one to play.
UPSET WATCH:
Yale at UConn, Fri. 7:00 p.m.: Yale is the second-best team in the Ivy, they have a powerful front line and UConn's all kinds of banged up right now.
Green Bay at No. 15 Miami, Sat. 2:00 p.m.: The Phoenix may not pull this off, but Angel Rodriguez vs. Keifer Sykes will make watching them try worth the time.
Towson at Georgetown, Sun. 12:00 p.m.: A local battle, as the Tigers are from right up I-95 in Baltimore. Should we call this the Annual Jerelle Benimon Classic
FGCU at UMass, Sun. 2:00 p.m.: UMass is in a bit of a rebuilding mode this season. FGCU? They have as good of a back court as you will find at the mid-major level. They're not #DunkCity, but they can play.
No. 18 Arkansas at Clemson, Sun. 5:00 p.m.: The Razorbacks are not very good on the road, at least not historically. Clemson isn't all that good either, but Arkansas has a tendency to lose games like that upon occasion.
FIVE STORY LINES
1. Saint Louis at No. 8 Wichita State, Sat. 6:00 p.m.: The Shockers are coming off of their first loss in the regular in 35 games. How will they bounce back?
2. St. John's at Syracuse, Sat. 5:15 p.m.: Two only Big East rivals square off.
3. Eastern Kentucky at No. 1 Kentucky, Sun. 6:00 p.m.: The nation's best team will be in action for the second time this weekend.
4. Wyoming at SMU, Fri. 7:00 p.m.: SMU desperately needs a marquee win, and believe it or not, Wyoming is actually a pretty good win. They are one of the best teams in the MWC and already own a 23-point win over Colorado.
5. Ole Miss at Oregon, Sun. 4:00 p.m.: Ole Miss had a rough start to the year, but they've turned things around in recent weeks. Can Oregon, who lost to Michigan and VCU last week, do the same?