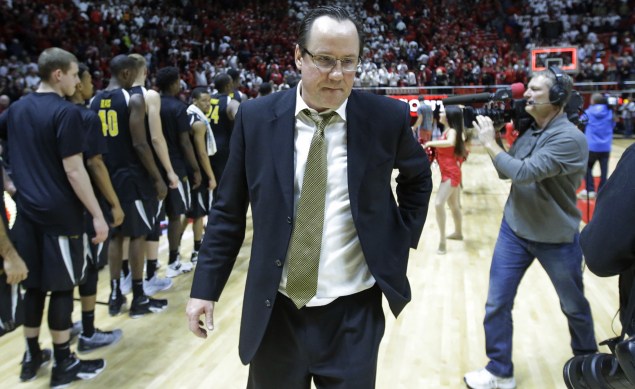 Wichita State lost their first regular season game since the spring of 2013 on Wednesday night, a 35 game streak that came to an end in overtime at the Huntsman Center to No. 25 Utah, 69-68.
The Shockers, who entered the week ranked No. 8 in the country, will now likely be forced to face the questions of whether or not they truly are among the nation's elite teams. They had those same questions all last season, even when they were 35-0, and that was before their two previous losses: a Round of 32 game to Kentucky in the NCAA tournament and Cleanthony Early to graduation and, ultimately, the NBA.
Should we be concerned about the Shockers?
Well, yes and no.
Early was arguably the most important player on that Wichita State team last season. He had the size — 6-foot-8 — and athleticism to matchup with just about any power forward in the country last season, but he was skilled enough to step out on the perimeter, hitting threes and beating slower defenders off the dribble. The Shockers don't have anyone to fill that void this season, which makes them that much easier to defend.
So yes, that is a concern.
As is the fact that Fred Van Vleet went 5-for-19 against Utah. I'm not so much concerned about the percentage — hit did make three big threes during their comeback in the final few minutes — as I am the volume. Van Vleet's strength is as a facilitator, a leader offensively, an extension of the head coach on the court. He has all those intangible, clichéd qualities that coaches and writers fawn over.
He's not a guy you want to have to count on to take 19 shots a night or to score 20 points, however, and it's not a good sign if that's what the Shockers are going to need from him.
Wichita State is not as good as they were last season, and anyone that was paying attention during the offseason should have realized this.
But.
The Shockers have two losses in the last 21 months. One of them came by two points to Kentucky, an insanely talented team that underperformed all year long before finally finding their stride and reaching the national title game. The other came by one point in overtime on the road against a top 25 team that starts two pros and may just be the favorite to finish second behind Arizona in the Pac-12.
I'll take it a step further: The Shockers lost that game because they did two very un-Wichita State things in the final seconds. Van Vleet missed the front-end of a one-and-one down 69-68 at one end, and then Utah got an offensive rebound off of a missed front-end at the other end.
There aren't five players in the country I would rather have shooting a free throw than Van Vleet, and if he makes those two, this is a completely different conversation.
So no, Wichita State is not going to go undefeated this year. They never were. And no, they aren't as good as they were last season. They were never going to be without Early.
But that doesn't mean this isn't a very, very good basketball team.